You are looking to add trees with berries to give wildlife in your garden a boost, keep reading this recommendation below. Here are the 10 Edible Trees That Are Great Natural Gifts Attracting The Wildlife Visit To Your Garden. Not just that they also bring a splash of color to the winter garden with structure, ornamental detail, and color.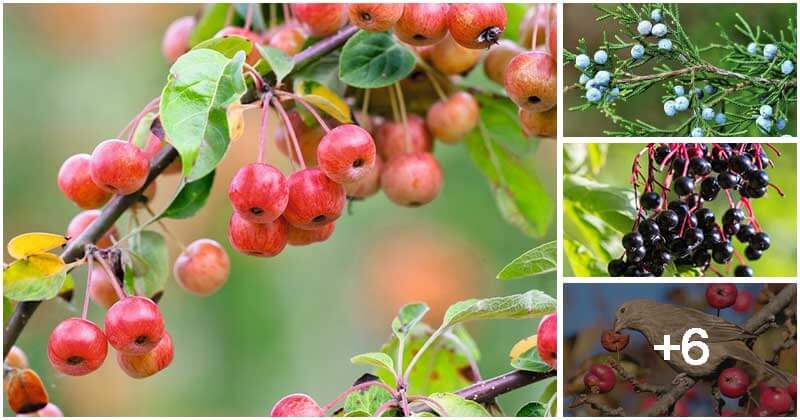 They are evergreen trees with berries or a compact option for smaller plots, there are plenty to choose from you can find one to suit your backyard or garden. Whether your choice is, they also will beautify your garden, provide wildlife a place to roost and plenty to feast on, plus give a boost to biodiversity in your garden.
#1 Spindle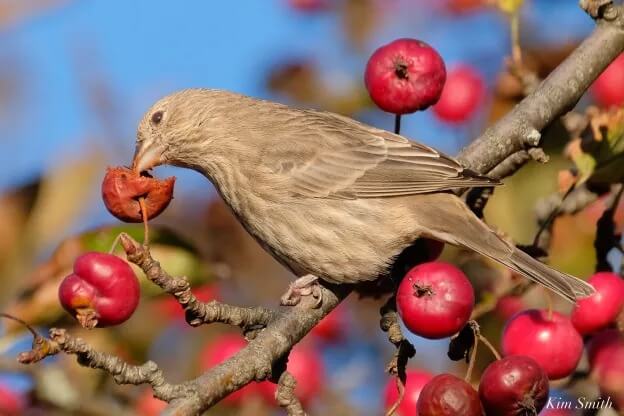 Source: Kimsmithdesigns
The spindle is a hardy plant that grows well in zones 5 to 9 in part or full sun. It produces large oval mid-green leaves that turn crimson in autumn, star-shaped green flowers in late spring, and masses of crimson-pink fruit in winter that split to reveal orange seeds. Wildlife loves its leaves and fruit, especially robins.
#2 Cotoneaster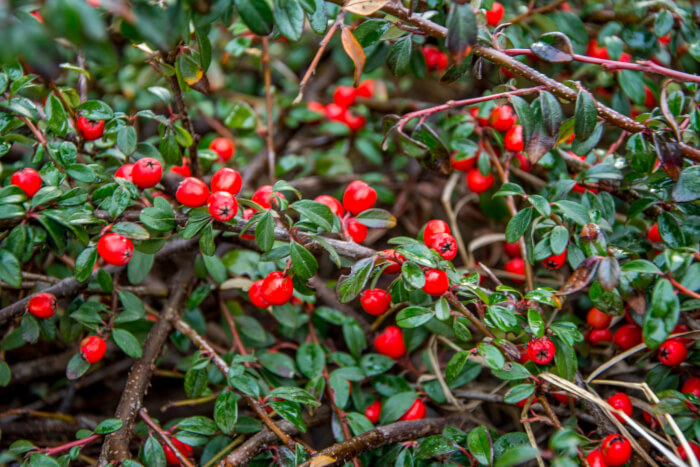 Source: Gardenchronicle
Cotoneaster is a popular and low maintenance garden shrub that forms a rounded to the wide-spreading head of slender branches with long, narrow, dark green leaves and prolific white flowers in spring, followed by red, orange, or yellow berries that stay on the tree right through winter. This plant favors full sun and well-drained soil.
#3 Juniper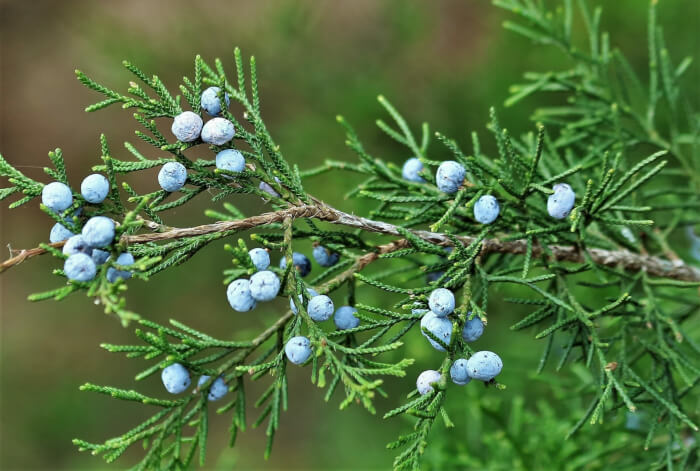 Source: Laidbackgardener
Juniper berries not only give a food source for songbirds and other wildlife throughout winter but also the plant's dense branches shield birds from cold winds and protect their nesting sites. This plant prefers to grow in slightly acidic, organically rich soil with good drainage.
#4 Hawthorn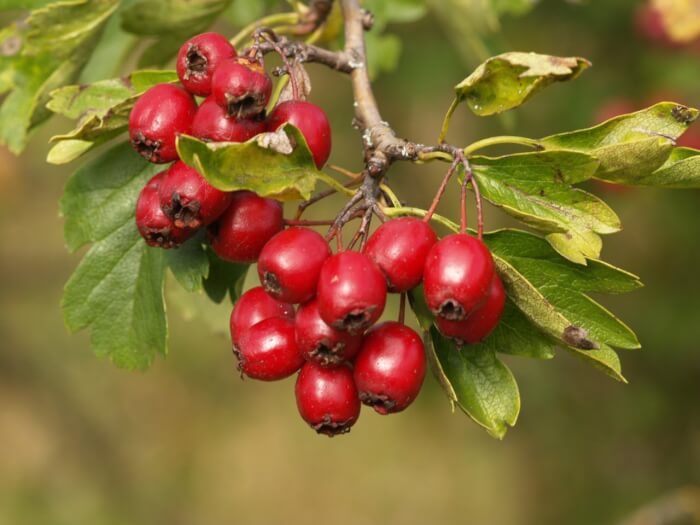 Source: Tree Identification
The berries of the Hawthorn are popular with birds like starlings, finches, blue tits, and thrushes, who love tucking into them. This plant grows in any soil, in the sun or partial shade, and needs little maintenance.
#5 Winterberry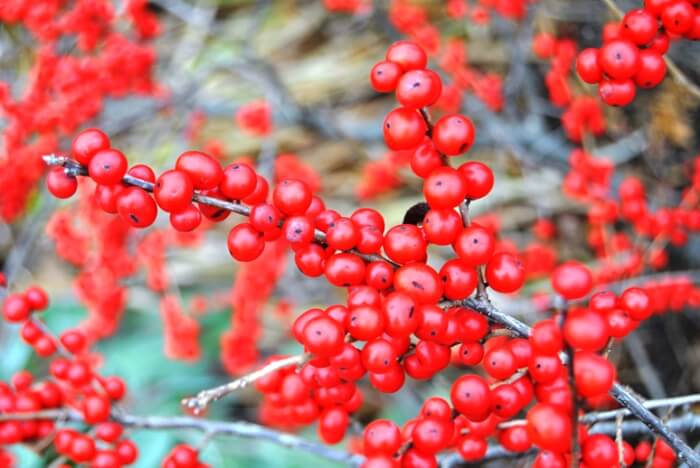 Source: Bygl
Winterberry produces brilliant red berries that are loved by birds. In early summer, it has clusters of greenish-white flowers cherry-red berries from autumn through winter. This plant grows happily in wet soil, prefer full sun or part shade.
#6 Wild Cherry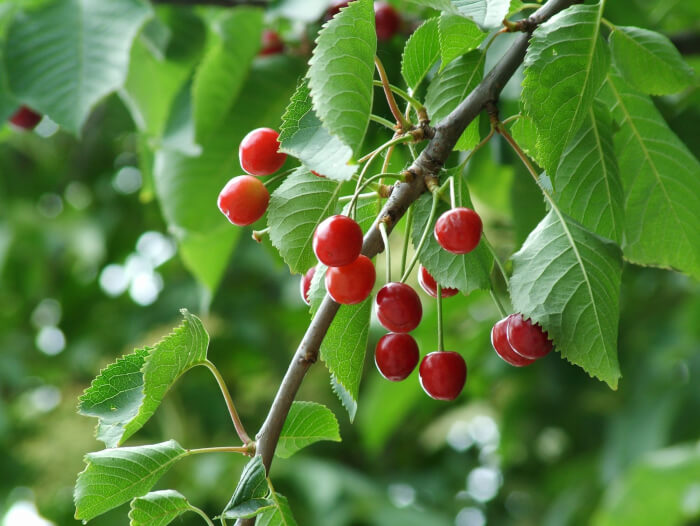 Source: Jooinn
Wild Cherry features lots of small, bright red cherries that are loved by many birds and other animals like badgers, squirrels, and mice. Although this plant is tolerant of most soil types, it needs to be planted in full sun to encourage flowering and fruiting.
#7 Elderberry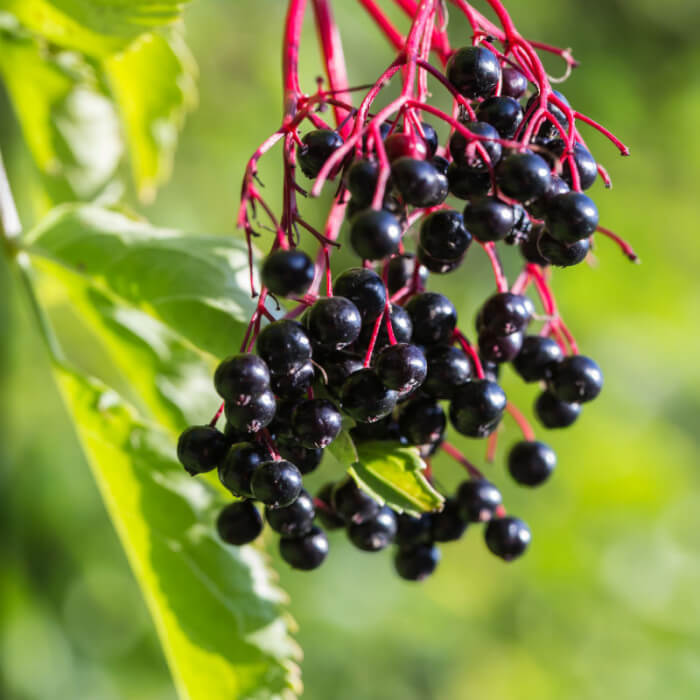 Source: Starkbros
Elderberry has clusters of flat white flowers in early summers, then turns into the purple berries that birds love in autumn. It prefers to grow in damp conditions making it is a great plant for a waterlogged garden.
#8 Holly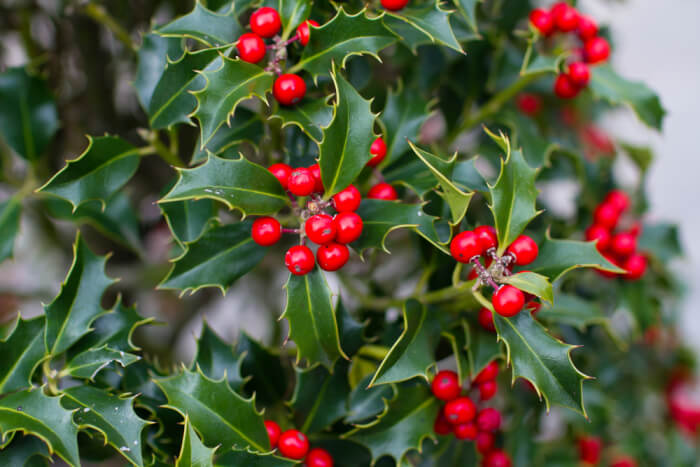 Source: Plantsnap
Holly provides food for a range of birds by its bright red berries. Also, it is the best evergreen for privacy too. This plant is easy to grow in full sun or partial shade and prefers moist, well-drained soil.
#9 Rowan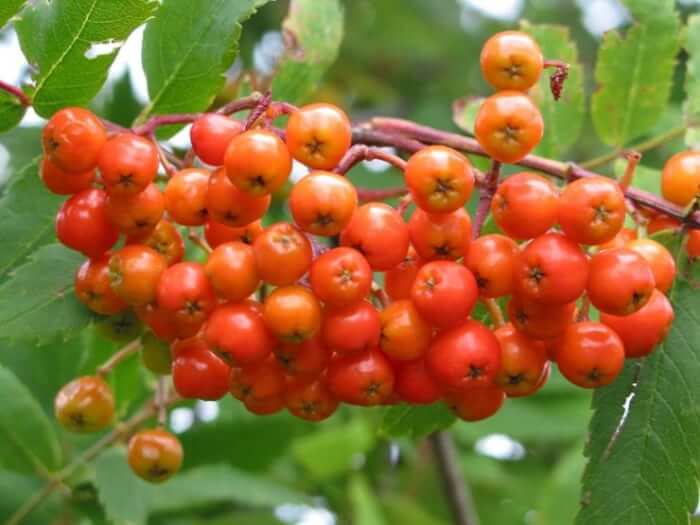 Source: Treegrowing
Rowan is one of the prettiest trees with berries that attract blackbirds, thrushes, and starlings. It is easy-to-grow that do best on well-drained, fertile soil, and doesn't like clay or waterlogged conditions. You can grow it in n open sunny site and shade.
#10 Crab Apple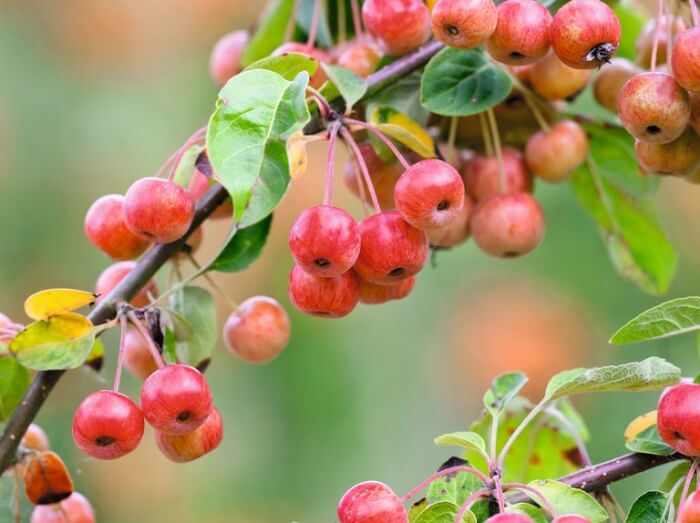 Source: Gardensillustrated
Crab Apple produces blossom for a long period of time. In fall and winter, it offers heavy crops of fruit to feed birds. It thrives when grown in full sun.