Adding houseplants to your home can be a great way to bring some greenery indoors, purify the air, and even boost your mood. But why settle for small plants with tiny leaves when you can make a bold statement with big, leafy plants? If you're looking to add some stylish flair to your home decor, consider these best houseplants with big leaves to your home's natural decor.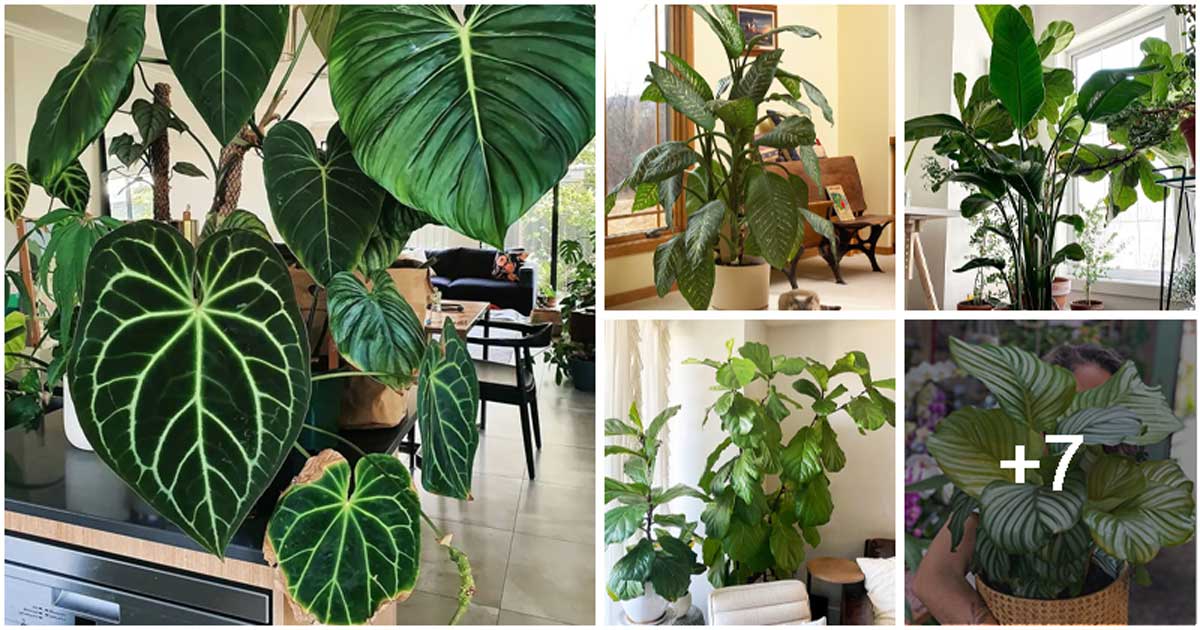 Their lush, vibrant foliage can instantly transform any room into a lush and tropical oasis. Not only are they aesthetically pleasing, but they're also relatively low-maintenance and can thrive in a variety of indoor environments. No matter which big-leafed houseplant you choose, you're sure to add some style and greenery to your home. Read on to discover the perfect big-leafed houseplant for your home!
#1 Ruffled Fan Palm
Source: plantingman
This plant displays huge pleated leaves that resemble hand fans. You can grow it easily in your living space as long as giving it bright to medium indirect light.
#2 Variegated Alocasia
Source: etsy
The plant offers large leaves bigger than a human head. It grows happily if gets medium to bright light and high humidity.
#3 Rubber Plant
Source: whiteflowerfarm
There are two popular varieties including variegated and solid green. They bring glossy foliage that becomes large over time
#4 Philodendron
Source: greg
Philodendron is a beautiful option for your indoor space. It bears large velvety green leaves with white veins giving a larger-than-life look to enhance any decor in your home.
#5 Giant Bird of Paradise
Source: mytastefulspace
Giant Bird of Paradise brings an outstanding element to any space with its large banana plant-like leaves. It can be grown well indoors as long as getting at least 4-5 hours of bright indirect light per day.
#6 Fiddle Leaf Fig
Source: decorlovin
Fiddle Leaf Fig is a tall indoor plant that produces ruffled huge green leaves. This plant grows well in both indirect sunlight positions or all-day long partial sun.
#7 Monstera
Source: bybrittanygoldwyn
Monstera brings a lush look with giant leaves. To grow this plant, give it a well-draining medium and place a spot where it gets indirect light.
#8 Hosta
Source: thespruce
Hosta is a shade-loving houseplant that can be grown both indoors and outdoors. They bear waxy, large, dappled, variegated, green, or blue-green leaves to brighten up any decor.
#9 Hawaiian Pothos
Source: shoptansy
Hawaiian Pothos offer very big variegated leaves. It loves growing in a couple of hours of direct sunlight and bright shade all day.
#10 Velvet Leaf Anthurium
Source: greencharm
Velvet Leaf Anthurium shows off big velvety leaves that can grow up to 1-2 feet in length indoors. Give it plenty of bright indirect light for optimum growth.
#11 Round-Leaf Calathea
Source: thursd
Round-Leaf Calathea bears large orb-shaped, really wide, leathery foliage with creamy light-green stripes that look bigger than the head. For the best growth, give it well-draining soil and humid conditions.
#12 Dumb Cane
Source: bhg
Dumb Cane can reach 8-10 feet tall indoors if getting the right conditions. It showcases stunning large variegated leaves and also only needs a little care, making it popular among garden lovers.