To add a pop of color to your garden, why not consider planting some unique blue vegetables? Not only are these vegetables visually stunning, but they're also packed with nutrients and offer a range of flavors and textures. Whether you choose blue lettuce, blue corn, blue tomatoes, or blue pumpkin, you're sure to enjoy the benefits of these unique and delicious vegetables.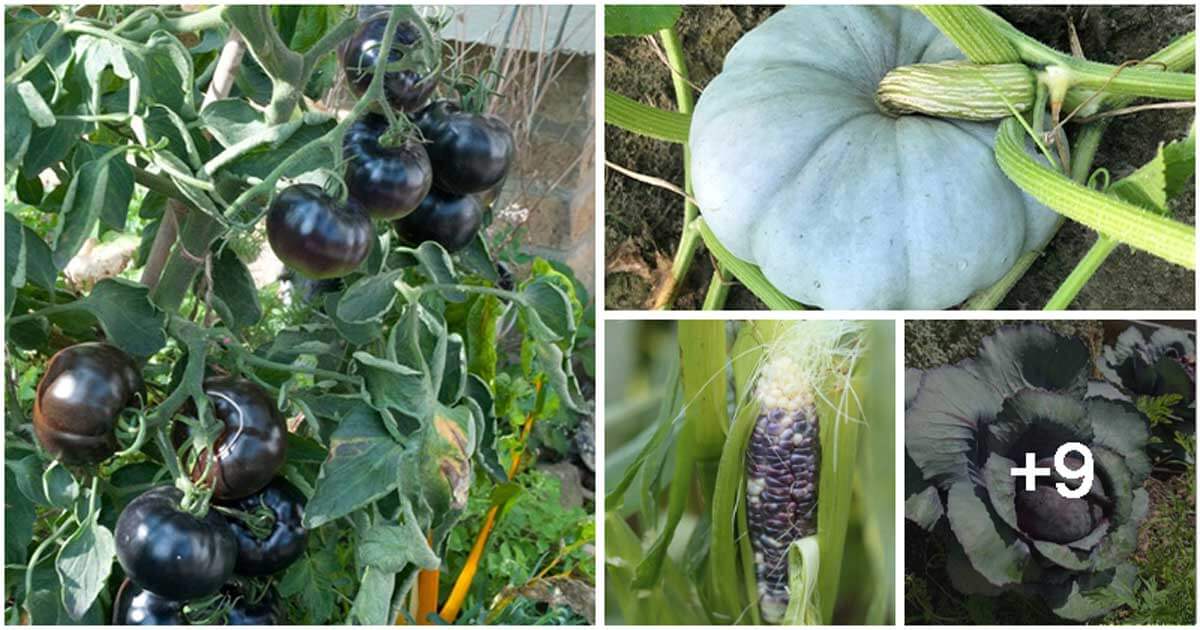 Incorporating unique blue vegetables into your garden is a fun and creative way to add some color and diversity to your produce. They make your garden stand out, and at the same time, they also offer a range of flavors and nutrients for you to enjoy. Keep reading and grow them today for better health!
#1 Blue Carrots
Source: americaselections
Blue Carrots can be served in many roast, dip, or air fry dishes. This root vegetable is high in beta-carotene and anthocyanins which help improve vision and memory.
#2 Blue Pansy
Source: outsidepride
Blue Pansy is an edible flower, all parts can be consumed as a vegetable. They are rich in antioxidants and also have fantastic taste in desserts.
#3 Filius Blue Pepper
Source: pepperscale
Filius Blue Peppers are traditional Mexican chilis that have a deep purple-blue tint. They pack high vitamins C, A, copper, and iron, also the taste also is great when added to salsa, sandwiches, and sauces.
#4 Blue Corn
Source: annapolisseeds
This corn has an outstanding appearance with the perfect combination of blue and purple tint. It is from to the Southwestern United States, Mexico, and the Southeastern United States.
#5 Blue Pumpkins
Source: mcdonaldgardencenter
Blue Pumpkins are native to Australia with a light purple-blue hue. The savory taste is a 1 point plus making it ideal for pie filling.
#6 Indigo Ruby Tomato
Source: outofmyshed
Indigo Ruby Tomato is a great source of vitamin E, also it also has a lovely aroma and sweet taste.
#7 Tall Blue Lettuce
Source: wcbotanicalclub
Tall Blue Lettuce can grow up to 2-7 feet tall. This lettuce is popular for curing vomiting, heart trouble, diarrhea, and pain by using root decoction.
#8 Blue Cabbage
Source: etsy
Blue Cabbage is a versatile vegetable that provides purple-blue leaves. You can use this vegetable for steam, ferment, saute, or eat raw.
#9 Vates Blue Curled Kale
Source: shopugc
Vates Blue Curled Kale is a low-growing dwarf type that produces finely curled blue-green leaves. It matures in 50-80 days with 12-16 inches tall. The taste is tender and sweet after a light frost.
#10 Eggplant
Source: ruralsprout
Eggplants display a distinct blue-purple hue rising above the green leaves. You also can find some varieties coming in white color. The best taste you love trying is sauteed or grilled.
#11 Blue Bayou Tomato
Source: croatianseeds
Blue Bayou Tomato gives off a sweet and fruity taste. In addition, the dark navy-blue to purple skin make it stand out in salads.
#12 Blue Milk Mushroom
Source: inaturalist
Blue Milk Mushroom has a vibrant blue pigment and great taste. It can be used in vegetable broth, garnish, and saute forms for the best taste.
#13 Fahrenheit Blue Tomatoes
Source: tradewindsfruit
Fahrenheit Blue Tomatoes are specialized cherry varieties with dark blue skin. This veggie is good for the heart, blood pressure, and cardiovascular health, and is anti-inflammatory.