Another Halloween season is coming. Besides cute or horror Halloween makeup, you should also "make up" for your nails. An impressive and quality nail set on this last night of October will leave memorable memories.
#1 This is the best time of the year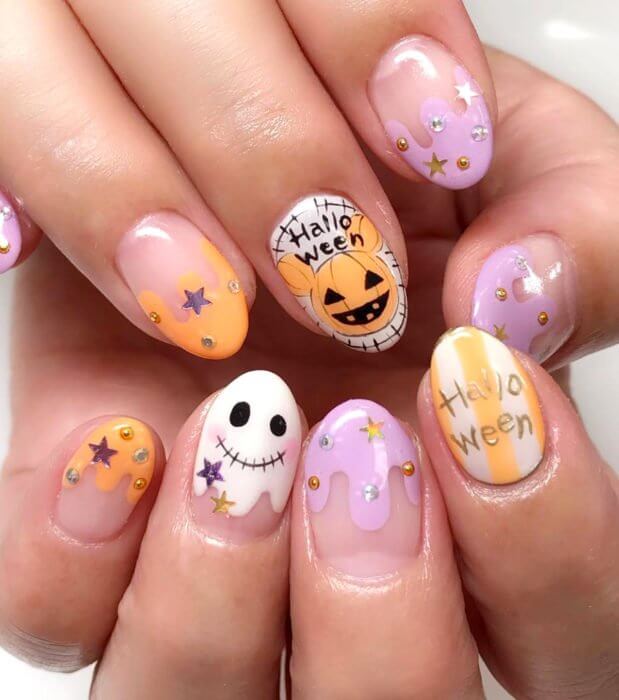 Source: unknown
With just colorful paint bottles and accessories, you can easily create your own at-home Halloween-style nail designs from adorable ghosts to creepy letters.
#2 The allure of Halloween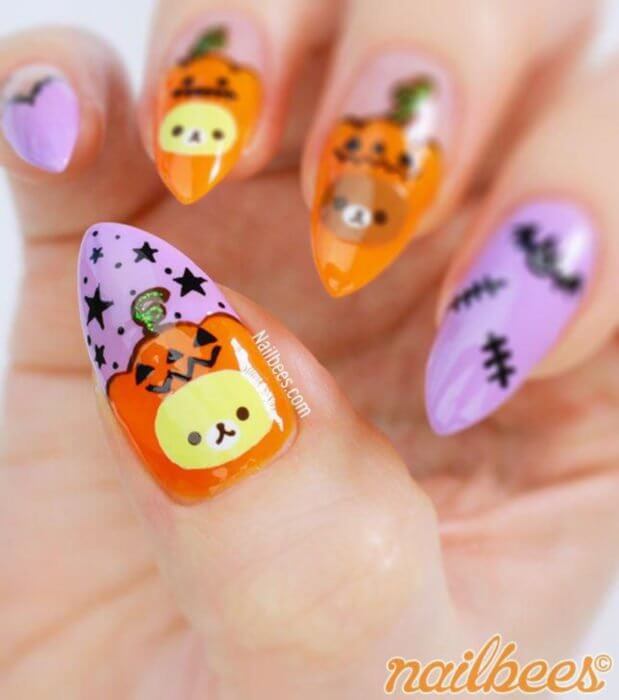 Source: nailbees
Orange and purple were born for Halloween season! Try this cute bear wearing silly pumpkin and some scary bats to be super impressive.
#3 A cute pumpkin decoration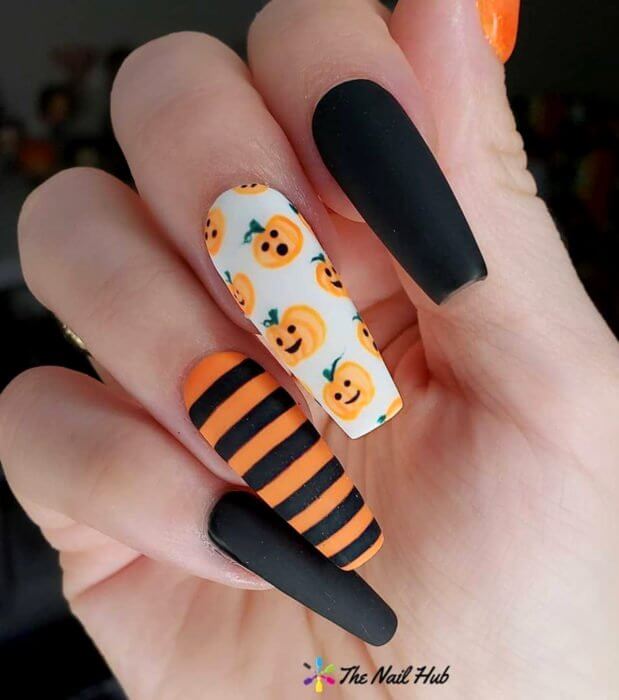 Source: Thenailhub
Halloween is a fun and dynamic colorful festival. The nail designs with pumpkin motifs or the typical pumpkin color tones of October are extremely lovely combined with many textures to bring novelty.
#4 Spiders that will not scare you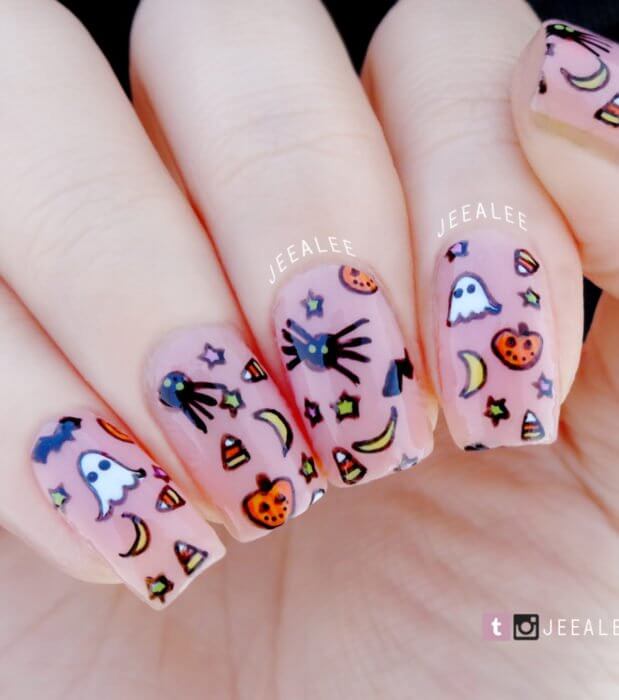 Source: Jeealee
Do you love minimal style? Have fun with small patterns and drawings on your nails – some of the unique features of the Halloween season.
#5 Friendly ghosts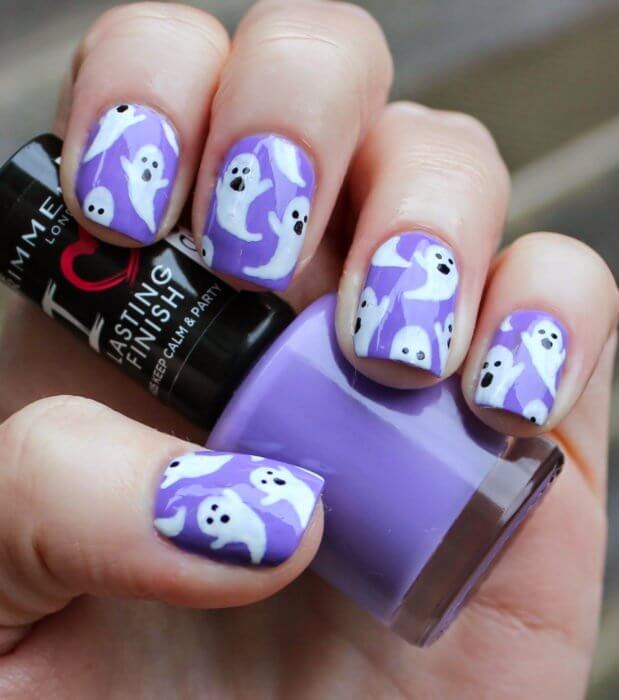 Source: unknown
Trying to reduce the fear of ghosts with little cute white ones following different directions on your nails.
#6 Pink goes well with this night of spooks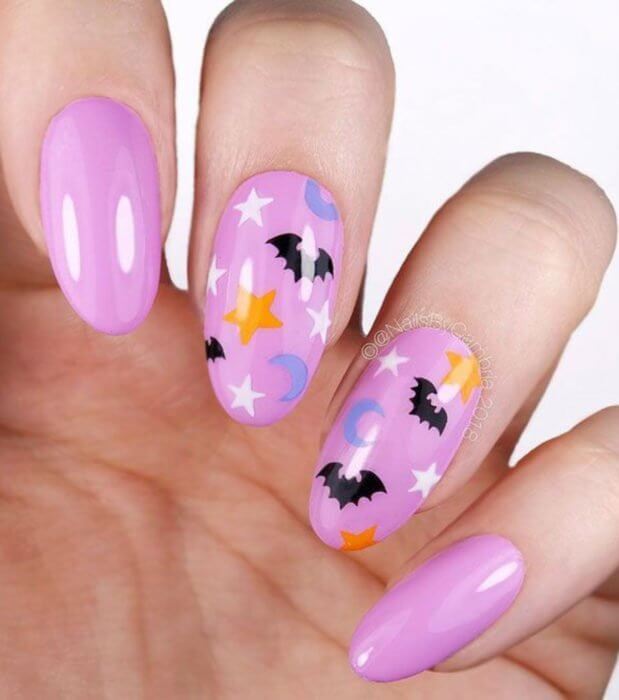 Source: unknown
Pink bats both give you a creepy feeling in the Halloween season and exude a bit of softness brought by the bright color.
#7 Every witch needs the company of a black cat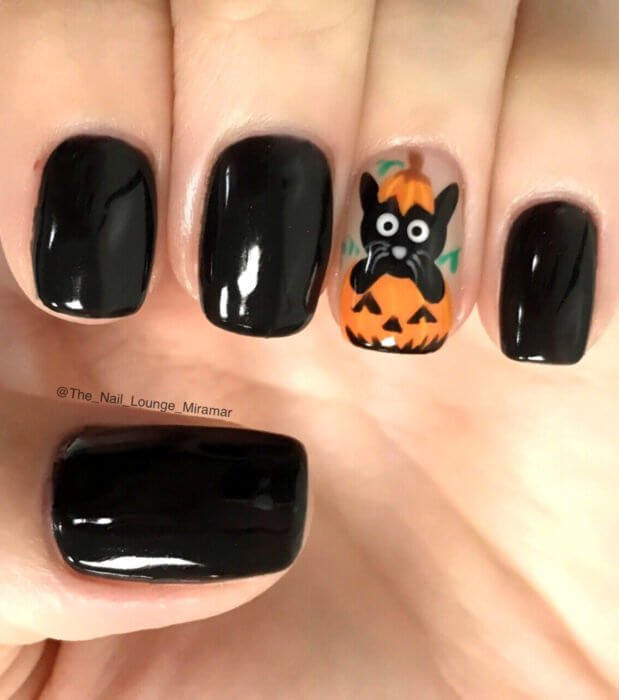 Source: The_Nail_Lounge_Miramar
A black cat with sharp eyes and a lovely pumpkin are choices that you cannot ignore on the upcoming Halloween night.
#8 How terrifying!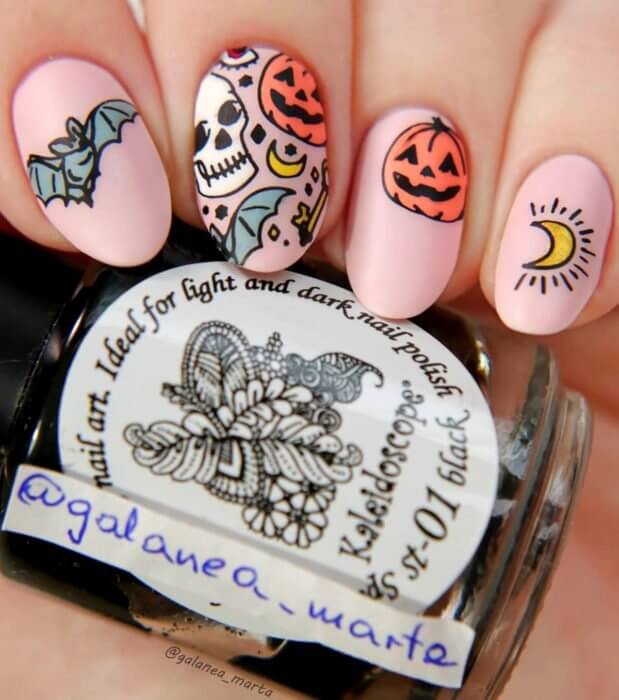 Source: galanea_marta
If you like color, the mix&match will be the right idea. You can choose different patterns to create Halloween motifs and paint them on a clear background nail.
#9 Pumpkins, bats and ghosts…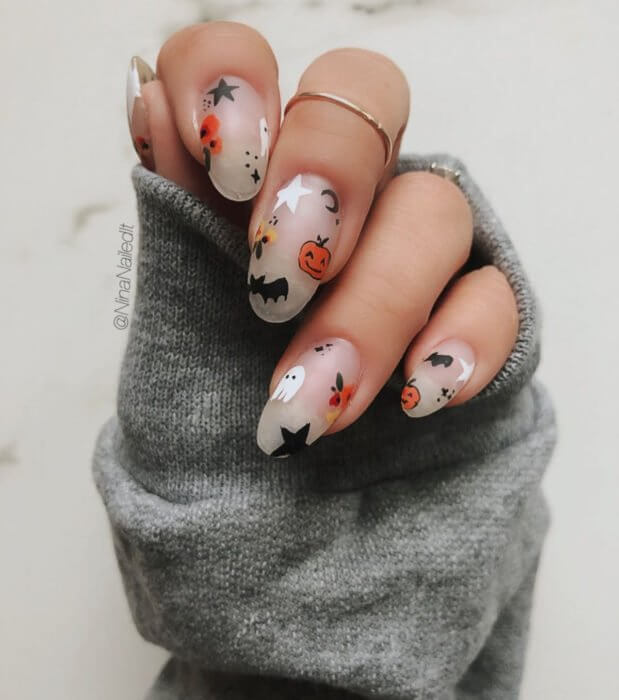 Source: Ninanailedit
When it comes to Halloween, no one does not think of classic features like pumpkins, mummies, ghosts, etc. That's why your Halloween nail design should include all these characters, right?
#10 This is how the perfect Halloween was created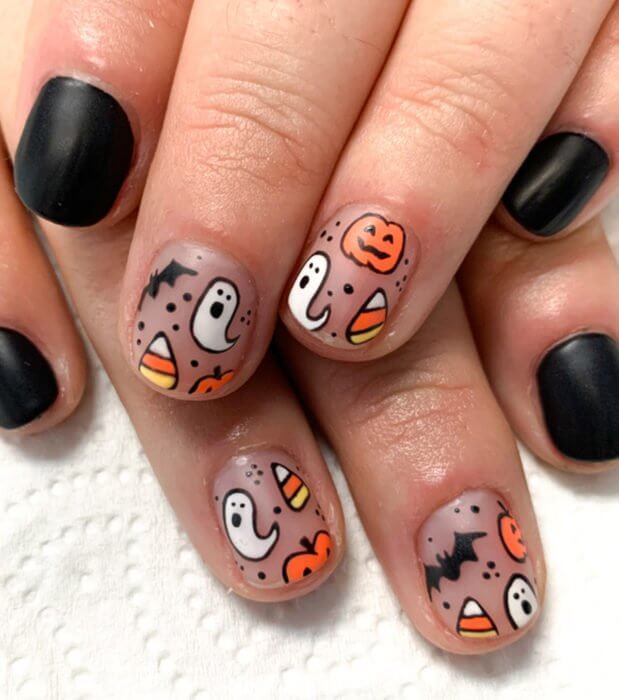 Source: unknown
Two tones of black-white are used to show the "weird" on this beautiful nail set.
#11 Hello Kitty already has her costume ready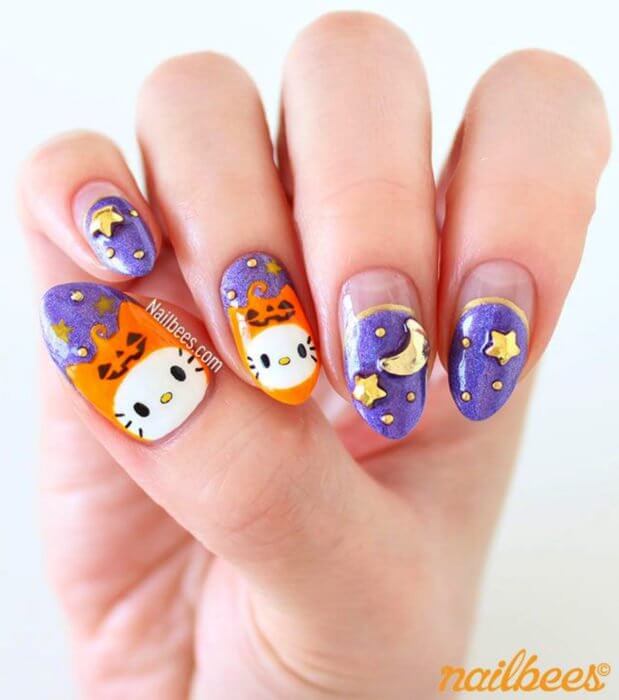 Source: nailbees
Are you a fan of Hello Kitty? Bring it up and dress this costume on your nails now!
#12 Jack Skellington is invited to celebrate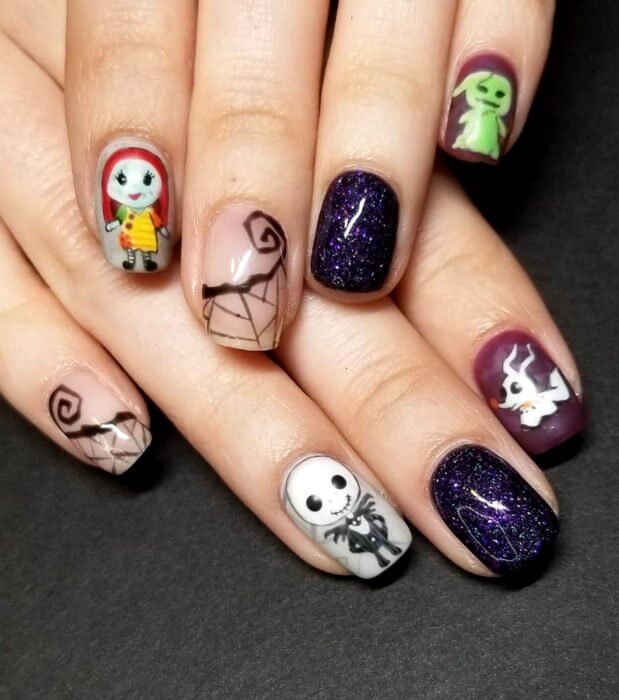 Source: unknown
The nail design was inspired by the movie of Jack Skellington.
#13 The spirits come out at midnight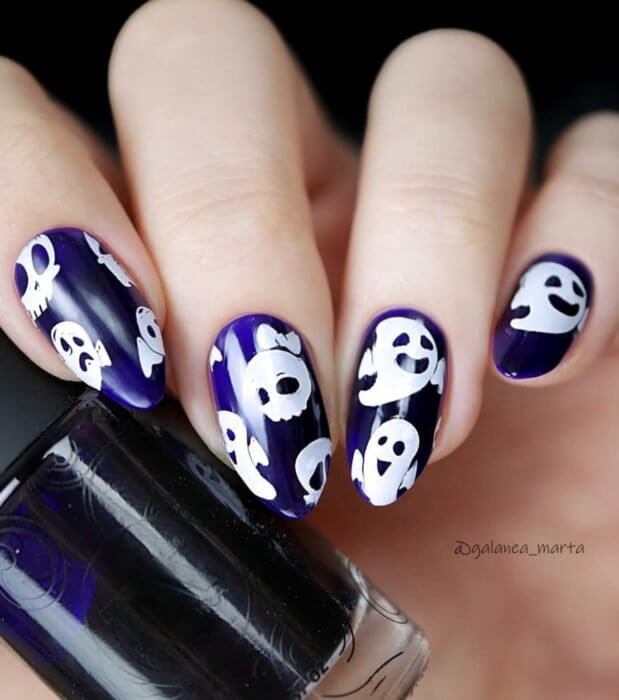 Source: agalanca_marta
The spooky scene of Halloween night is detailed in this unique nail set.
#14 Trick or Treat?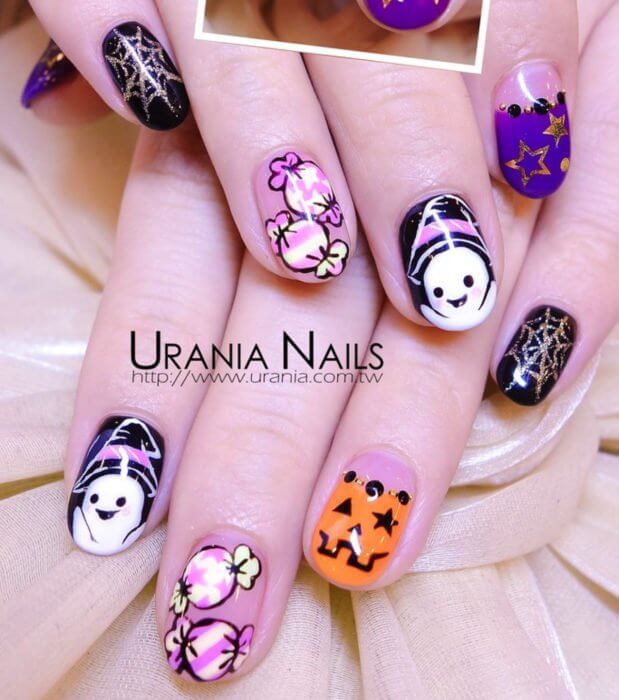 Source: Urania Nails
Nails for the Halloween season need to take advantage of unique spooky symbols and color schemes.
#15 Halloween in pastel colors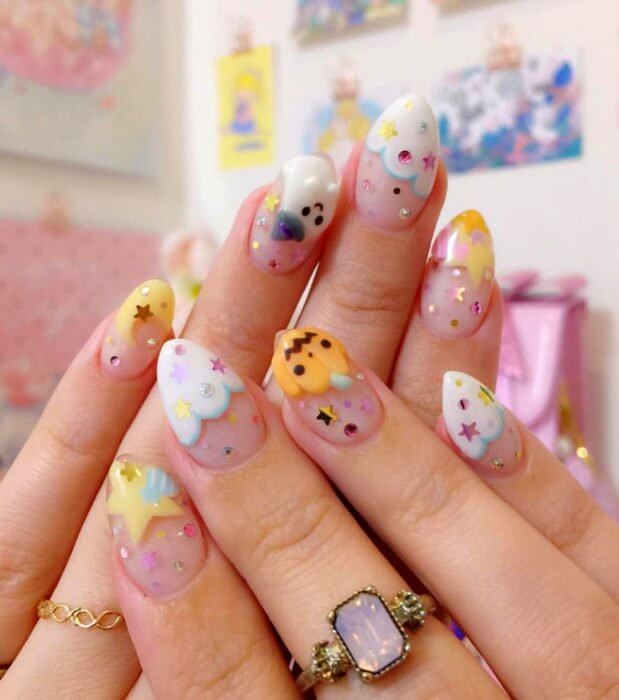 Source: unknown
Dreamy and scary at the same time with this Halloween nail set.
#16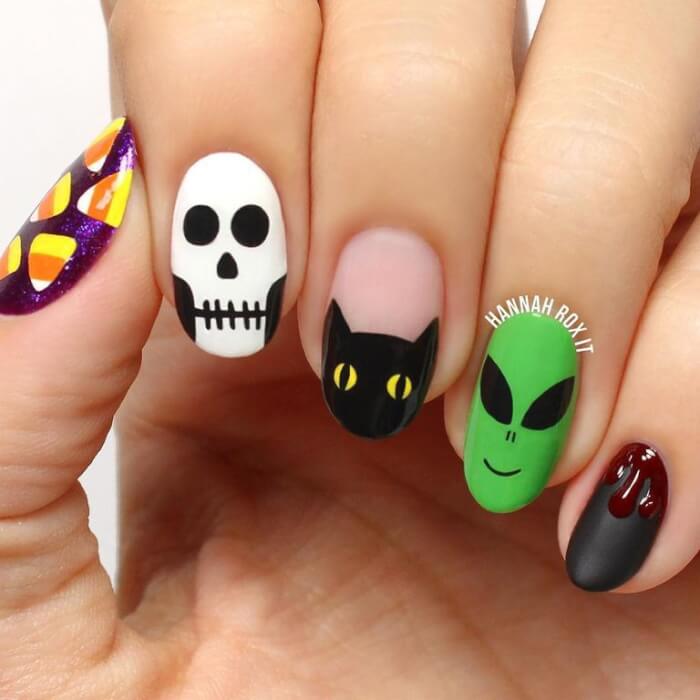 Source: Hannah Roxit
The image of ghosts and blood is always the choice to shape the nail sets on Halloween night.
#17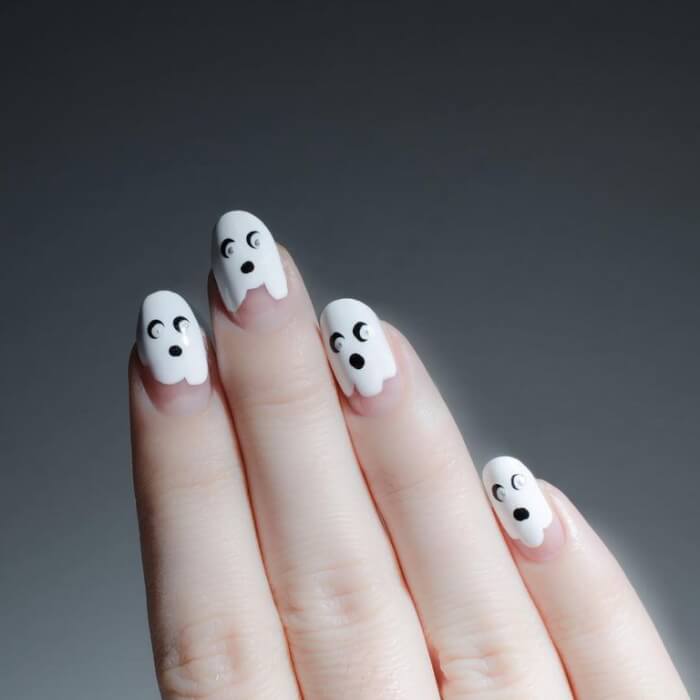 Source: unknown
The lovely ghost pattern is very suitable for cake girls, who like the uniqueness but still lightness.
#18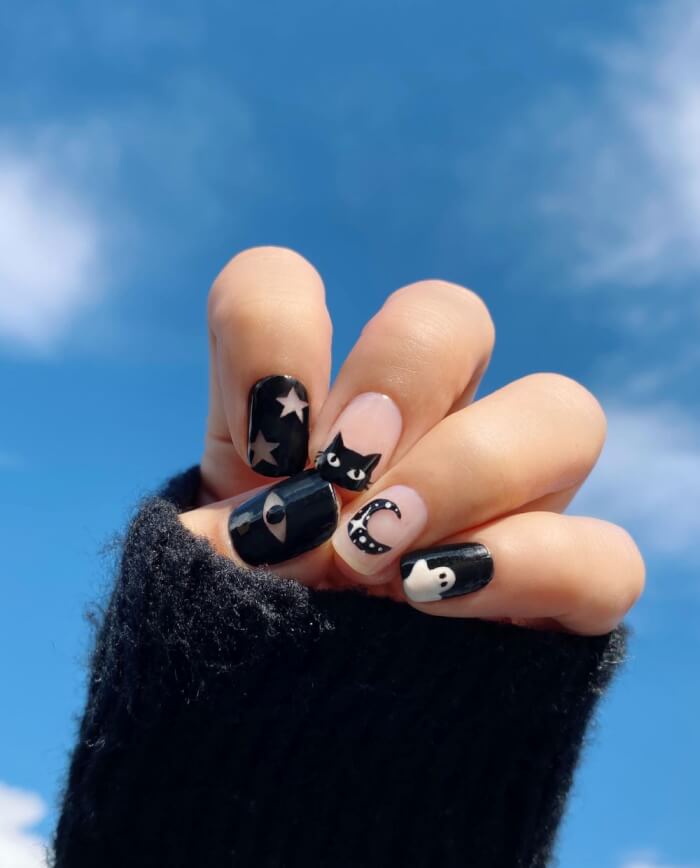 Source: unknown
Cats with mischievous eyes will make you stand out on Halloween.
#19
Source: unknown
Halloween Mickey Mouse version will make your friends impressive. Everyone at the party absolutely looks at your nails all day!
#20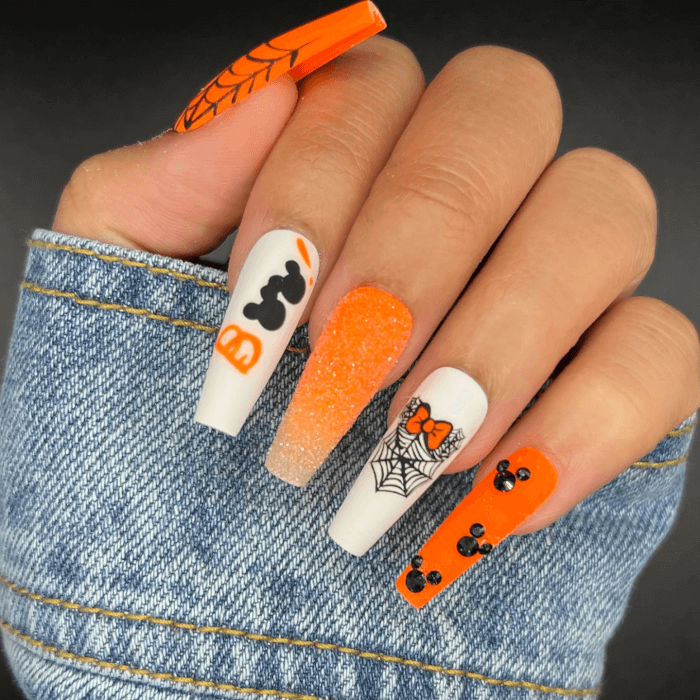 Source: unknown
Another Mickey Mouse but in the orange background. You don't have to paint these all over your nails, just showing them on a nail you like is enough to create a Halloween-themed nail.