Tiny home? Fear not, with these ingenious strategies tailored for small-space living, you'll gain extra storage, amplified light, and an enhanced sense of space. We have a variety of ways to fully utilize every square inch of your compact house. From maximizing vertical space, to transforming stairs into drawers, hanging items, making use of small spaces between furniture, to integrating storage within tables, and much more. This article is your comprehensive guide to leveraging every corner of your home while keeping your cherished possessions intact.
MERGE YOUR LIVING AND DINING AREAS
Space crunch? Why not merge your petite living room and dining room? This clever setup with a dining table behind the couch is perfect, particularly for those who find comfort in dining while enjoying their favorite TV show.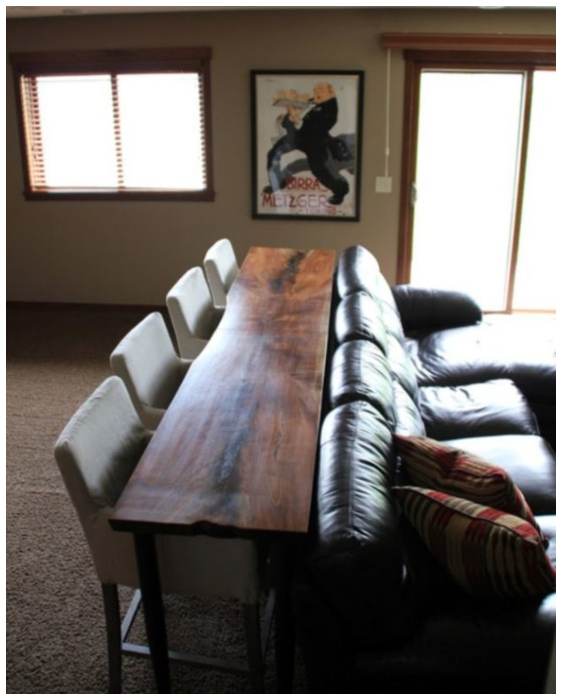 You'll need a slim table matching the length of your sofa. Set up the table behind your couch, add some chairs, and voila! Traditional table setup may not fit, but your dining essentials fit perfectly when you're engrossed in your favorite show.
DIY WALLS OR ROOM DIVIDERS AROUND YOUR BED
Wooden room dividers are an excellent DIY, non-permanent solution to create your own private space around the bed. With a few essential tools and materials, you can build sturdy, stylish, and customizable dividers that are easy to set up and take down.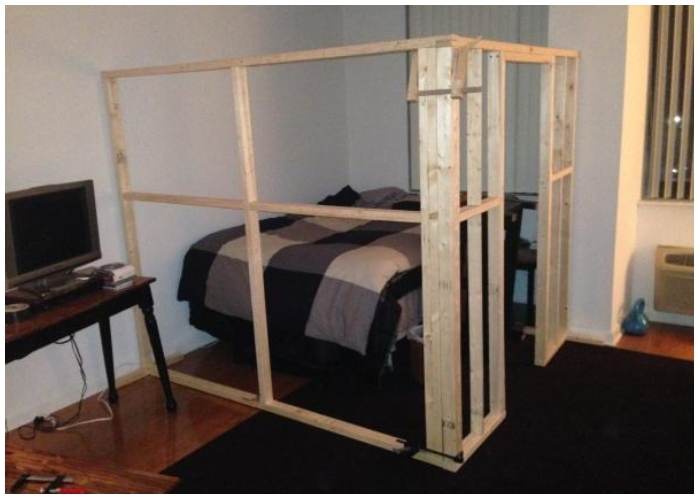 This practical solution also lets you express your creativity, from choosing the layout to adding decorative elements like paint or wallpaper. You might also consider adding shelves or storage compartments for added functionality.
UNDER-BED STORAGE: A CLASSIC SOLUTION
The Malm storage bed is your classic answer to under-bed storage dilemmas. This popular IKEA bed integrates smart storage solutions within its design. Its affordable price tag gets you a queen-sized bed and a generous storage container in one piece.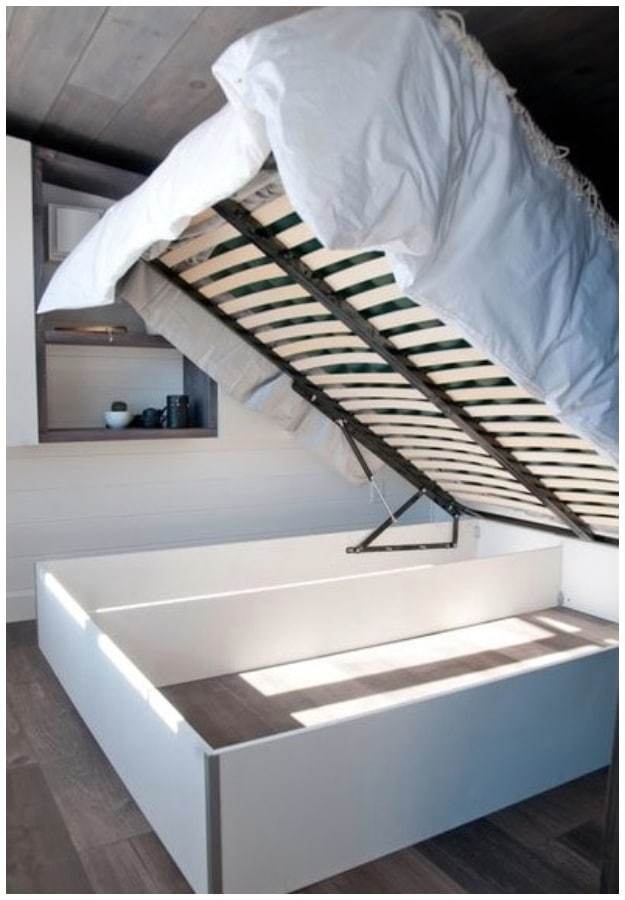 Thanks to a gas piston and spring system, you can access the storage easily and safely. Ideal for guest rooms, the Malm bed lets you store spare bedding and blankets efficiently, and it's made from sustainably sourced wood.
SEATING, ELEVATED!
In an innovative approach, this unnamed university library created wall-stored fabric block seats, freeing up the lounge area. These folding chairs bring the phrase "taking a seat" to life!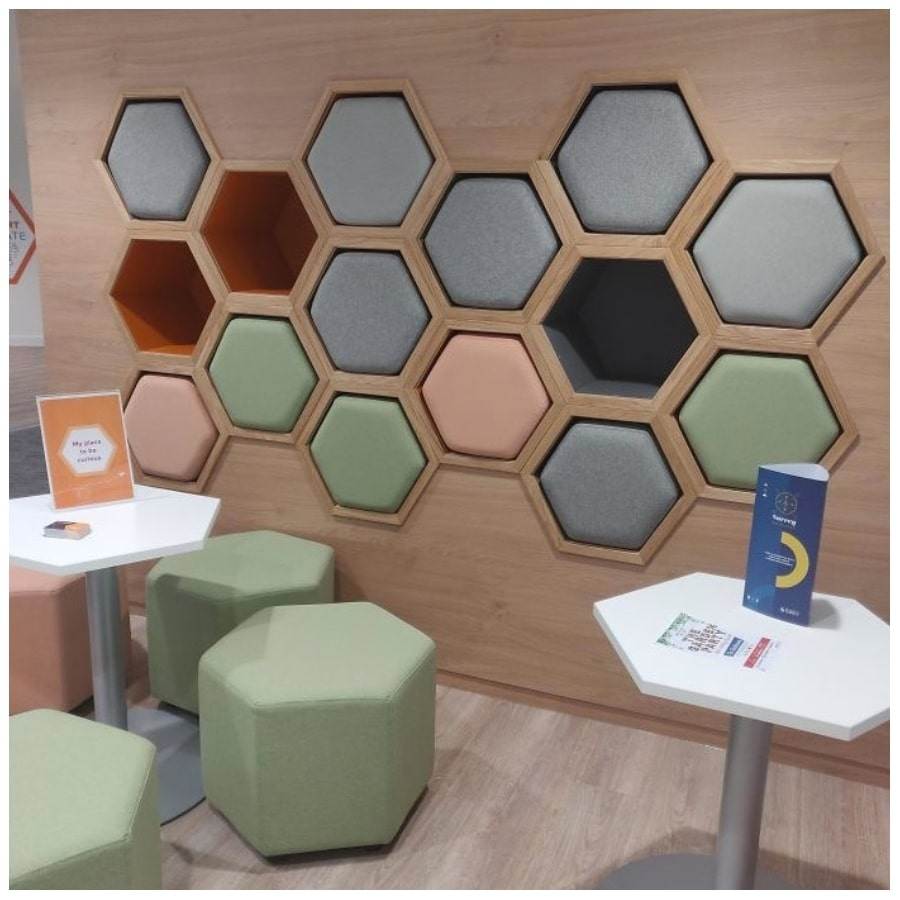 They are comfortable, portable, and great for different situations. Find your style from the vast range of colors and materials available.
ARTISTIC AIR CONDITIONING UNITS
Tackle space issues creatively by painting your existing air conditioning units the same color as the wall. This unique trick makes them blend into the wall, creating an illusion of more space.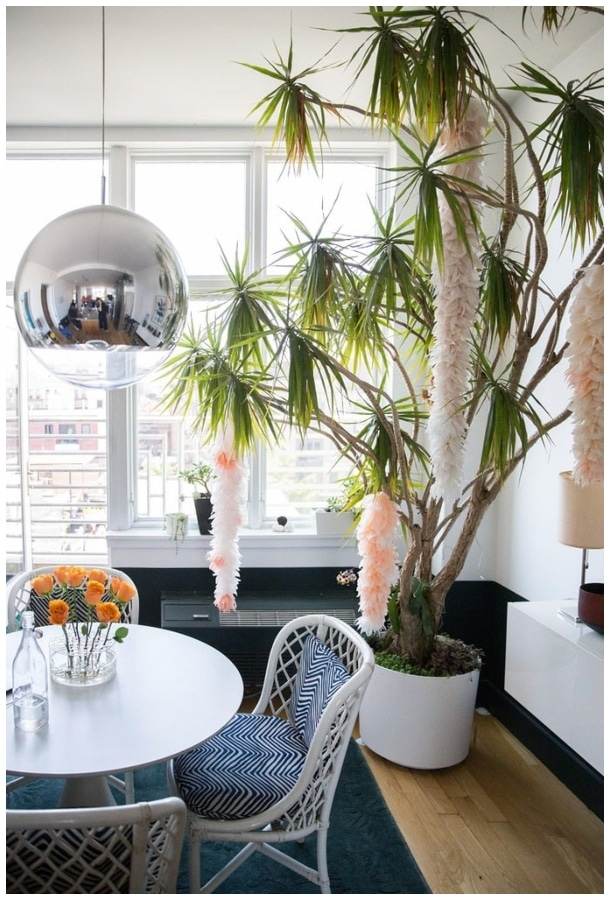 A couple of coats of enamel spray paint can refresh your unit while preserving its cooling efficiency and performance.
SPACE-SAVING GLASS FURNITURE
Even the smallest homes need a great table. Consider a round glass top table – it's less intrusive and can make a room appear much larger. Easy to clean and maintain, glass tables are a practical choice.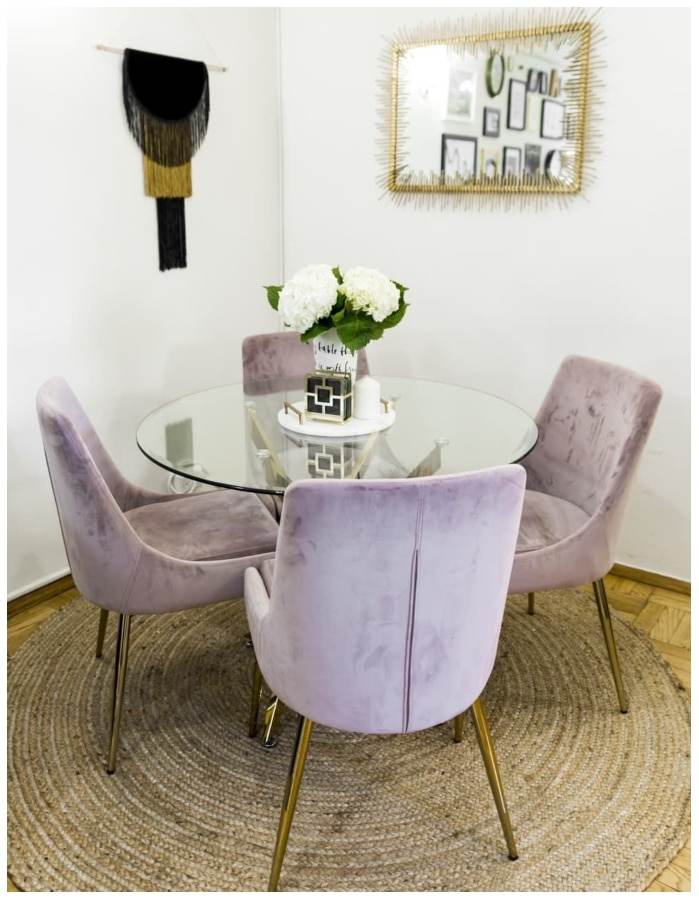 However, remember to avoid placing items of extreme temperatures directly on the glass surface.
MIRROR MAGIC
Mirrors on the walls can do wonders in making smaller rooms appear larger. Despite its overuse in budget apartments, when styled properly, it can be both chic and practical.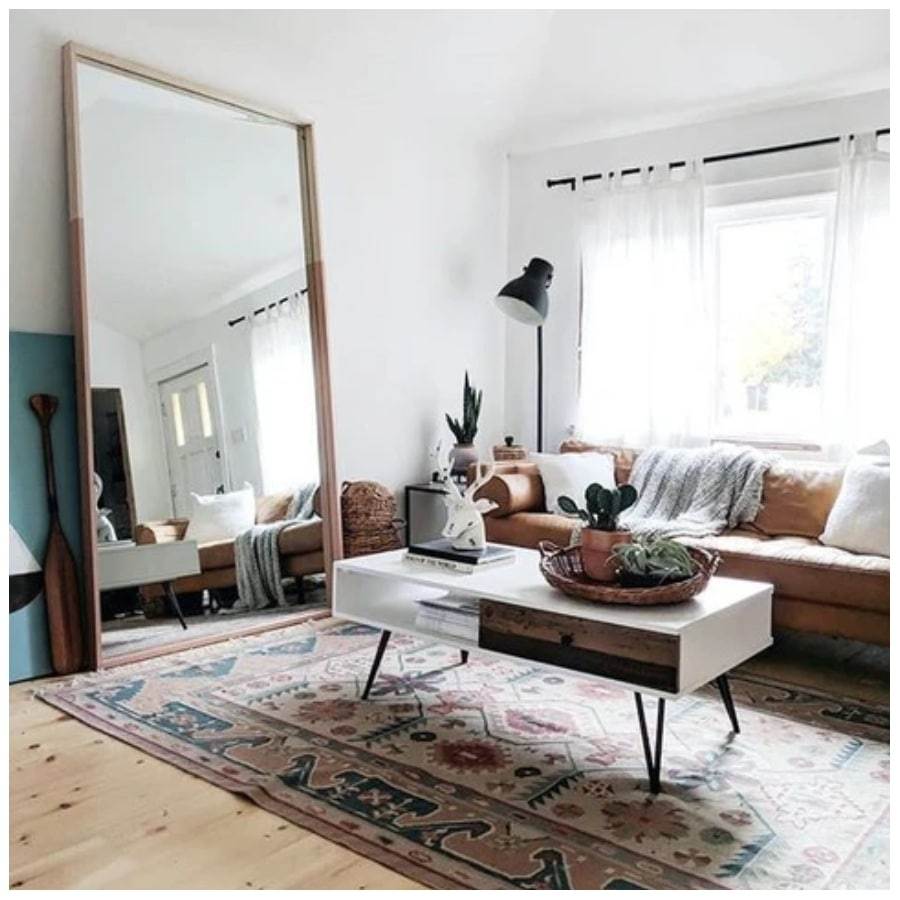 A tall mirror can create an illusion of space and several optical effects. It's functional too – a kitchen mirror helps you keep an eye on the dining area, while a hallway mirror warmly welcomes visitors.
WINDOW SEATS: DOUBLE DUTY
Converting a window into a temporary seating area can save you space. Besides serving as a comfy, unique seating option, they offer numerous possibilities for organizing your small space.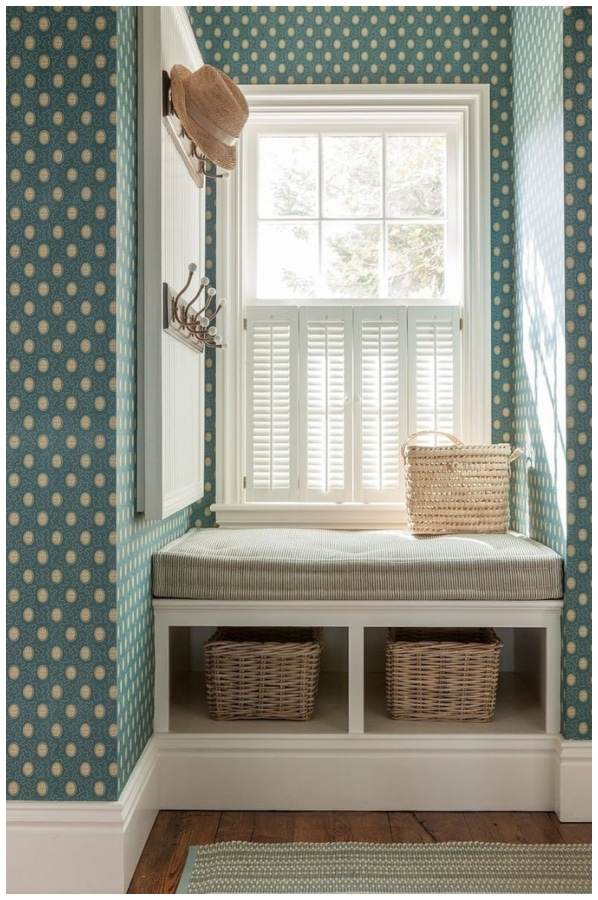 Use it as a cozy reading nook or add storage underneath for a two-in-one solution. Designing a reading corner can be a delightful project – after all, it's the one space you can truly personalize. Consider converting an unused closet into a reading haven for a budget-friendly alternative. Just remember to add plenty of lighting for comfortable reading.
EXPLORING BEHIND-THE-DOOR HAT STORAGE
In a compact living environment, the secret to space efficiency often lies in overlooked areas like the backs of doors. An ordinary shoe rack at the back of a door can be your ideal solution to store an array of hats. This technique clears a significant chunk of space in your wardrobe – a boon for clothes enthusiasts.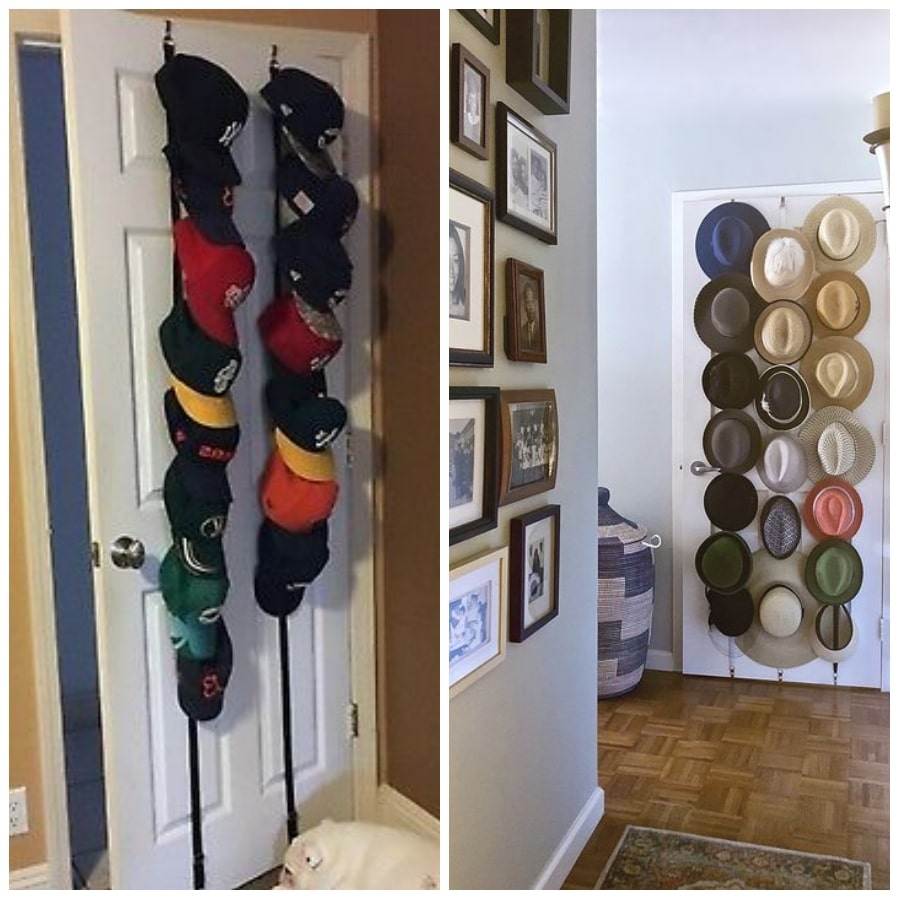 Utilize two hanging shoe organizers in a closet, filling each compartment with your hats. Every compartment can accommodate up to 3 hats, making it perfect for baseball caps and bucket hats alike. These hangers are straightforward to install and maintain easy accessibility to your hats. A mini hat rack installed on a hallway wall can be another viable storage alternative.
MOBILE STORAGE: THE CONVENIENCE OF WHEELS
For small households, storage on wheels is a lifesaver. The mobility of objects provides not just easy relocation but also the flexibility of non-permanent storage. As you make modifications to your home, certain items may need to be relocated due to space constraints in individual rooms.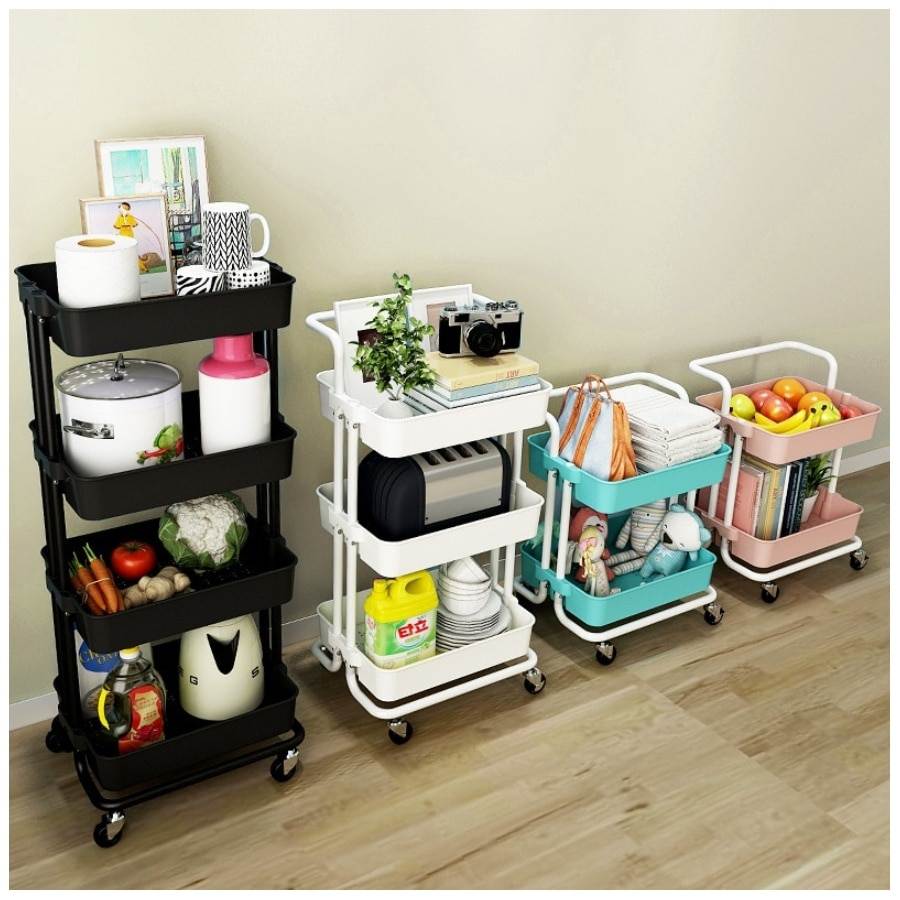 The addition of wheels to these storage baskets ensures their effortless movement without damaging your floors. You can remove the wheels for a permanent placement and reattach them when required. A storage trolley is another splendid alternative for storing everything from craft supplies and groceries to toys and cocktail accessories.
INTRODUCING THE DROP-LEAF KITCHEN ISLAND
For small kitchens with limited space, the drop-leaf table is a godsend. This versatile piece of furniture can be easily maneuvered around the kitchen. Need more space? Just fold it down and push it aside. It's available in diverse styles, sizes, and materials with plenty of drawers and compartments, ensuring you never run out of storage space.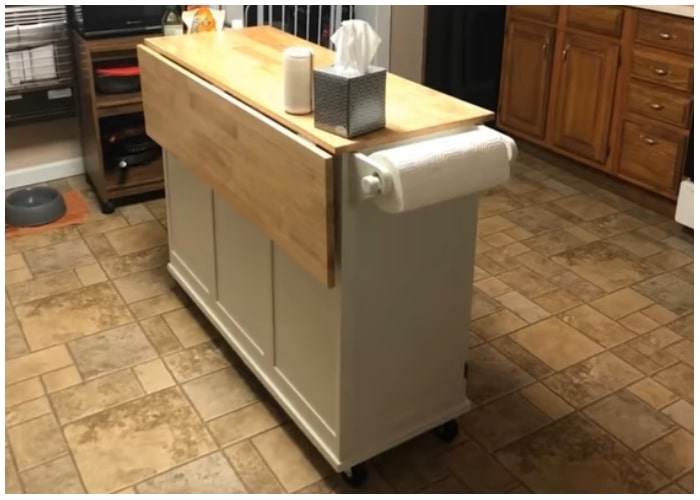 Position your island against a wall or in the center of your kitchen – either way, the drop leaf feature will be immensely beneficial. Use it for extra seating, as additional prep space, or for social engagements. Kitchen islands are the perfect social hub for families, couples, and evening entertainments.
OPTIMIZE YOUR FRIDGE SPACE
In small refrigerators, clutter accumulates rapidly. Egg cartons pile up next to greens, and yogurt containers are squished together. The lack of organization makes it challenging to locate items and accelerates food spoilage due to improper storage. Storage boxes hung on fridge shelves are a partial solution.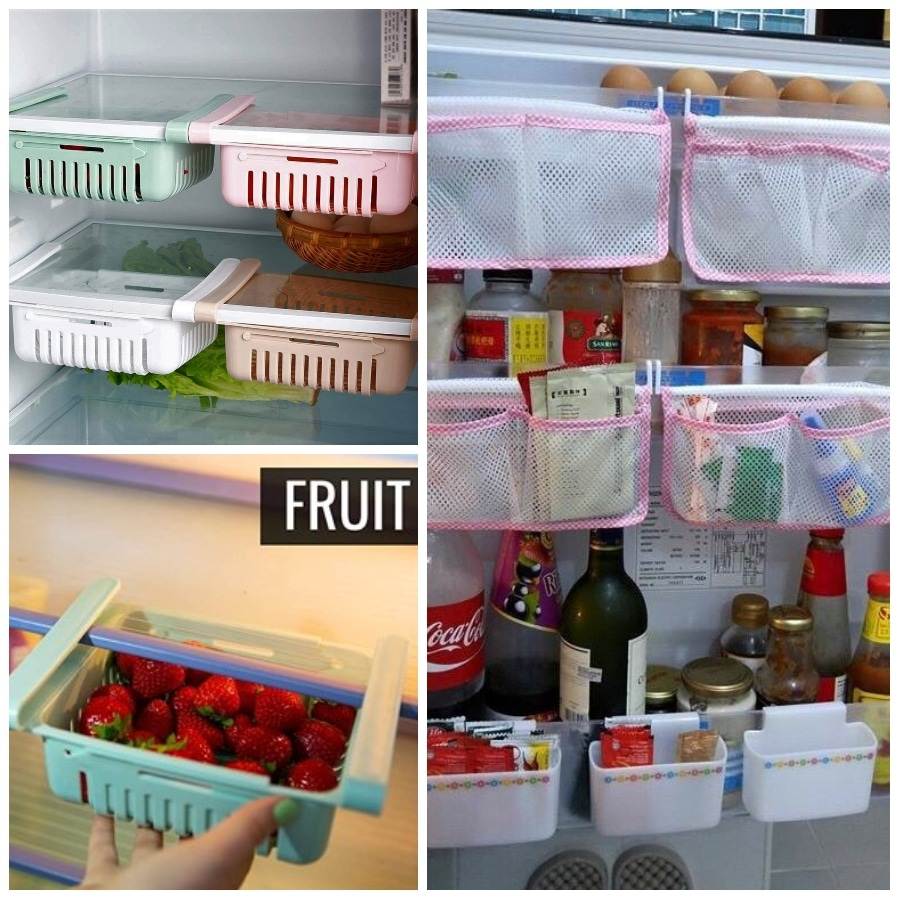 Now you can have separate boxes for greens, dairy products, etc. These boxes simplify cleaning as well. Since everything is off the shelves, spills or smears are minimized, and most fridge organizers can be dishwasher-cleaned. Transparent plastic containers allow easy identification of contents, signaling when it's time to restock. Plus, these containers help prevent foodborne illnesses caused by harmful bacteria.
THE VERSATILITY OF WALL BEDS
To ensure ample storage space and a cozy sleeping area, consider a wall bed design. This solution is ideal for narrow, rectangular spaces since it uses minimal floor space. It frees up room for your kids to play or for a desk and chair setup for schoolwork.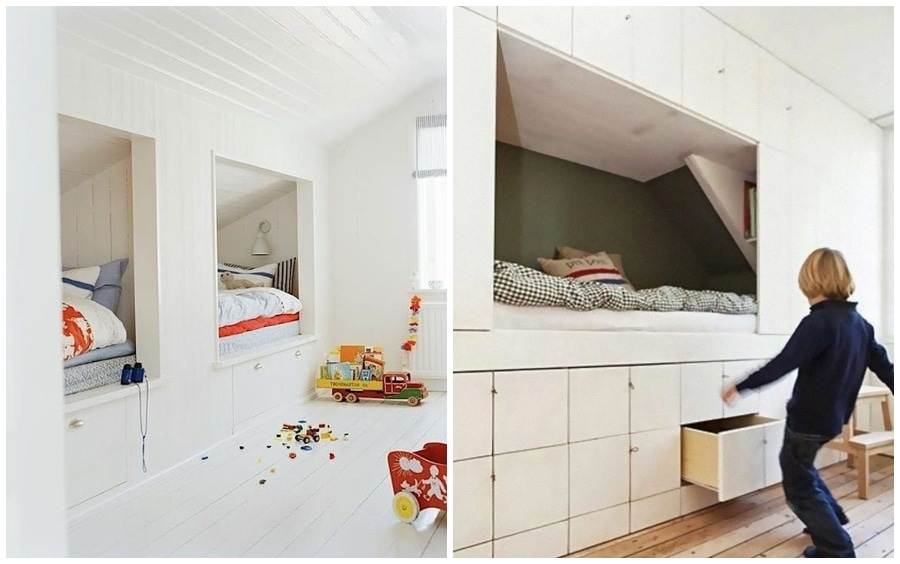 A Murphy bed helps save space during the day or when not in use, and it creates the illusion of a larger, brighter room. Murphy beds are sought after due to their space-saving feature and their ability to blend in elegantly with the room. Whether you live in a 900-square-foot apartment or a large house, a Murphy bed is always a valuable addition.
QUICK AND EASY KITCHEN CABINET ORGANIZATION
Revamp your kitchen cabinets with a simple, affordable solution: Under Shelf Wire Racks. No DIY skills or tools required! These racks are a revolution in your kitchen organization strategy.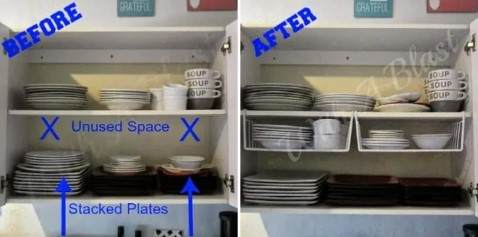 Upon using just two wire racks for one cabinet, we were amazed at the immediatetransformation! We couldn't resist getting another pair for the adjacent cabinet. Upgrade your kitchen organization game with these versatile and budget-friendly wire racks!
UTILIZING THE SPACE UNDER THE STAIRS
Under the stairs storage is a practical and adaptable design worth revisiting and exploring in different versions. The size and type of stairs you have will influence the design and quantity of drawers that can be installed. Professional assistance may be required to establish this storage, but it's an investment well worth considering in a small home.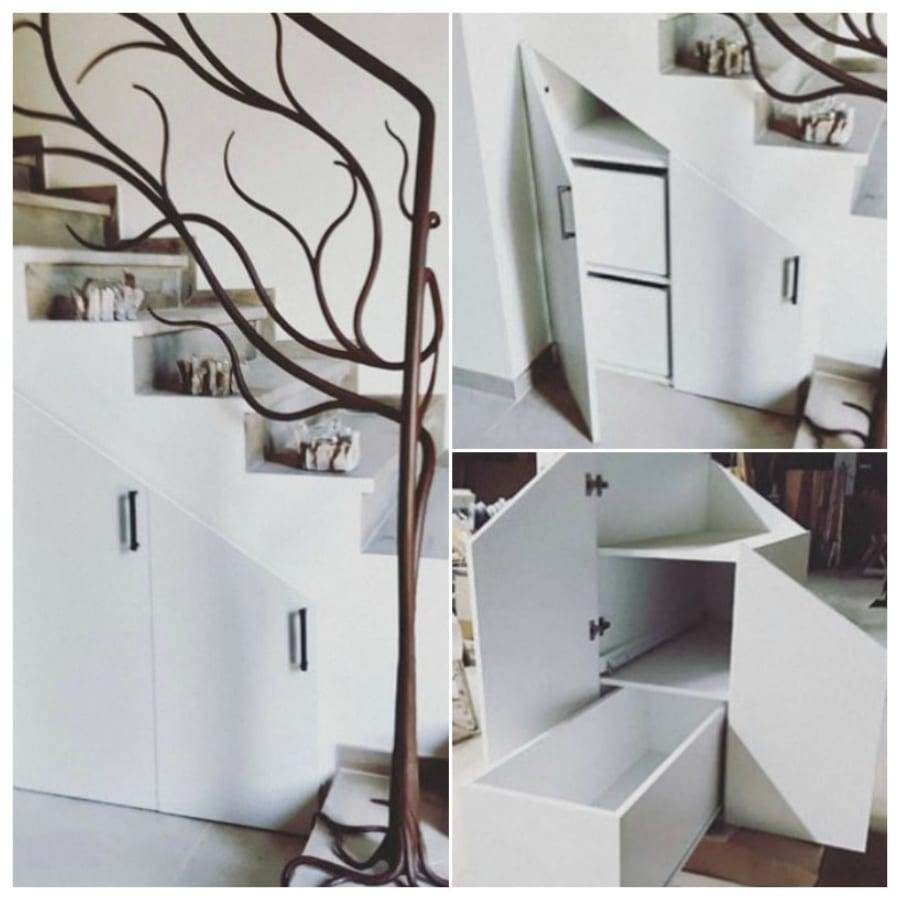 Maximizing space efficiency should be prioritized. A headboard with a fold-down work desk is a clever space-saving idea, allowing work from the comfort of your bed. When not in use, it can be folded back to match the room's aesthetics.
INNOVATIVE BATHTUB STORAGE
Think about utilizing the space under the bathtub for extra storage. Cleaning products can be discreetly stored close at hand, and bulky shampoo bottles that won't fit in a medicine cabinet can also find a home there. Consider having your builder install hinged doors rather than a standard removable front panel for future maintenance access.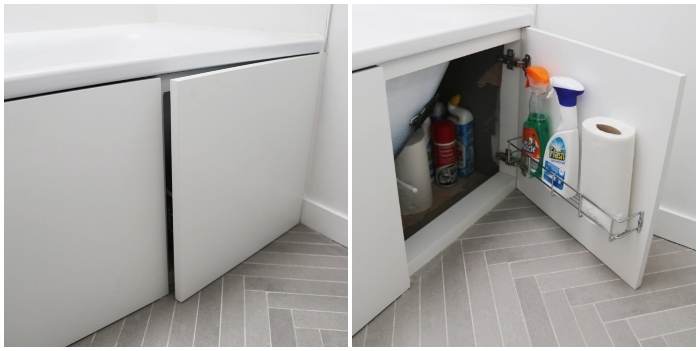 The doors can be professionally sprayed for humidity resistance. Wire baskets installed inside are an added bonus. The baskets, which can be repurposed from single-tier spice racks, fit perfectly within the door's width.
DIY ROLL-UP LAUNDRY DRYING RACK
Elevate your laundry routine with a space-saving, innovative DIY drying rack. You will need a sturdy curtain rod or dowel, lightweight nylon rope or a robust, flexible cord, reliable hooks or brackets, clothespins or clips, and a pulley system or a cleat. Begin by setting up the hooks or brackets on either end of your chosen drying area.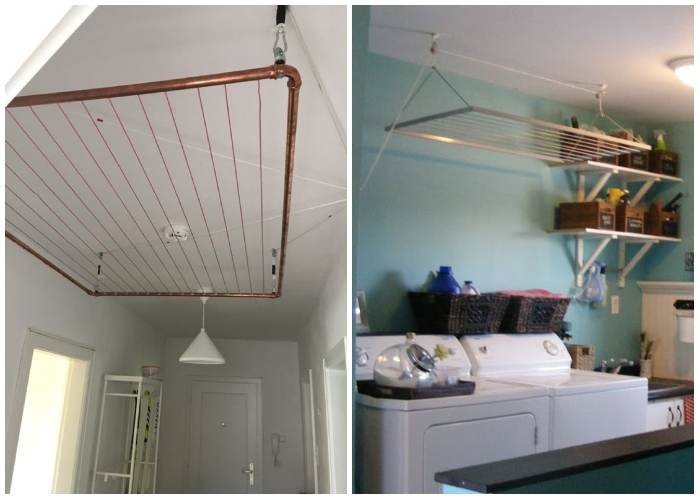 Make sure they're level and securely installed. Place the rod or dowel on the hooks, testing its durability to handle the weight of wet laundry. Tie the rope or cord to one end of your drying rack and thread it through the pulley system or around a cleat. This system allows the rack to be rolled up easily. Attach clothespins or clips to the rope or cord, spacing them equally. When you're ready to hang your laundry, pull on the rope or cord to roll down the drying rack. Once your clothes are dry, roll it back up and enjoy your newly reclaimed space.
Revamped Headboard Storage Solution
The headboard is often overlooked as a viable storage space. Here's an ingenious way to maximize its use: install pull-out drawers within it. This multi-purpose solution can substitute for a nightstand and offer additional storage for books, board games, wires, and other small items.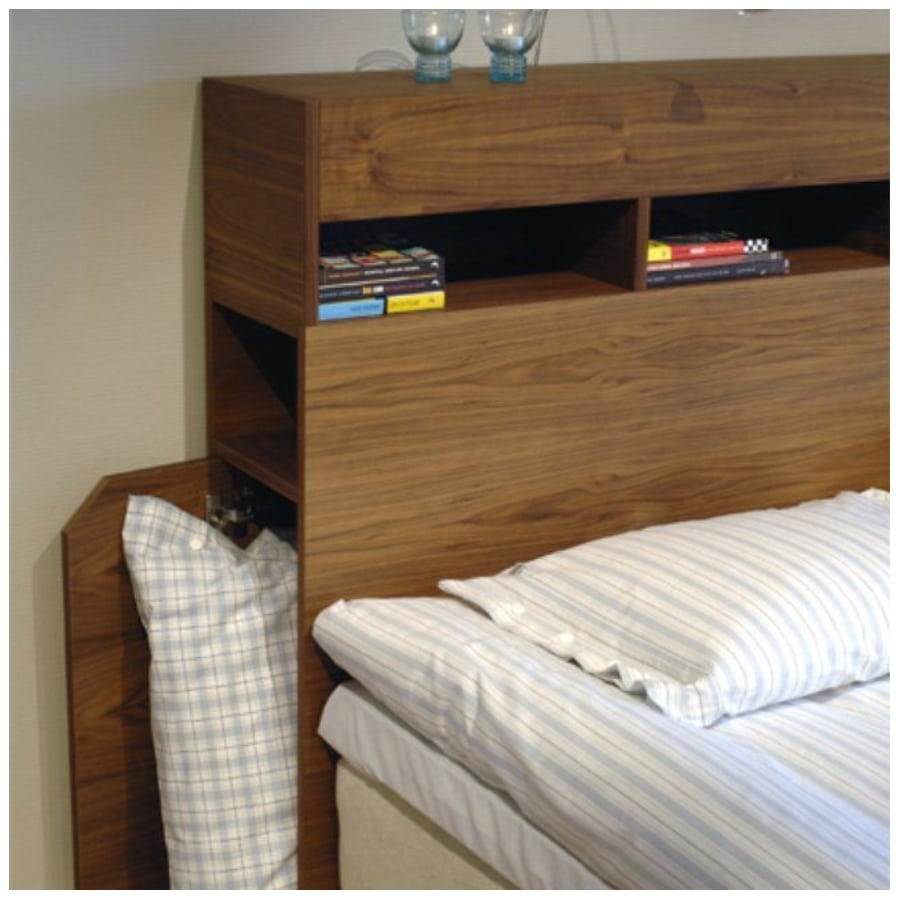 This compact storage solution uses a small area but creates significant additional space, making it perfect for smaller homes. Additionally, a fold-down desk incorporated into the headboard is a savvy space-saving idea, enabling work from the comfort of your bed. When not needed, it can be folded back to maintain room aesthetics.
Over-the-Stairwell Laundry Drying Rack
Make the most of your space and save floor area with a drying rack installed above your stairwell. It provides a handy place to dry your clothes and accessories without consuming floor space. To create your own, you'll need four wooden dowels, end caps for the dowels, hooks, screw-in cup hooks, metal brackets, screws, a drill, and measuring tape.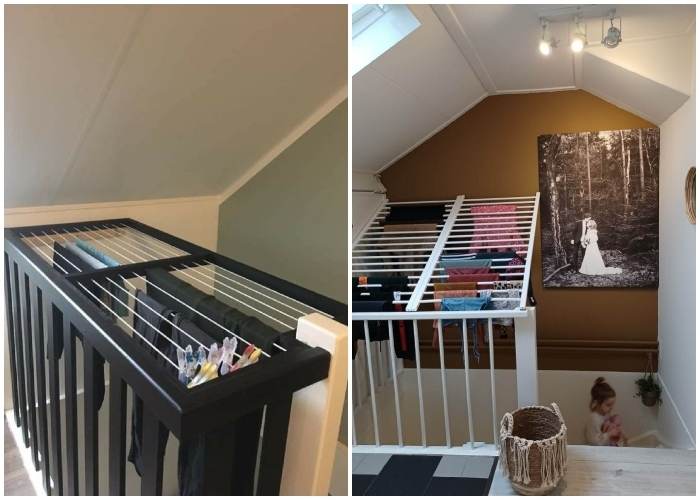 The process involves measuring your stairwell width, installing the brackets, attaching cup hooks, fixing end caps to dowels, and finally hanging the dowels. This convenient setup allows you to hang clothes and accessories for easy drying without sacrificing valuable floor space.
Staircase Storage
Stairs often represent unused potential in multi-story homes. An innovative solution is to transform each step into a large pull-out drawer. This concept, born from the tiny house movement, is now adopted in regular dwellings.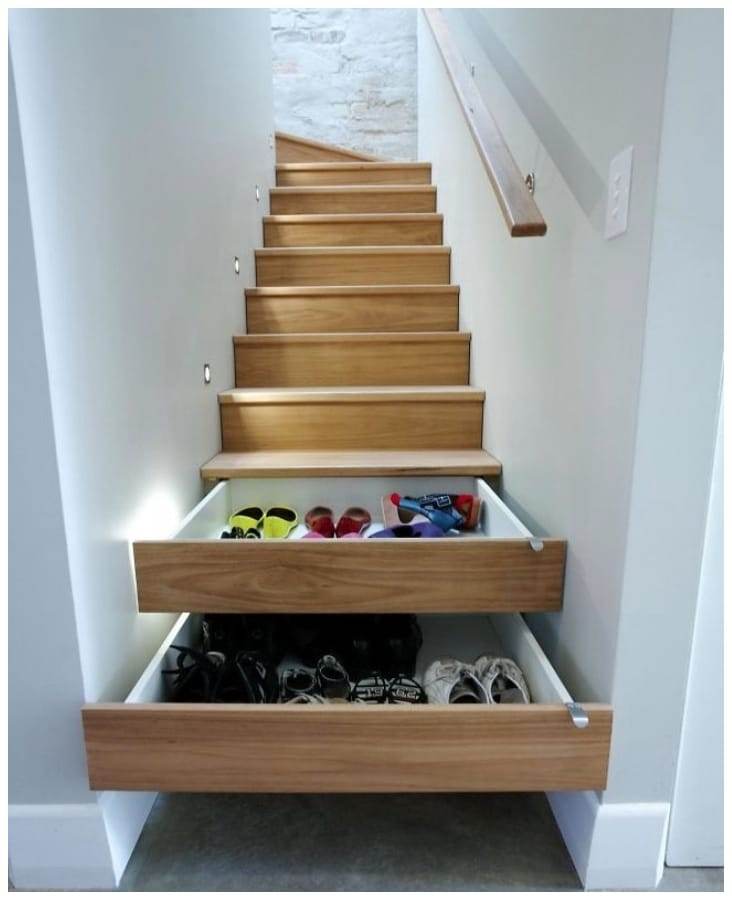 With proper planning, these drawers can store items ranging from shoes and pillows to books and clothes. This setup increases storage space, making the home feel more spacious, while also reducing clutter in one of the house's most frequented areas.
Elevated Bed for Additional Space
This clever piece of furniture creates an all-in-one bedroom, playroom, and closet, ideal for a young child's room. By placing the bed at a height, the space underneath can be utilized effectively, creating a play area that can eventually turn into closet space as the child grows.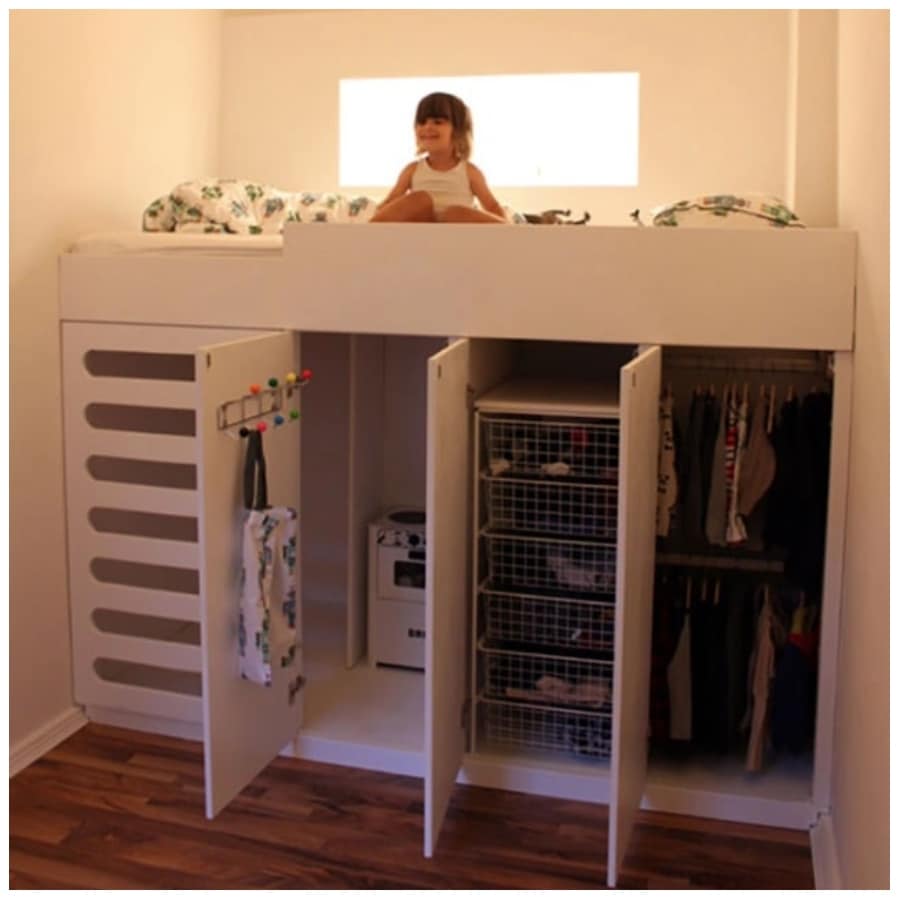 This bed-closet combo utilizes both horizontal and vertical space and can transform to meet changing needs over time.
DIY Slat Wall Cover for Your Electrical Panel
Unsightly electrical panels can be cleverly masked with this DIY slat wall cover. This project involves building a shallow closet-like frame around the panel, covered with MDF boards.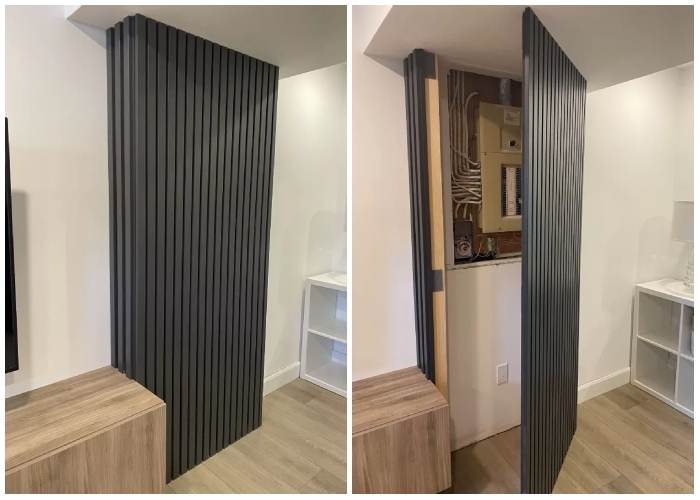 A full-height door attached via a piano hinge gives easy access to the panel. Primed MDF slats are then attached to the front, creating a modern, chic look. After painting and finishing, this cover transforms an eyesore into a stylish feature of your home.
Dorm Room Privacy Curtain
A no-nails privacy curtain is a great solution for a dorm room. All you need is a lightweight curtain rod or tension rod, a curtain that matches your room's decor, Command Hooks, measuring tape, and a level.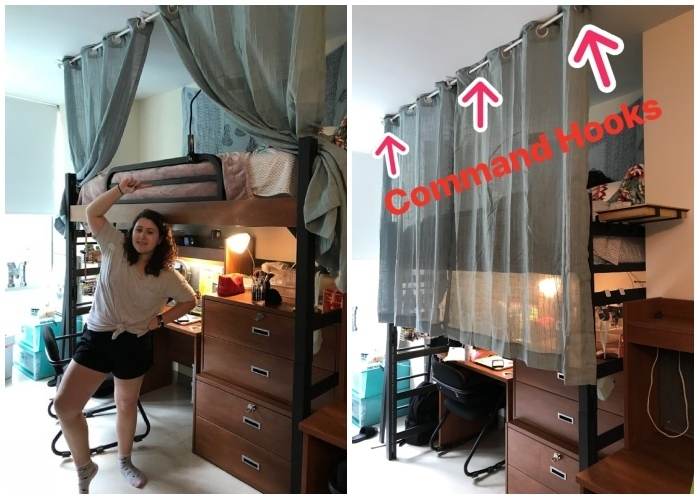 The curtain rod is supported by Command Hooks, which do not damage the wall surface, and the curtain can be easily hung and taken down as needed. This damage-free solution gives you the privacy you need in shared living spaces.
Medicine Cabinet-Table Hybrid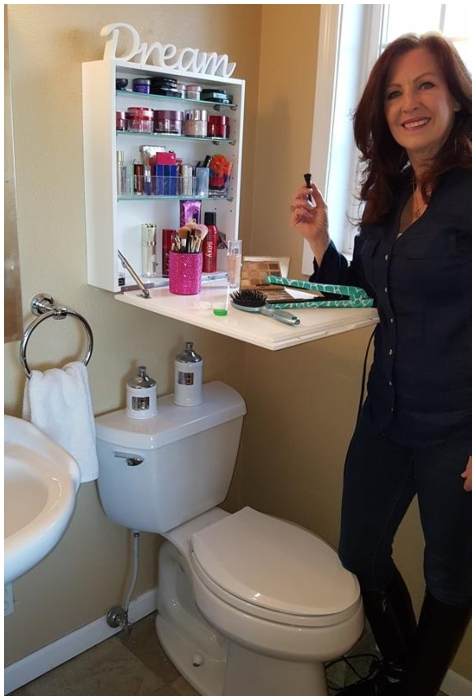 Maximize your tiny house bathroom space with a DIY Flip Frame, a fusion of a medicine cabinet and a table. This wall-mounted setup creates extra counter space and organizes your items stylishly. Plus, you can personalize it with your favorite prints and pictures.
Space-Saving Laundry Room Cart
Revolutionize your laundry room with a DIY rolling cart. It's a simple project involving wire lattices, a wire shelf or wood, cable ties or metal clips, caster wheels, a drill or gimlet, measuring tape, and a pencil or marker.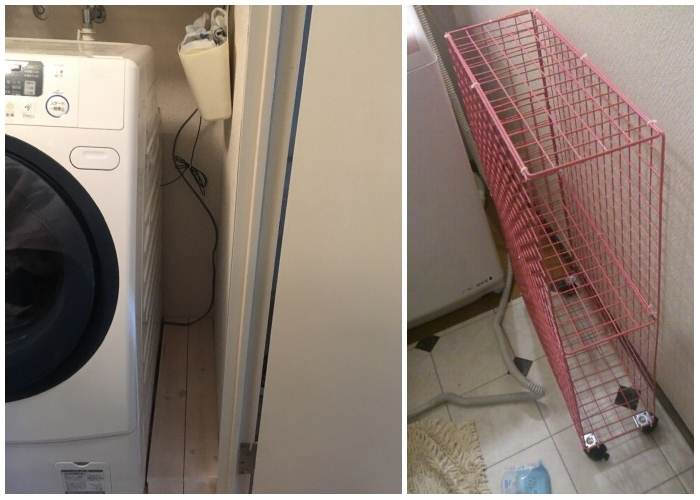 Once completed, youhave a functional storage cart that fits neatly between your washing machine and wall, providing an effective, space-saving solution.
Craft Your Own Room Divider Curtain
Start your curtain room divider project with a shower curtain tension rod. You can choose an ornate one from the store, or add a personal touch to a budget-friendly white rod with some fun, vibrant paint patterns. The curtain, ideally with a tab top, or a plain sheet equipped with curtain clips, should be strung along the rod. Following that, fix the sheet in place by clipping it.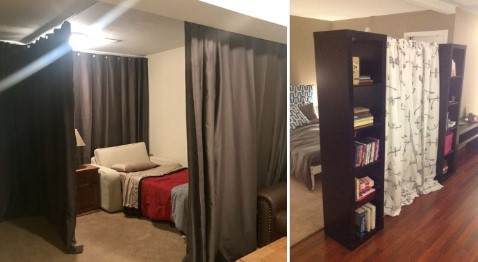 For this creative venture, you might want to consider crafting or buying beaded drapes to add a touch of flair. Discount stores often sell irregular sheets for a few dollars, and you can repurpose an old sheet just as effectively. Any imperfections in the fabric can be concealed with some fabric paint. Hang this curtain wherever you want the room divider, and set it up in the same way you would a shower curtain.
Creating a Magnetic Spice Rack for Your Refrigerator
For those living in a smaller space and needing to optimize every inch, using the walls or even the exterior of appliances, like your refrigerator, can be a great solution. With just a few supplies, you can craft a magnetic spice rack for your refrigerator.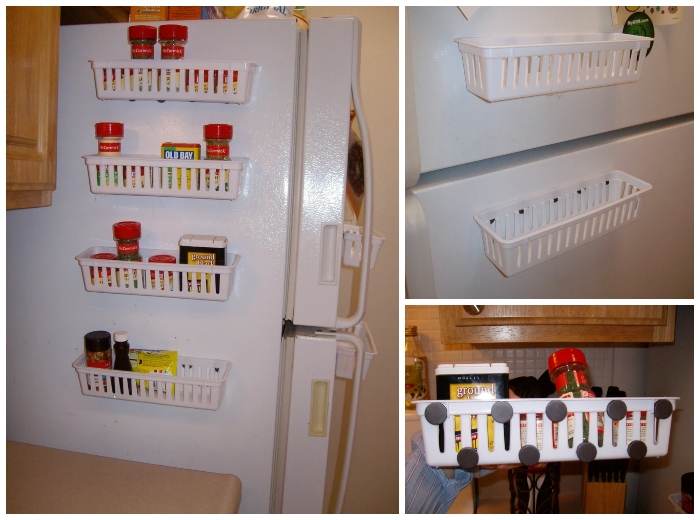 Here's what you'll need: a hot glue gun, hot glue sticks, a pack of 50 round magnets, and six pencil holder organizers. Glue five magnets to the top and four to the bottom of each organizer, evenly spaced. Now you can enjoy your new magnetic spice racks right on your refrigerator's side!
Enhancing Storage with Wall Space
We often forget that our walls, which make up the majority of a room's space, can be used for more than just housing furniture. A rustic board can be a great way to hang hefty pots, pans, and other kitchen utensils.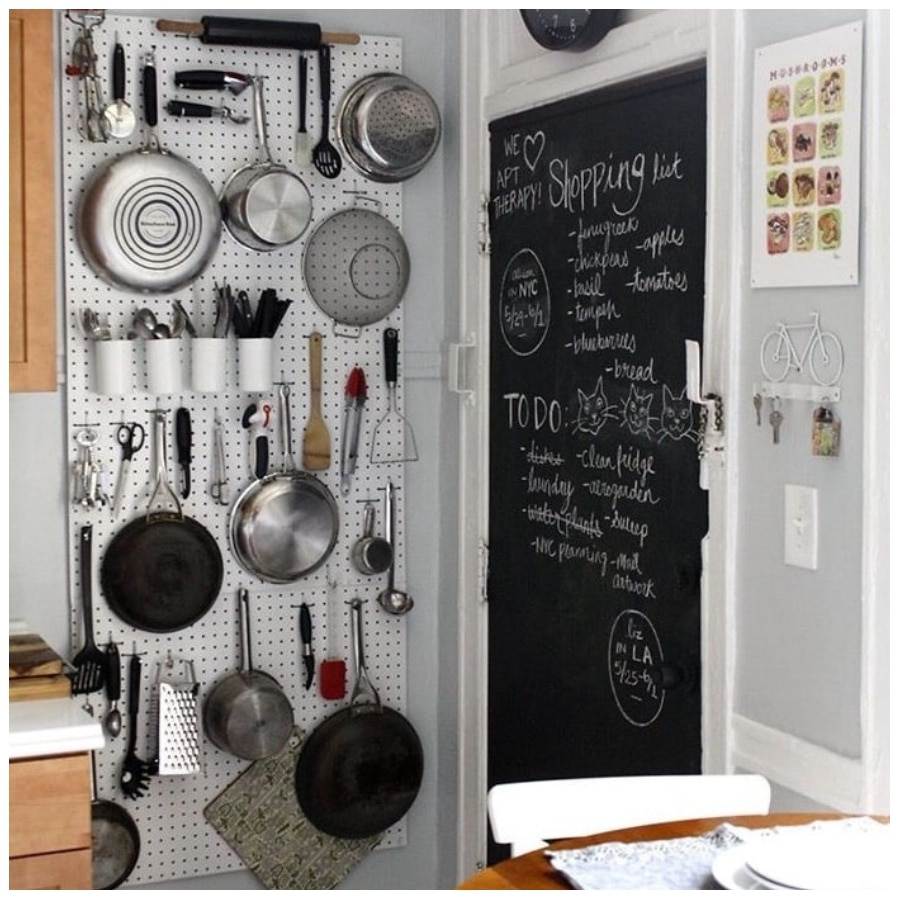 This not only frees up drawer space, but keeps your tools within easy reach. You can create such a board using an old piece of garden fencing or scrap wood, making it a perfect fit for a farmhouse-style or eclectic kitchen.
Try Magnetic Spice Tins for a High-End Look
If you have a slightly bigger budget, you can opt for round metal magnetic spice containers. These containers simply stick to the side of your refrigerator.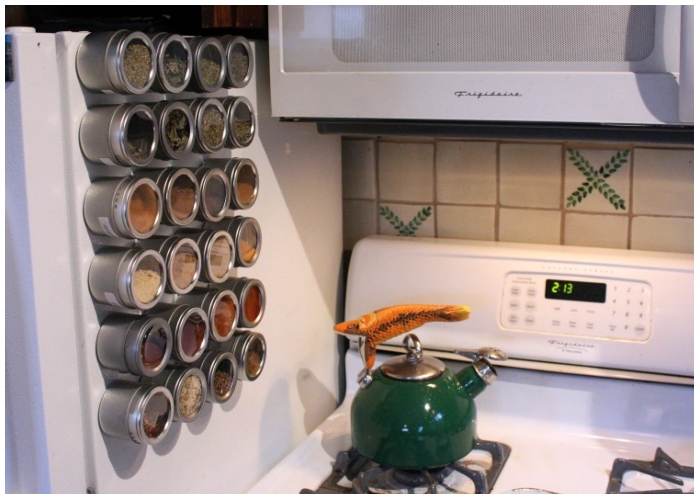 Just remember, spices should be stored away from direct sunlight and heat to keep them fresh longer. So, choose a side of your fridge that doesn't get direct sunlight for your new magnetic spice tins.
Constructing a Kitchen Island that Stores Two 5-Foot Tables
For this project, start by assembling two KALLAX shelving units as per the manufacturer's instructions. Attach the wheels, using two with a stopper and two without for each unit. Then, cut two pieces of countertop using a jigsaw, each side to approximately 4.7in x 4.9in. Post-cutting, the countertop's overall dimensions should be around 25in x 35in.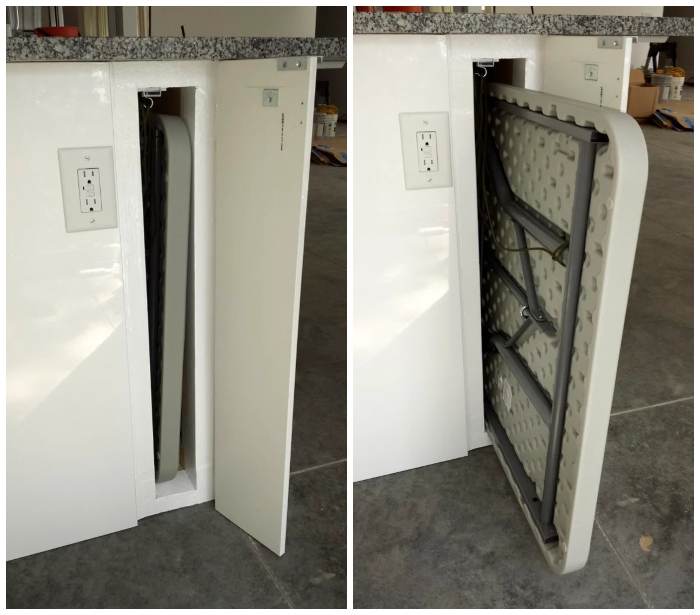 To cover the cut edge, apply edge banding using a warm iron. Next, apply silicone glue to the top of the KALLAX and attach the worktop. For extra security, screw a couple of screws upwards from beneath the KALLAX into the countertop. Lastly, attach a door magnet to one side of the counters and a metal corner to the other.
Transforming a Cabinet into a Pull-Out Trash Can
A kitchen remodel can involve major changes, such as demolishing a wall, repainting cabinets, installing new counters or a backsplash, or simply freshening up the space with a new paint job. One less common, but effective, strategy is to add cabinet extensions that provide extra storage and a pop of color.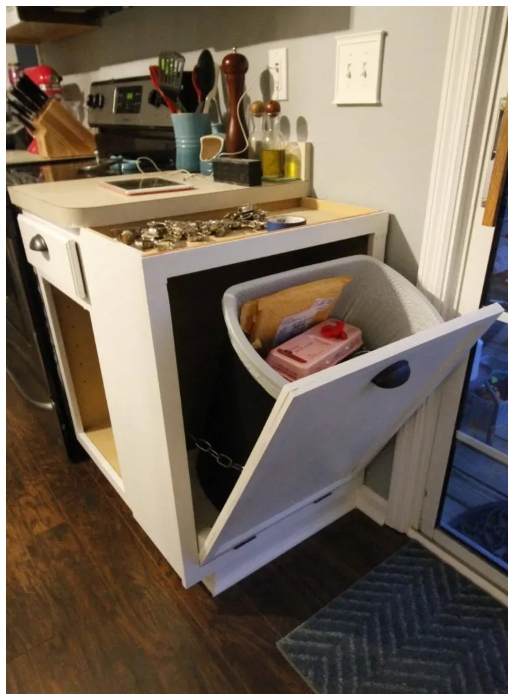 One creative idea is to build a tilt-out trash can. Convert an old upper cabinet into a lower one, then build a tilt-out door with chains to house thetrash can. By integrating a custom tilt-out trash bin into your new counters, you can hide your waste bin and gain additional floor space.
Recall: Crafting a DIY Laundry Basket Nook
In some apartments, you may find a small nook in the laundry area, which could be utilized as a handy storage spot for dirty clothes. You could transform this space into your very own laundry basket nook.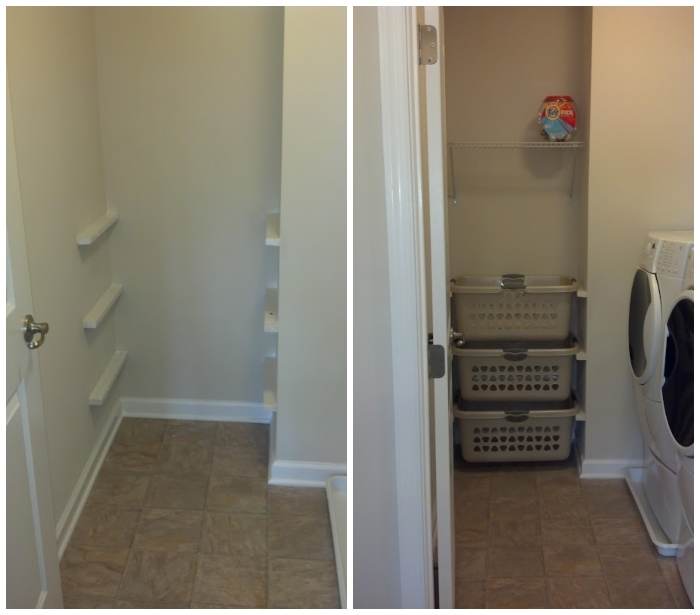 You will need three 2-bushel Sterilite laundry baskets and some 1x2x8 pine boards cut into eight 19-inch pieces for the side supports, plus one 24-inch piece for the countertop's rear support. Secure the supports with 3-inch wood screws, maintaining a height of 13 inches between each support. Ensure the baskets can slide in and out easily.
How to DIY a Built-In Railing Bookcase
First, measure the desired depth and height of your bookshelf and adjust your blueprints accordingly. Remove the existing railing, and build three 24 boxes (each with a 4-inch side on the floor). Secure these boxes to the floor joists, leaving enough space between each box and on the ends to fit a 2×10. Next, cut four pieces of 2×10 lumber to match the height of the bookcase, insert them between the 2×4 boxes at the end, and secure.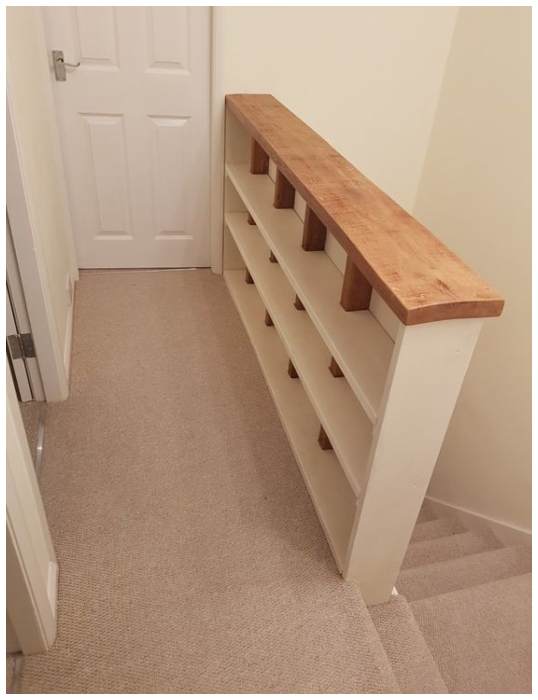 Cut a 2×10 board to fit on top and secure it to the 2×10 vertical boards. To complete the top, use a 1×12 cut to the height of the end and a 1×12 cut to the length of the shelf. Add the shelves by cutting 1x10s to the necessary height and securing them with shelf pins. To finalize the design, add the following molding: a 1×4 along the bottom with four vertical "posts", a 1×3 across the top (2×10 board), and a 1×2 covering the shelves all the way across. To enhance the bookcase's back, consider adding sheetrock, priming it, and giving it a fresh coat of paint. Your new built-in railing bookcase is ready!
Implementing a Mobile Bed
Leveraging mobile furniture is a savvy strategy for small spaces. If you only have one room to function as both a bedroom and a living room, a mobile bed resolves the need to choose. By day, lift the bed to uncover a functional living room. By night, pull it down and it's time for bed.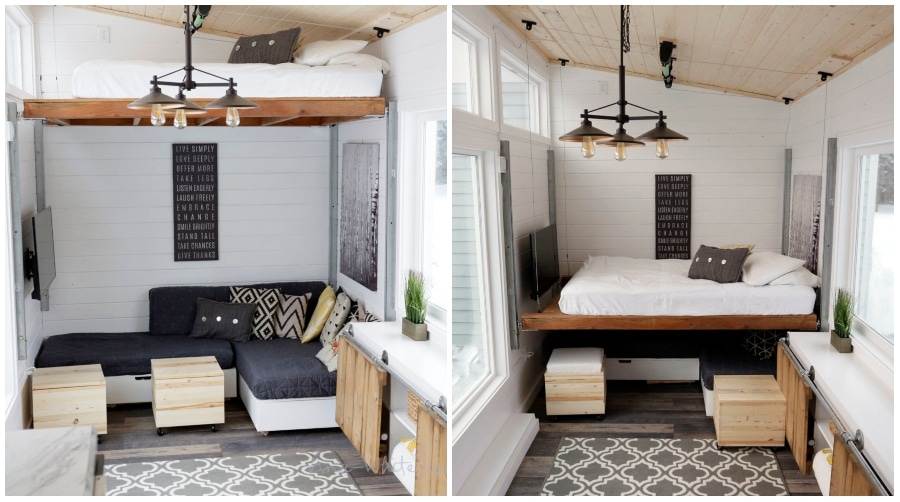 This design allows for dual-purpose usage without taking up any additional space. Additionally, some mobile beds offer storage or display space, or can even be converted into a sofa. This way, you can optimize space utilization in your home, without having to compromise on functionality or aesthetics.
Elevate Your Bed
Beds, especially double beds, can consume significant space. To create extra storage in a smaller apartment, lifting the bed is an effective strategy. This can be done by creating drawers under the bed, although this isn't a requirement. If you're on a budget, you can opt for a simpler and cheaper alternative, like placing bricks or wooden pallets under the bed corners.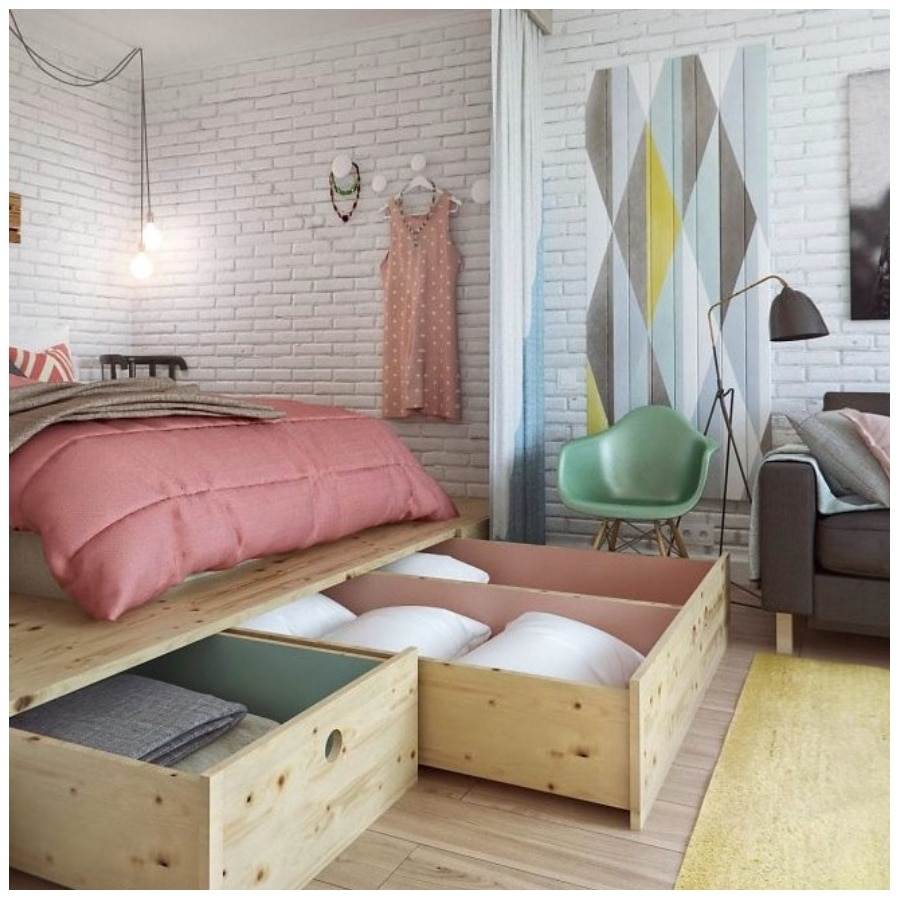 This way, you can utilize the space underneath for storage. Safety is important, and bed risers, which offer a more stable base than standard bed legs, are a secure option. Select a bed riser that suits your bed frame design and weight requirement.
Multi-Functional Headboards
A headboard can serve more than a decorative purpose, particularly in smaller spaces where functional items are necessary. A small, charming bookcase can double as a wooden headboard.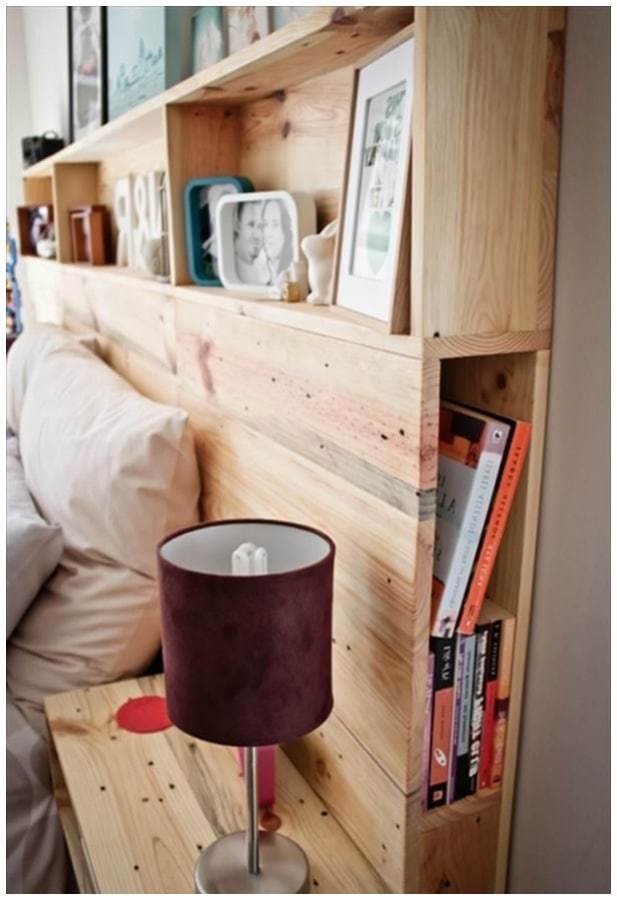 It offers a practical storage option for books that you can conveniently reach before sleep. For non-readers, the shelves can be utilized for other items that need a home. Some headboards even feature hidden, adjustable shelves that provide extra storage.
Utilizing Shelf Underspace
We often store items on shelves, but what about underneath them? This overlooked space is an innovative storage option for those living in smaller areas. This design cleverly allows for the storage of items like spices, both on and beneath the kitchen shelf.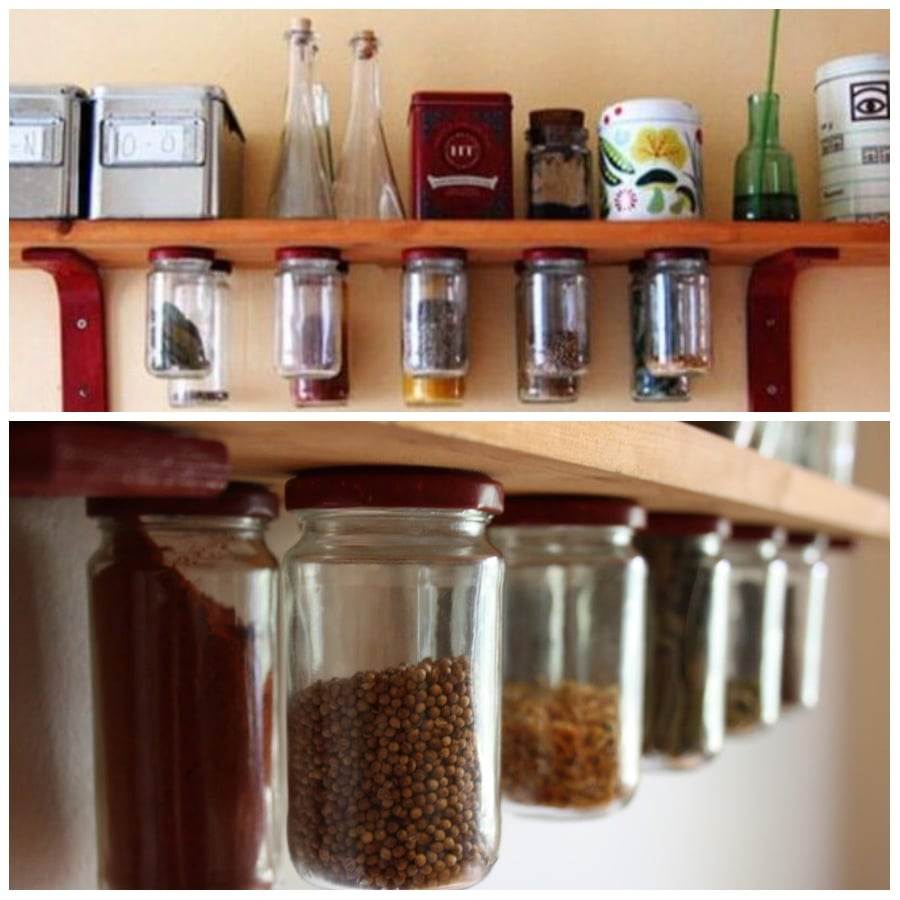 This concept is adaptable for other rooms as well. For instance, small art pieces in jars can hang from a shelf in a children's room. Simply glue the jar lid to the shelf underside and screw the jars into the lids.
Creating Space for Books
Living in a small space doesn't mean you have to forgo your book collection. A sleeping loft provides ample space for your beloved books and other decorative items.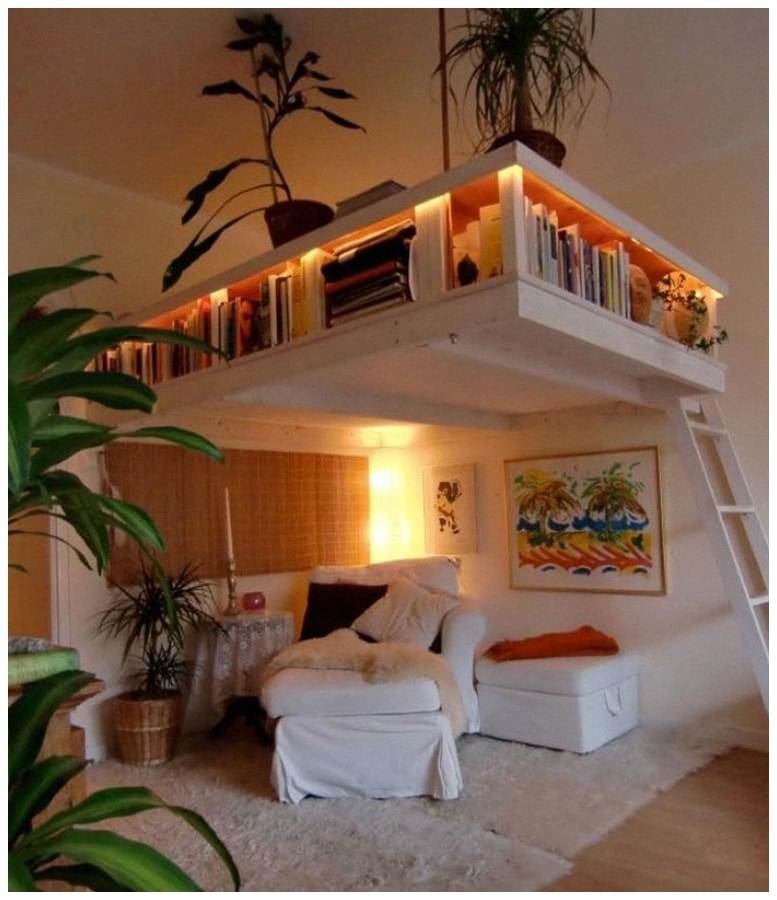 Compact living solutions like this are not only functional but also add a unique touch to your living area. Consider placing a shelf where a dado rail typically sits, maximizing space and functionality.
Inception Bed for Sleepovers
Sleepovers are a joy for kids, but a small house may pose a challenge. An "inception bed," a bed with multiple sub-beds, is an innovative solution.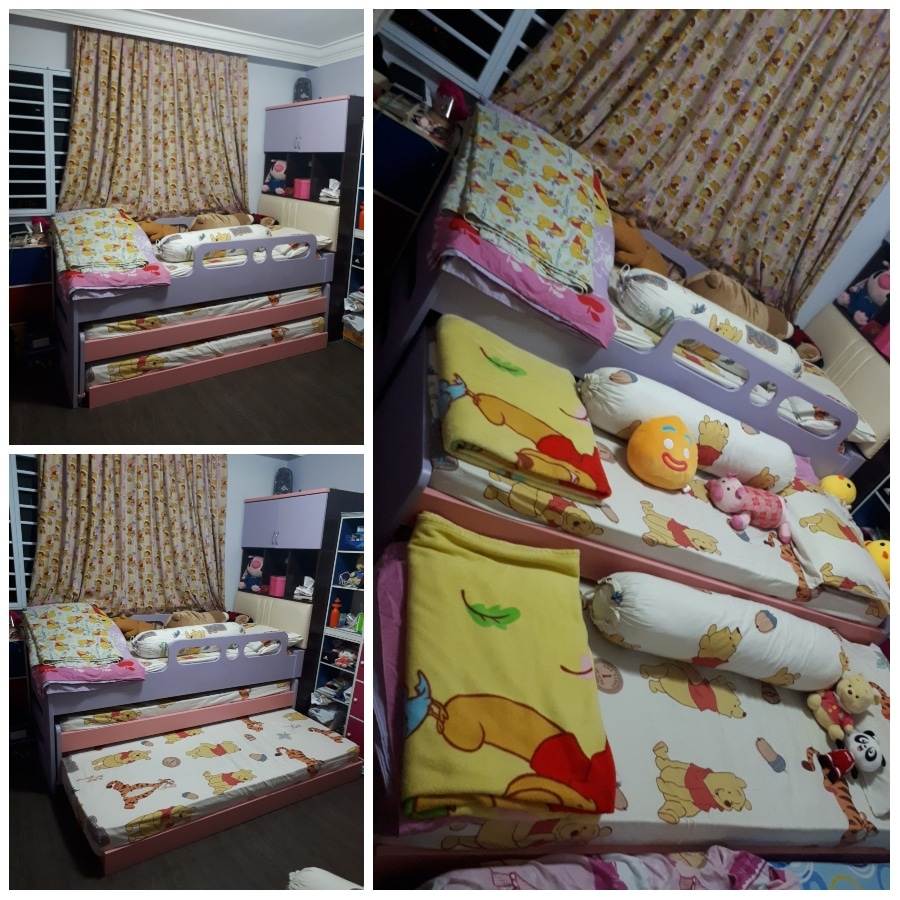 This bed design fits comfortably even in small spaces, providing enough room for sleepover guests. The beds can accommodate a large family in a small space, providing comfort and functionality.
Approach Your Room Like a Tetris Game
When furnishing a small room, think of it as a game of Tetris. A multi-functional wooden structure can serve as a partition between the bedroom and living area, and also function as a storage space for books and other items.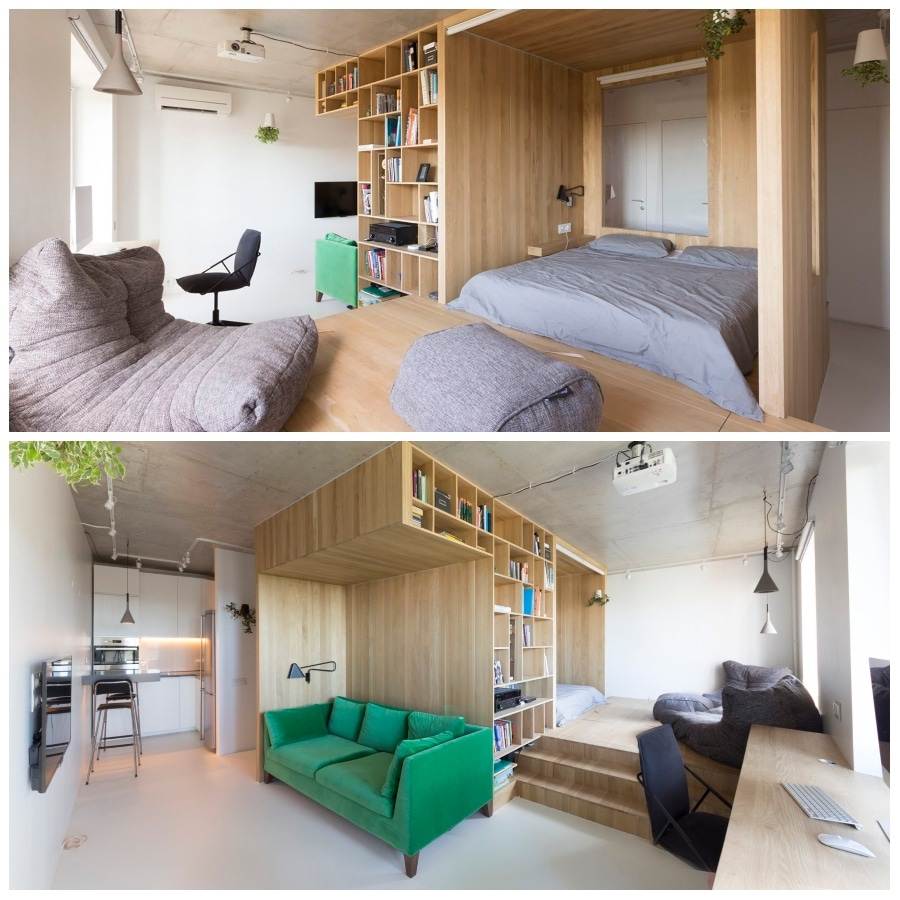 Such a design enhances the space vertically and horizontally, maximizing the usage of the room.
Picture Ledges as Vanity Tables
Creativity can go a long way when furnishing small spaces. For instance, picture ledges can be used as a small table for make-up, perfumes, and body creams.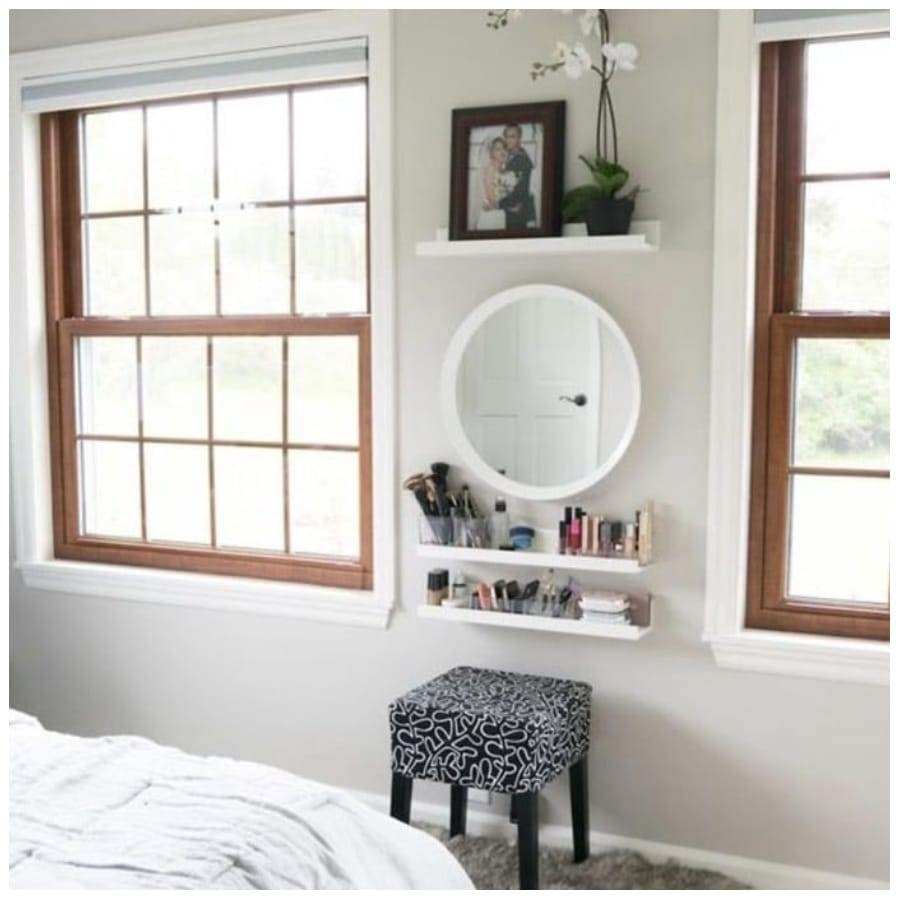 This design idea is not only functional but also maintains an open feel in the room. Adding a mirror makes the space ready for your morning routine. Using picture ledges can offer a unique, space-saving solution for yourhome.
The Loft Bed Solution
In small houses with limited space, fitting a bed, closet, and desk can be a challenge. But here's a clever solution: raise the bed up high and place the closet and desk underneath.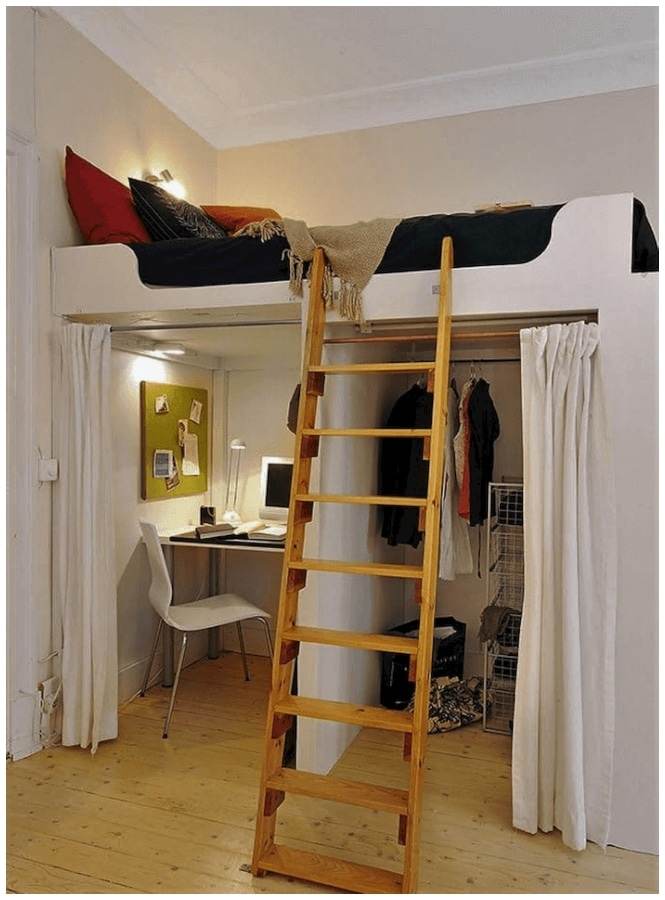 This creates a cozy sleep loft while leaving room for a couch or table in the rest of the apartment. IKEA's Storå loft bed is a great option, offering plenty of open space to set up an office, sitting area, or walk-in closet. It's an affordable choice and easy to assemble with a friend. Explore the variety of designs available in-store and online.
Utilizing the Space Above Doors
Have you ever considered the space above your doors? It's a hidden gem for storage, especially in small homes with limited storage options. While not easily accessible for daily items, it's perfect for keeping those old, favorite novels or displaying smaller collectibles like Funko POP dolls or action figures.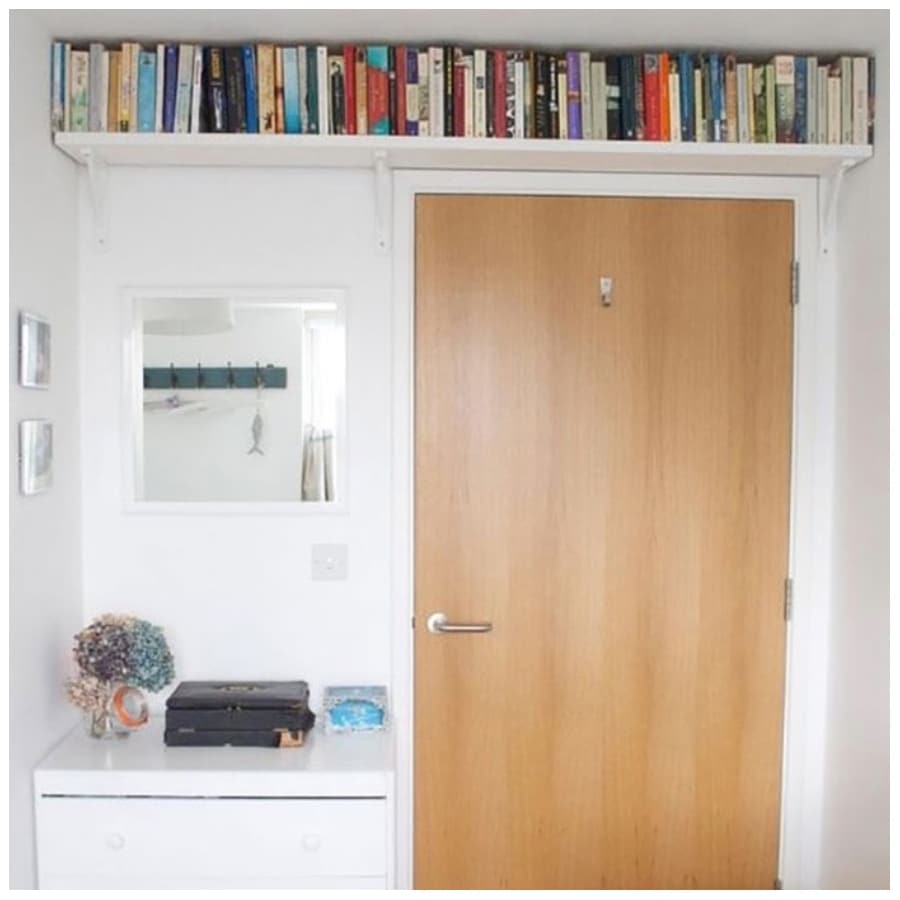 If you have enough space, install multiple shelves above door frames to accommodate your collection. Aim for about 10 inches of shelf height for optimal use.
Vintage-Inspired Compact Furniture
This design combines a modern and elegant look with a touch of nostalgia. It's as if someone took inspiration from their grandparents' large, ancient mahogany furniture and created a smaller, more compact version. The folding table serves as a workstation, and the charming small shelves inside and above it provide ample storage for papers and office supplies.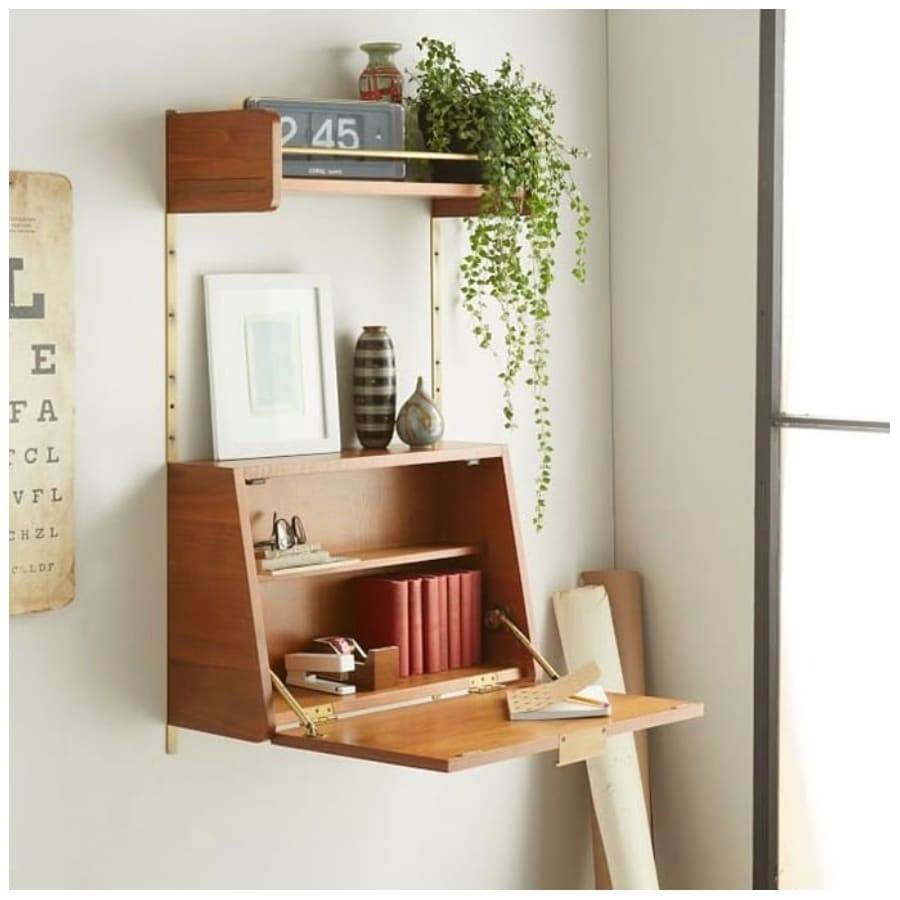 It's an ideal piece of furniture for small houses or apartments, adding a cozy touch to any space. Vintage or antique furniture has a timeless quality that can enhance your space for years to come.
Wall-Mounted Dryers for Efficient Space Use
Drying clothes can be a challenge when you're short on space. Traditional racks take up valuable room and can appear messy. Make the most of your wall space by adding a few drying hooks directly to the wall. When not in use, simply roll them up to keep them out of the way.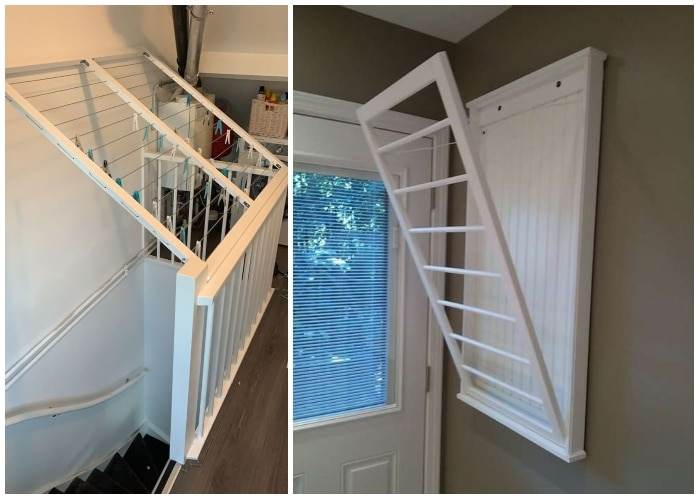 This clever solution provides extra drying space without sacrificing precious floor area. Consider using dryer wall brackets to mount your dryer on vacant walls, freeing up space in your laundry area. Ensure a minimum distance of 10 inches to the ceiling and 52 inches to the floor for proper installation.
Floor Storage Solutions
When storage space is scarce, don't overlook the area beneath your floors. While this option may not be feasible in every home, it can be a game-changer for small spaces or families with lots of belongings.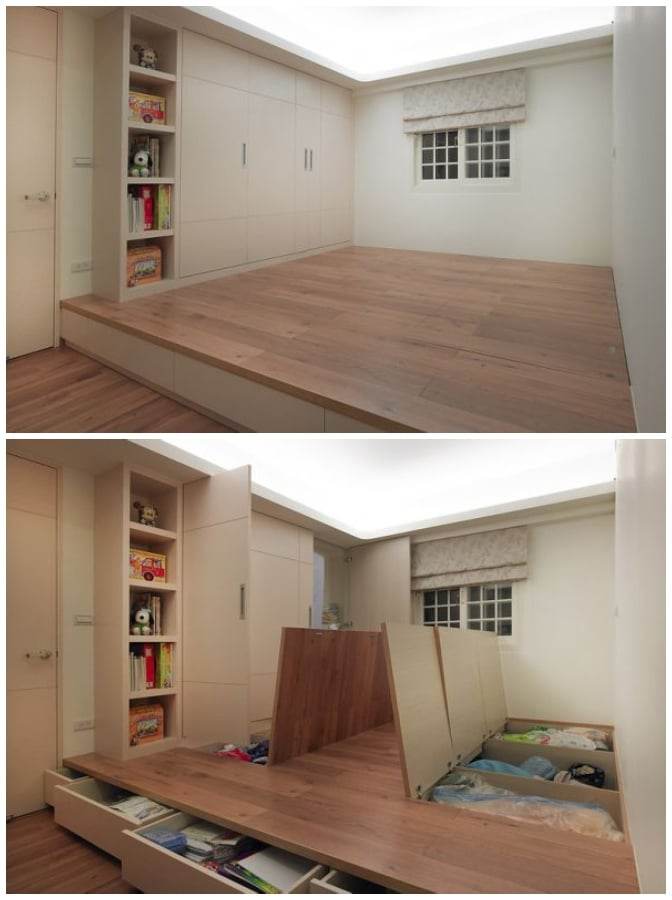 What might appear as an empty room with a raised platform can actually hide drawers and hidden storage compartments. Additionally, utilizing the stairs for storage has become a popular trend in modern homes, offering a clever way to save space elsewhere.
Organizing Board Games
Attention, board game enthusiasts! Shoe organizers aren't just for shoes anymore. They are perfect for storing board games due to their sturdy and fold-resistant pockets. Hang a fabric shoe organizer in your closet, and neatly tuck away your board games.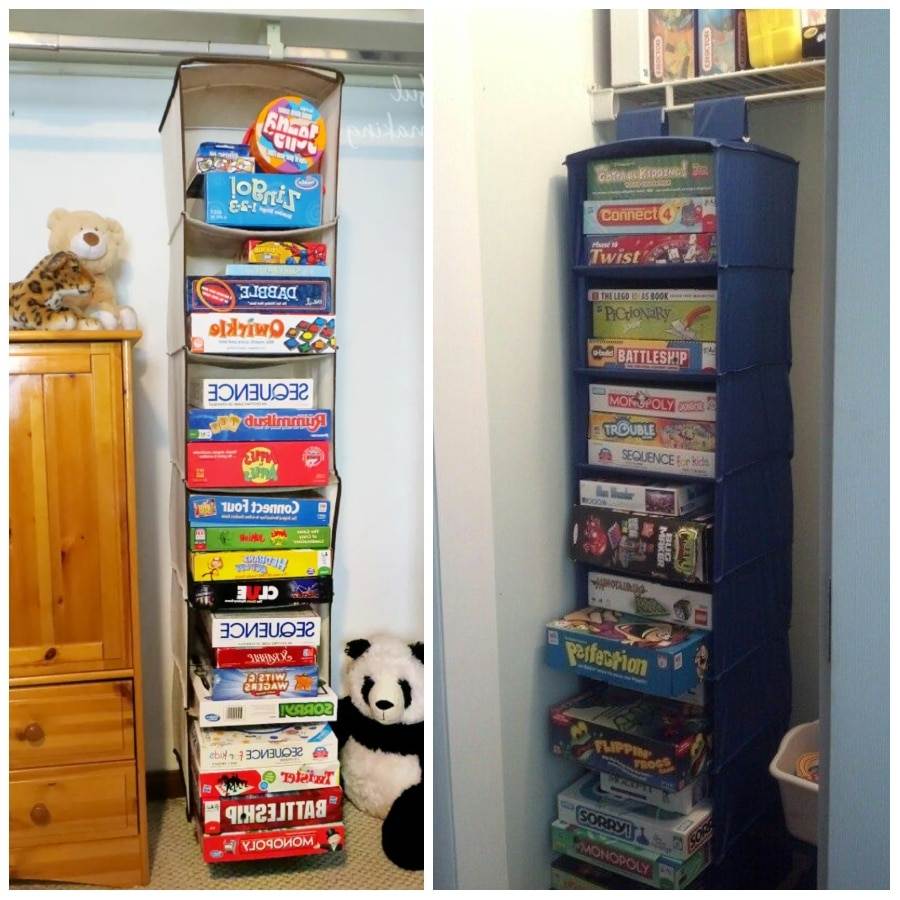 For games without boxes, store them in large freezer bags, and keep the smaller bits in smaller Ziploc bags. Use rubber bands or hair elastics to keep cards together and create labels for easy identification. Organize the bags vertically in the shoe organizer, allowing quick access to your favorite games.
Door Towel Racks for Small Bathrooms
Finding the right place for towels in a small bathroom can be a challenge. But here's a simple solution: install towel racks inside the door and hang your towels there. This not only saves space but can also add a decorative touch if you choose colors and patterns that complement your bathroom's design.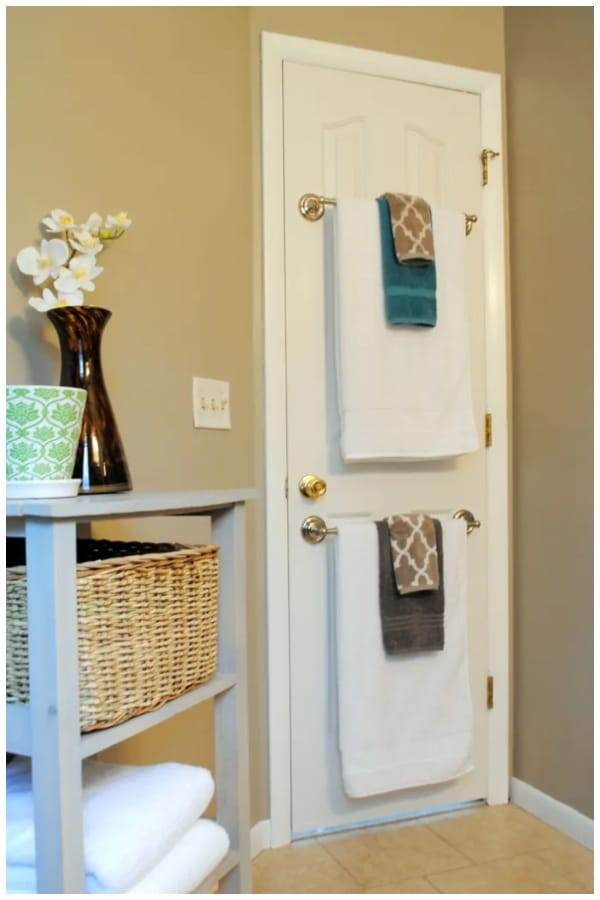 Can you hang towel bars andhooks on a hollow core door? Absolutely! The secret is using Molly bolts as wall anchors, ensuring they can support the weight without damaging the door. Molly bolts are ideal for hanging heavy items, such as towel bars or robe hooks, on hollow doors.
Innovative Shoe Storage Solution
For shoe lovers struggling to find space for all their pairs in a small home, we have an amazing solution. This unique piece of furniture allows you to stack shoes on top of each other without worrying about them getting dirty. It maximizes shoe storage by accommodating twice as many shoes in the same rack.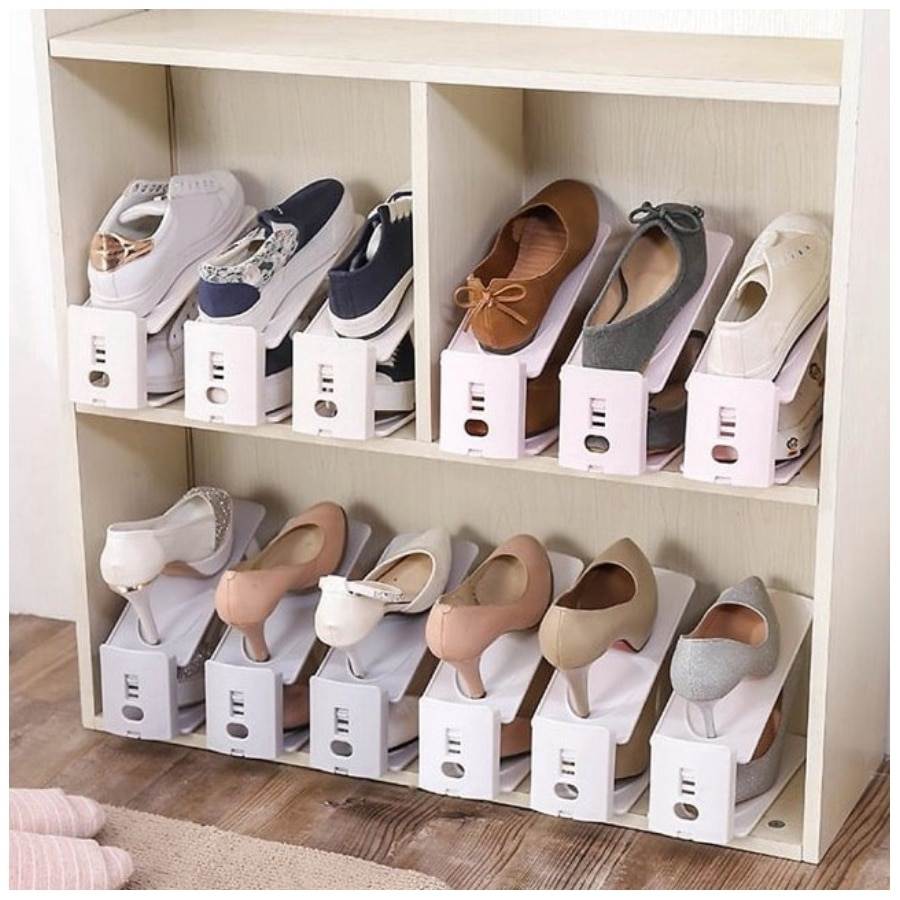 Whoever invented this is a true genius! Plus, slanted shoe racks are adjustable, allowing you to customize the space based on the height of your shoes. Whether it's heels, boots, flats, flip-flops, or sandals, this solution will keep your shoes organized and easily accessible.