You are finding plants to grow in your North garden that receives almost no direct sunlight. This means you must choose plants that either prefer shade or tolerate it. Look no further, the list today will give you great options you can choose from. And here are 11 Beautiful Plants For North Facing Gardens. Growing these plants will help you deal with your current problem as well as fill up this area with bright and colorful flowers.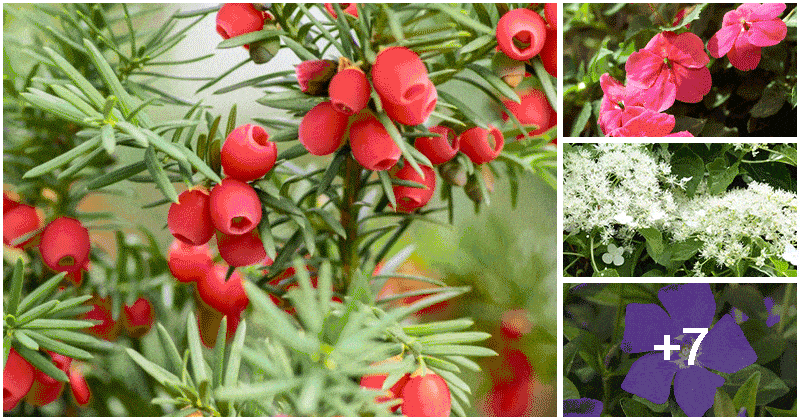 Whether you looking for is, they could suit every category from stunning bedding annual flowering perennials, climbers, ground-covers, to shrubs. In addition, they grow well in the challenging conditions created along north-facing zones. Some of them also tolerate some sun, so you can also grow them along east-facing and west-facing gardens. Keep reading to know more about their information!
#1 Common Bleeding Heart
Source: Enchantedgardensdesign
Common Bleeding Heart is a perennial that produces clusters of pink and white flowers along arching stems in spring. It grows happily in north-facing walls. In sunnier locations, supply the plant with more water to compensate. Give it medium moisture, well-drained soil, part shade to full shade for its optimum growth.
#2 Hosta
Source: Dobies
Hosta is known as the plantain lily that has quintessential foliage plant for part shade to full shade areas. They are extremely easy to grow and care for. You can easily propagate new plants by dividing the root clumps. Give they rich, moist, well-drained soil.
#3 Tuberous Begonia
Source: Provenwinners
Tuberous Begonia displays huge leaves and large neon-bright flowers to liven up shady spots. It doesn't tolerate much sun, so to grow it, let's choose the right locations of dappled shade or reflected light. Providing it fertilization regularly will keep these plants blooming profusely.
#4 Bugleweed
Source: Gardenchronicle
Bugleweed is a ground cover perennial that blooms better in sunny conditions. However, in shady condition, it makes an excellent ground cover, growing 6 – 9 inches and spreading rapidly into a thick mat. It does well both in full sun and part shade
#5 Impatiens
Source: Bhg
Impatiens are the best bedding plant for any shady location in your garden thanks to their profusion of color and long bloom season. They do well in nearly complete shade, but they will also tolerate relatively sunny conditions if they are gotten well watered. Also, give they rich, medium moisture, well-draining soil.
#6 Climbing Hydrangea
Source: Gardenersworld
Climbing hydrangea is one woody climbing vine that blooms nicely, is well-behaved, and does well in shady areas. From May to July, the white flowers appear. It grows well in rich, moist, and well-drained soil.
#7 Wax Begonia
Source: Gardenloversclub
Wax Begonia works well both in full sun and part shade. It forms mounds of fleshy, waxy leaves ranging from dark green to bronze in color, with loose clusters of small flowers that bloom throughout the season. You can grow it for a bedding plant, planted in masses, or as an edging, but give it rich, moist, and well-drained soil for its happy growth.
#8 Lilyturf
Source: Amazon
Lilyturf is an ideal plant for dry shade areas. However, it performs better if given more sunlight. It is a grasslike perennial that produces small flowers appearing among the leaves in August through September.
#9 Flowering Quince
Source: Britannica
Flowering Quince grows well both in full sun and part shade. It is incredibly easy to grow, tolerating almost any soil. It blooms white to scarlet flowers from March to April, and then the leaves will open.
#10 Creeping Myrtle
Source: Gardenia
Creeping Myrtle is a popular type of shade. It makes an excellent ground cover around bleeding heart and other perennials, or beneath shrubs and small specimen trees. In May and June, the plant will produce flowers.
#11 Yew
Source: Gardeningknowhow
Yew is a needle-bearing evergreen and a great choice for shade. Though this shrub does not offer a floral display, it gives you pretty berries. To help it grows well, give it medium moisture and well-drained soil.