Hot summer days will be back soon, and there is nothing better than floating around in your own backyard pool, right? Having a pool, you'll have a chance to up as well as enjoy the cool factor of your outdoor space. The pool is an ideal place where you get great things of life, feeling the cool water, the gentle breeze, or the ray of sunlight in the early morning! Sitting or lounging in the pool deck with plants around you will make you feel near nature and it will also add to a stress-free environment.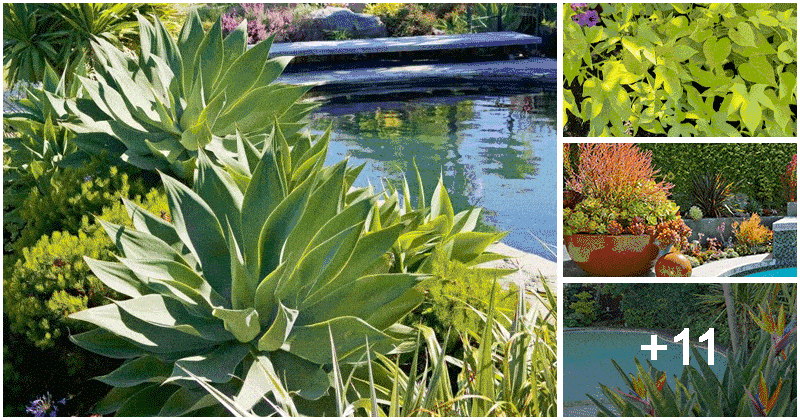 It is the feeling of freshness that makes plants valuable anywhere. So, in the post today, we've listed the best 15 plants that will thrive poolside. However, you should carefully consider your options before growing any plants. Poolside plants should be strong plants that can get splashed with chlorine, need to be able to withstand the direct sunlight, and will still look great. And these plants today are great candidates to meet all your requirements.
#1 Martha Washington Geraniums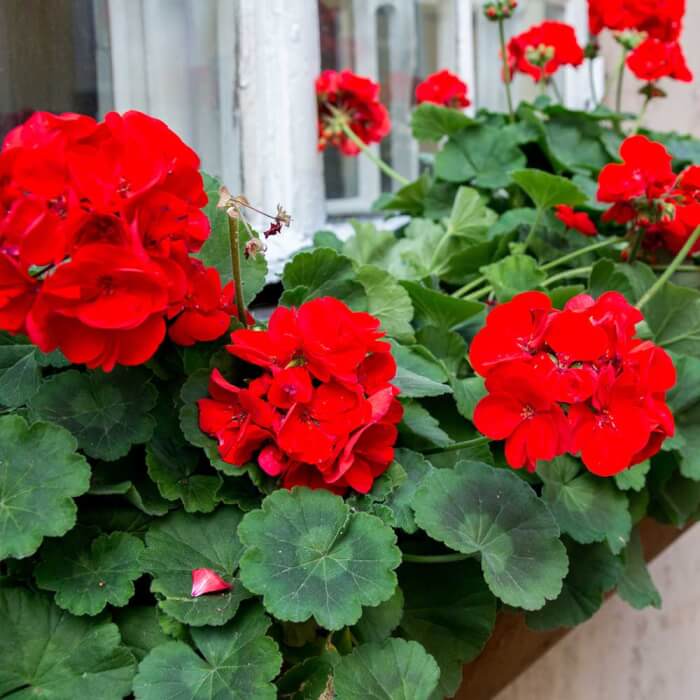 Source: Homedepot
Martha Washington Geraniums are gorgeous plants that show off a lovely deep purple shade lasting from spring to fall. They are easy to grow and do very well at withstanding damage from chlorine.
#2 Ornamental Sweet Potato Vine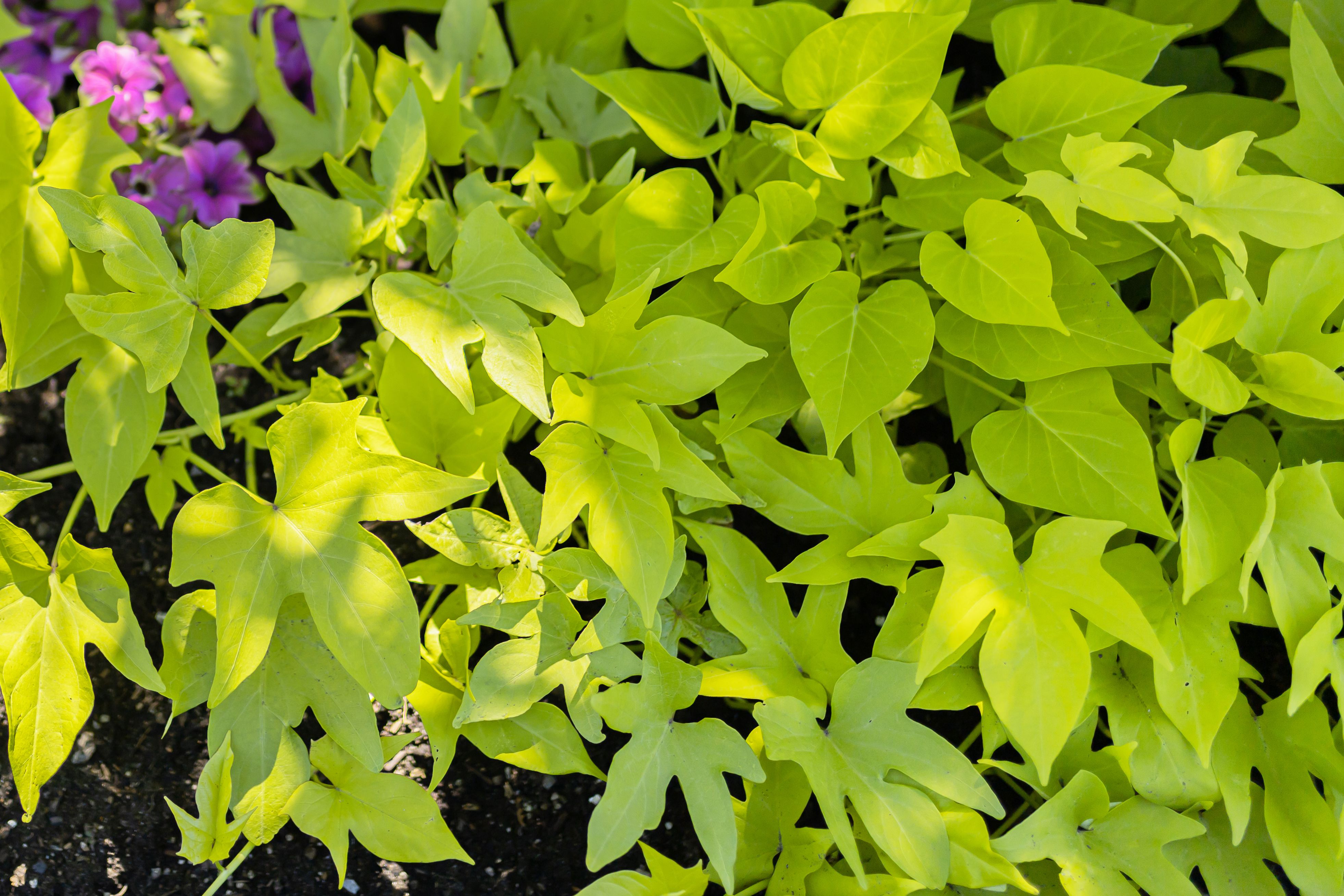 Source: Thespruce
Ornamental Sweet Potato Vines are hardy plants that grow easily and quickly. They come in a variety of colors varying from bright green to a rich plum to provide a semi-tropical vibe.
#3 Creeping Jenny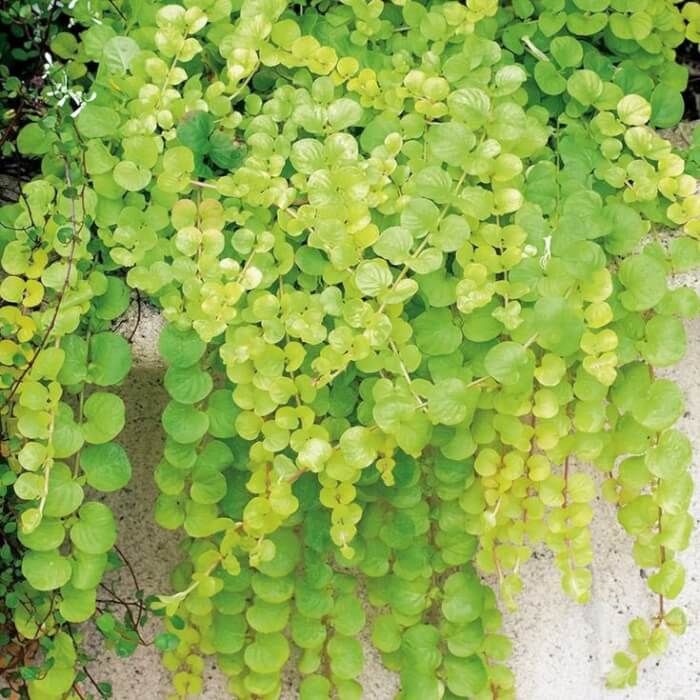 Source: Greenhorngardens
Creeping Jenny has light green leaves and beautiful pink buds making ground color beautiful ground that adds a rich splash of color. Its leaves grow as groundcover and spread quickly, with heart blooms.
#4 Palms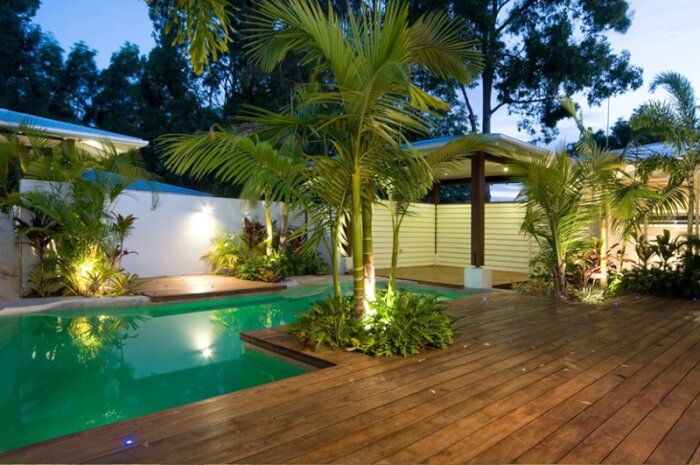 Source: Homedesignlover
Growing Palms for your pool will provide a wonderful tropical ambiance as well as a good deal of shade.
#5 Jade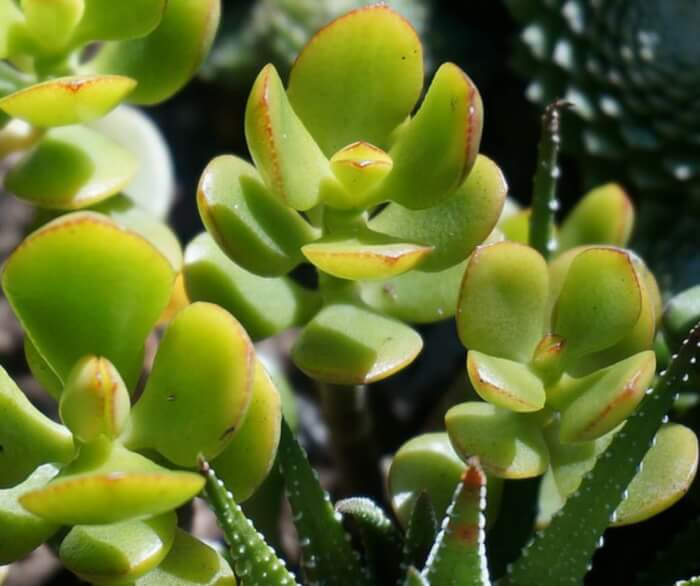 Source: Gardenerreport
Jade is a hardy plant. It is completely easy to grow and care for.
#6 Fortnight Lily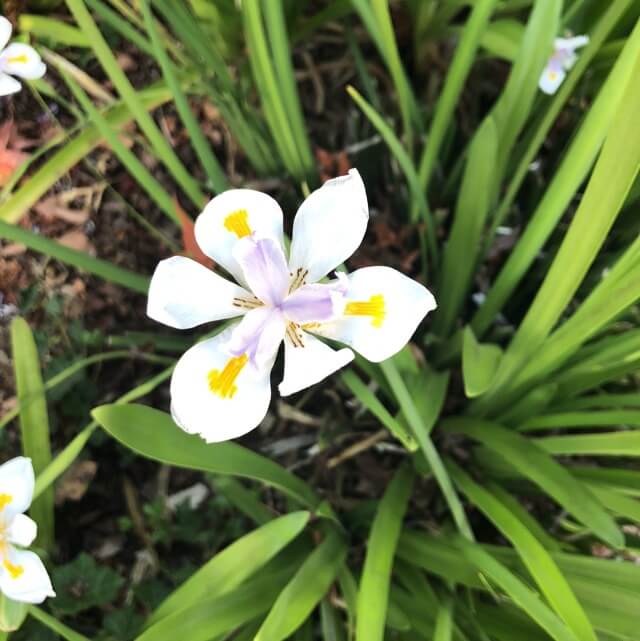 Source: Plantsnap
Fortnight Lily is a beautiful shrub that blooms nearly year-round with gorgeous white flowers. This plant grows around 3 feet tall and has deep green shaded blades.
#7 Kangaroo Paw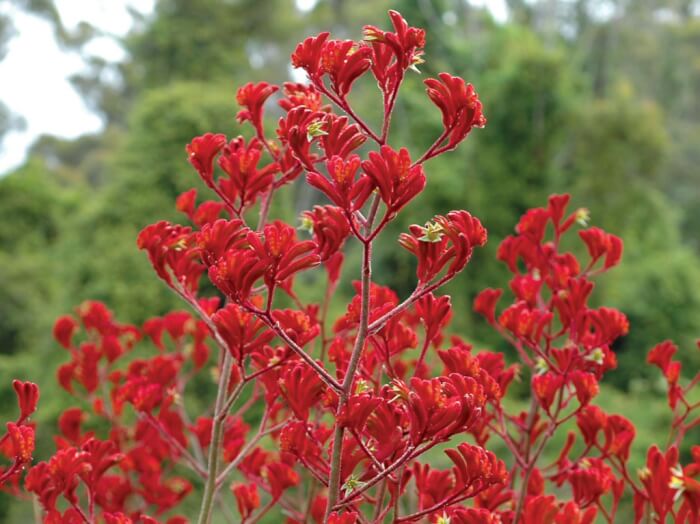 Source: Gardeningwithangus
Kangaroo Paws are brightly colored plants that come in a variety of yellows, pinks, and purples. Its blooms' resemblance to a kangaroo paw, hence the name. This plant can reach 2-3 feet high and are also very low-maintenance.
#8 Agave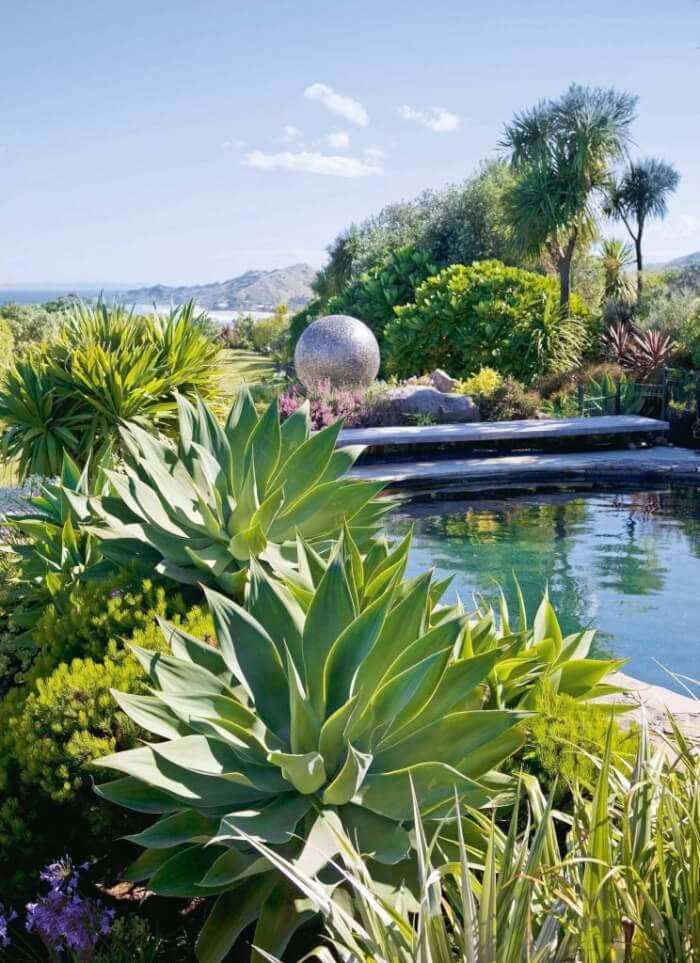 Source: Nzhouseandgarden
Agave belongs to the succulent family that grows to about 5 feet. This plant needs very little water and is a very strong accent plant that can be surrounded by other succulents for a focal point of your pool area.
#9 Angels Trumpets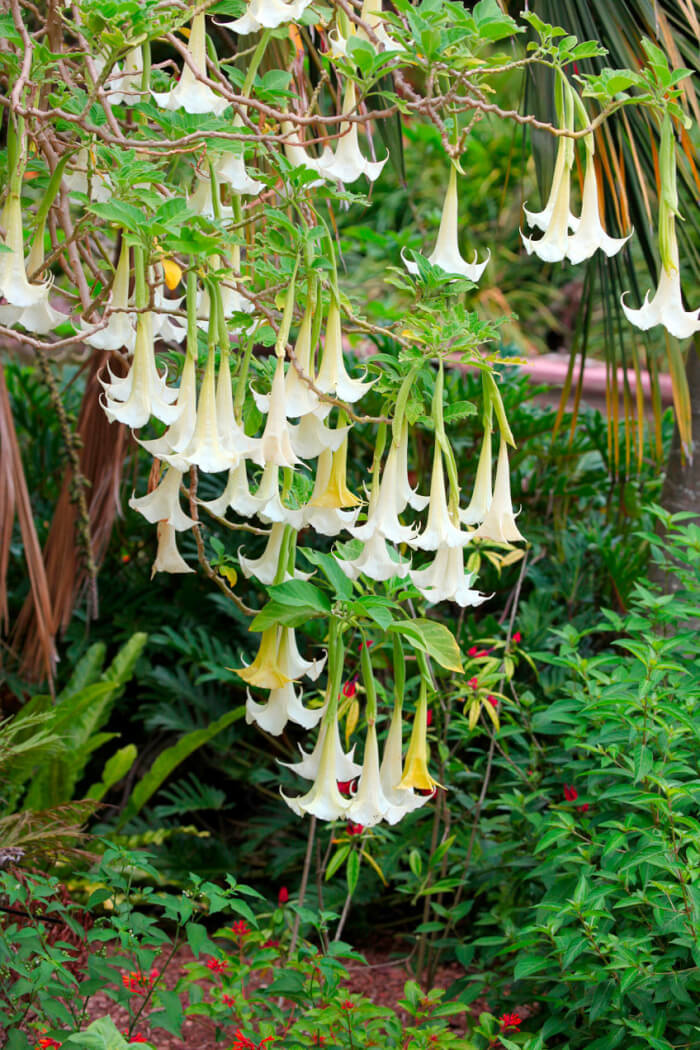 Source: Gardenclinic
Angels Trumpets display white blooms that hang down, looking like trumpets or horns. Its flowers are not only beautiful but also fragrant that reach the other side of your pool with even the lightest of winds. Also, this plant is very low-maintenance
#10 Vines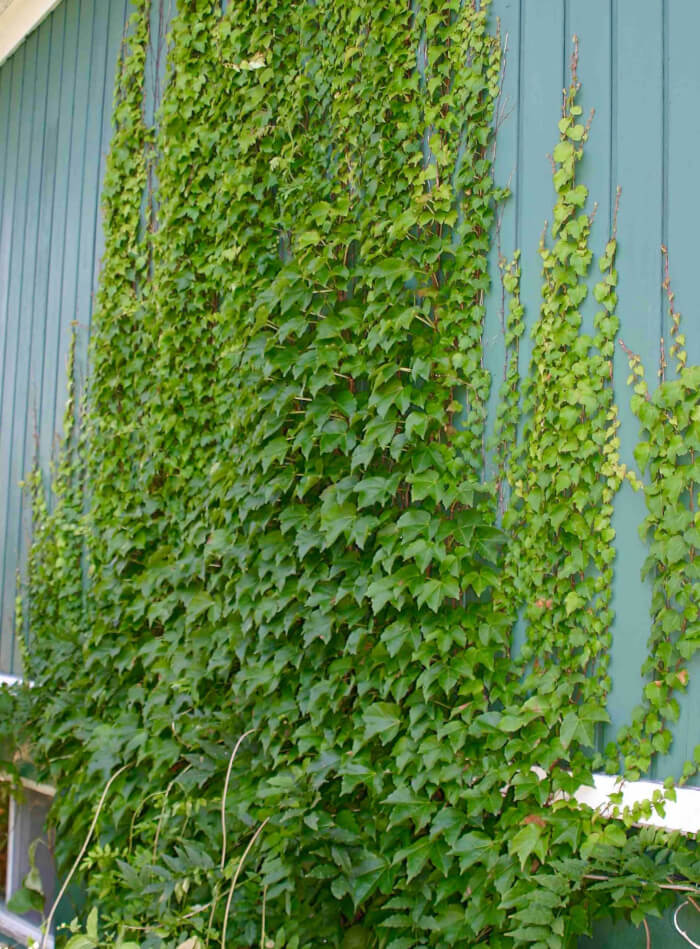 Source: Bambooplants
Vines are highly tolerant of chlorine and then grown up a trellis or wall they are great for adding a bit of privacy to your pool area.
#11 Hawaiian Hibiscus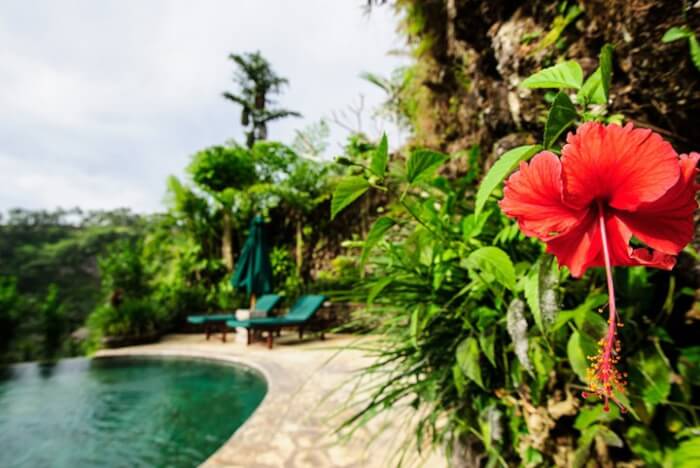 Source: Bhg
Hawaiian Hibiscus features beautiful, brightly colored blooms with many varieties to choose from. This plant does excellent in the summer heat to bring gorgeous and fragrant flowers.
#12 Echeveria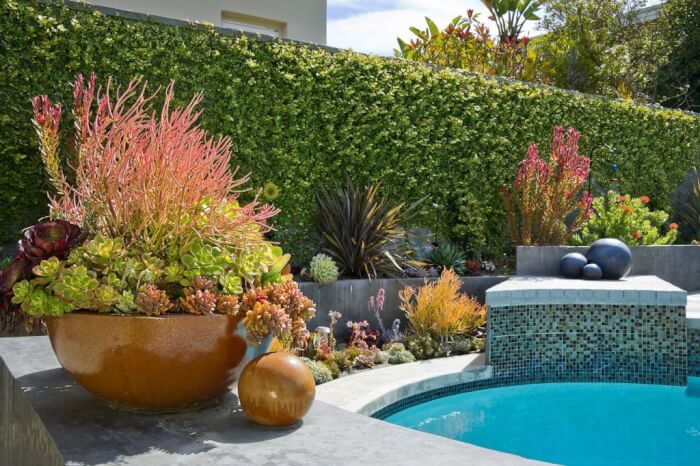 Source: Rogersgardenslandscape
#13 Birds of Paradise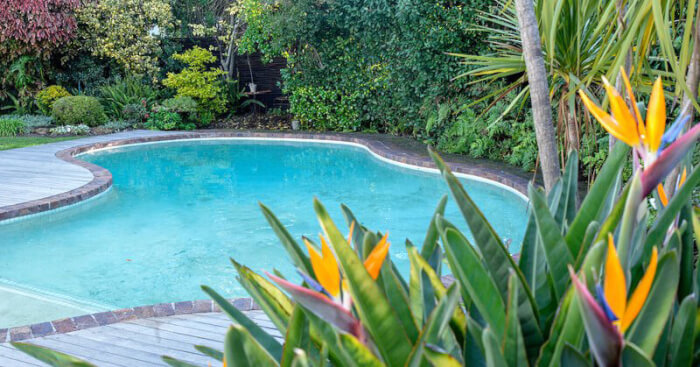 Source: Rodepools
Birds of Paradise brings bright orange and yellow blossoms to add natural beauty to your pool landscape.
#14 Philodendron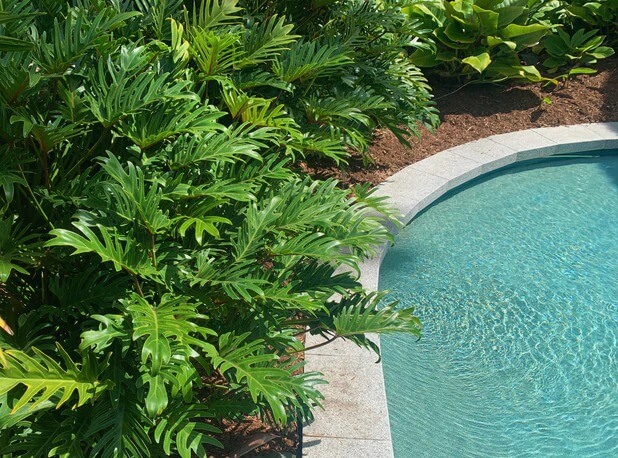 Source: Plantsinabox
Philodendron has glossy green leaves and do well in a spot with a decent amount of shade
#15 Banana Tree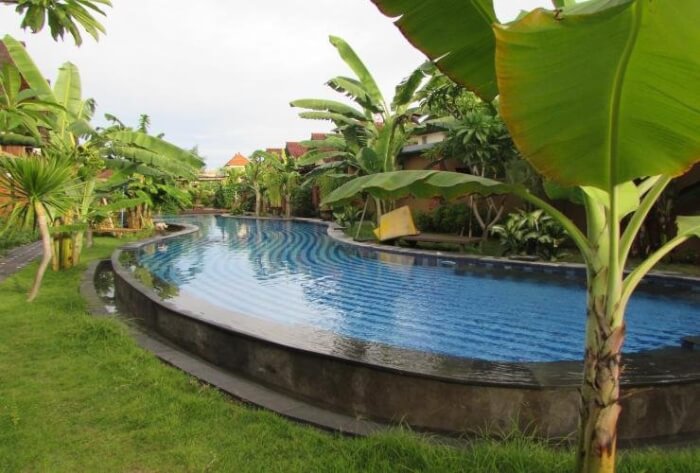 Source: Tripadvisor
The banana tree is a beautiful tropical plant with giant, oversized leaves that are perfect for creating some shade and a tropical feeling.