Watercolor tattoos are really attractive and stunning, and they look as though someone has taken a paintbrush to your skin. There are several ways to use this method; some prefer to add a few dark foundation tones, while others prefer to make the blended colors the main focus of the tattoo, completely omitting the black ink and line work. The photos you decide to use in your design might also provide significance to the piece. A hummingbird would be the ideal symbol for someone who has triumphed over adversity, while a butterfly stands for beauty and metamorphosis.
There are some drawbacks to this method despite all its benefits. Due to the complexity and variety of colors used in their development, watercolor tattoos tend to be more expensive and fade far more quickly than traditional tattoos. Learn more about this magnificent method of body art by reading on.
20 Vibrant Multicolored Watercolor Tattoo Designs
Watercolor Sunflower Tattoo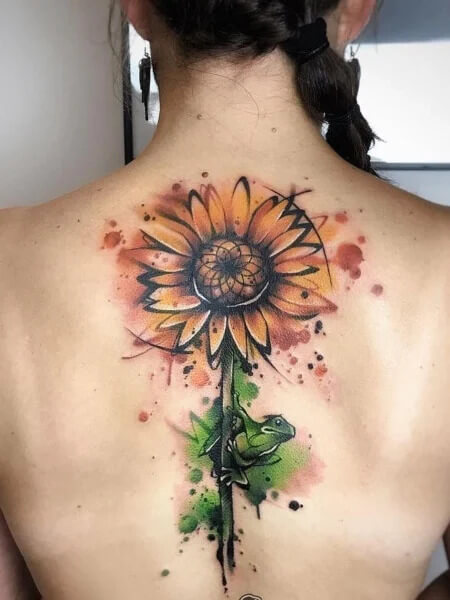 A watercolor sunflower tattoo design is a perfect choice if you want body art rich in symbolism but eye-catching. The bright yellow color makes a statement, but it is also associated with feelings of happiness and vibrancy. The bloom symbolizes many things, including warmth and fertility.
Watercolor Butterfly Tattoo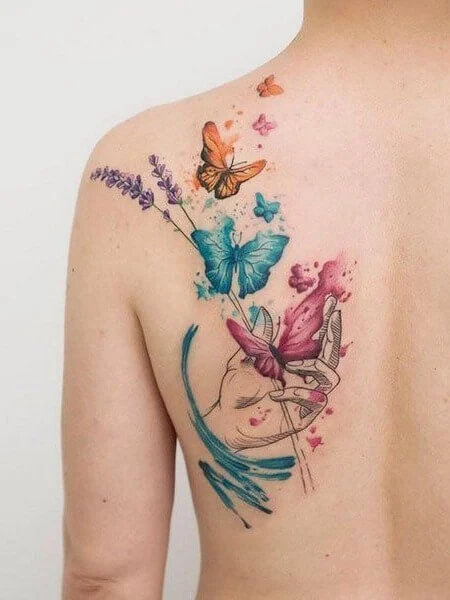 If you are drawn to the ideas of beauty, transformation, and freedom, then getting inked with a butterfly is a fantastic choice. The insect is often associated with femininity and could represent an essential time in a woman's life.
Watercolor Hummingbird Tattoo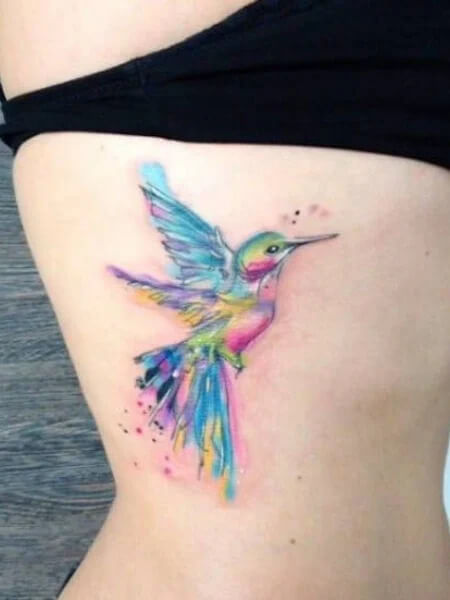 The vibrant colors are perfect for someone who wants their ink to stand out, and a hummingbird tattoo is something you want to show off. The beautiful winged creature is associated with hope and life. It also represents positivity and is often inked by individuals who have overcome turmoil.
Watercolor Feather Tattoo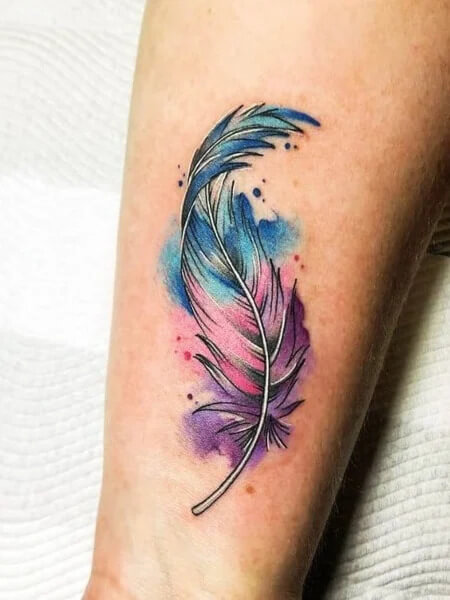 If you value the ideas of freedom, strength, and wisdom, then a feather tattoo is a great choice. The plumage has a variety of interpretations, depending on the bird it came from.
Watercolor Dragonfly Tattoo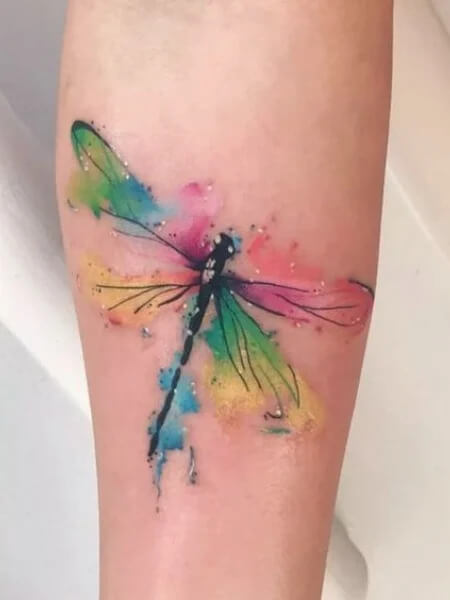 Watercolor tattoos work well with just about any image, including animals and insects. That said, if you want a piece that is especially meaningful and associated with positivity, harmony, strength, and even good luck, then you need to be inked with a dragonfly.
Watercolor Tree Tattoo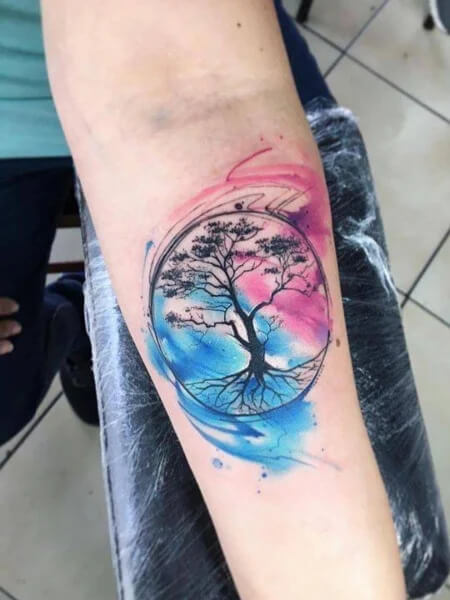 Tree tattoos are associated with longevity and commitment. It can also represent life and a new beginning. The symbolism is not the only thing appealing about this design, but also the technique. Watercolor tats are bright and bold, and they work well with images of nature.
Watercolor Lion Tattoo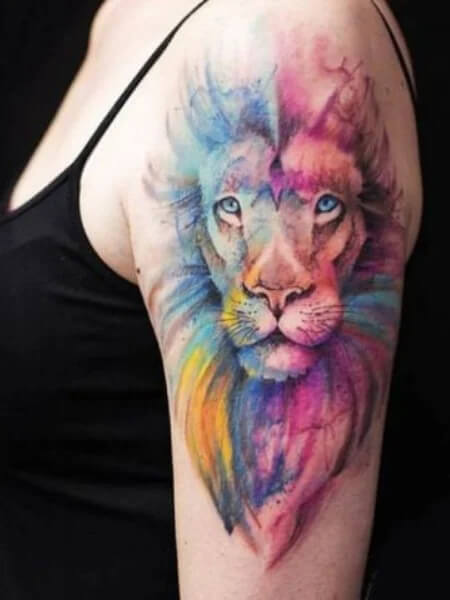 There is no other animal as majestic as the lion. People are drawn to the designs of this beautiful creature's face because not only is it visually appealing, but it is also linked with values such as courage and loyalty. The big cat is considered the king of the jungle, so it can also represent power and strength.
Watercolor Cat Tattoo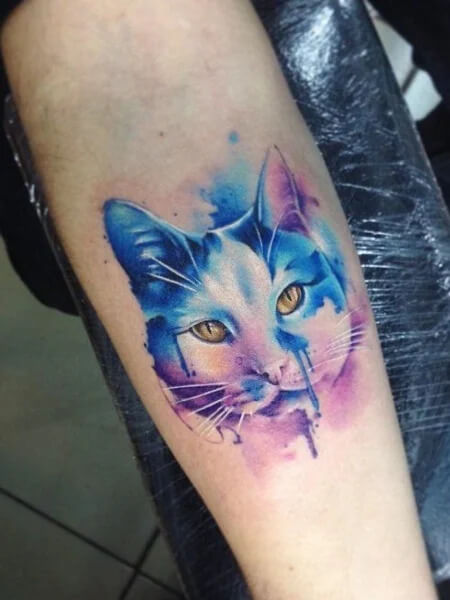 Cat tattoos are a lovely tattoo choice. This animal represents luck, intelligence, and gracefulness. For some, they are also connected with mystery and death. The watercolor technique can create a more abstract appearance to your ink, opening it up to interpretation.
Watercolor Lotus Tattoo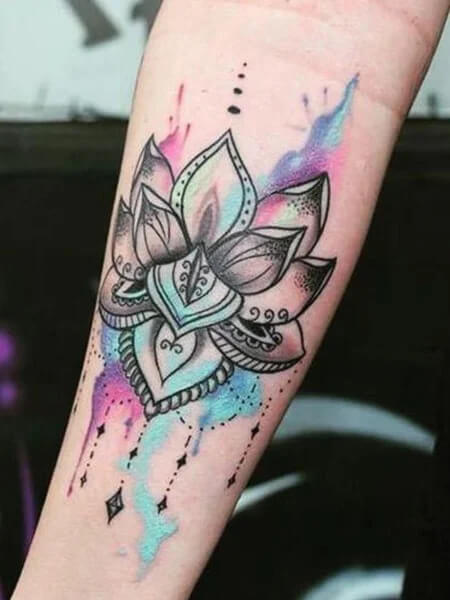 The lotus is a fascinating flower because although it is beautiful, it grows in muddy conditions. The plant serves as a reminder that you cannot only survive them no matter what your circumstances are but choose to thrive. It is a symbol of beauty but can also represent purity and peace.
Watercolor Paw Print Tattoo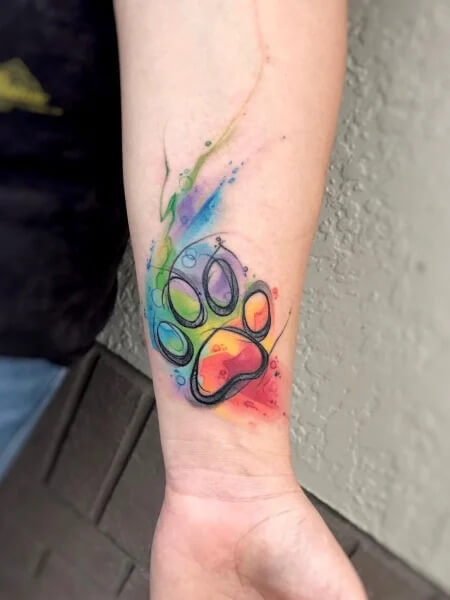 Pawprints are cute tattoo options for those who want to honor the memory of a pet. It is also a fantastic choice for animal lover who wants to bring their favorite creature to life on their skin.
Watercolor Galaxy Tattoo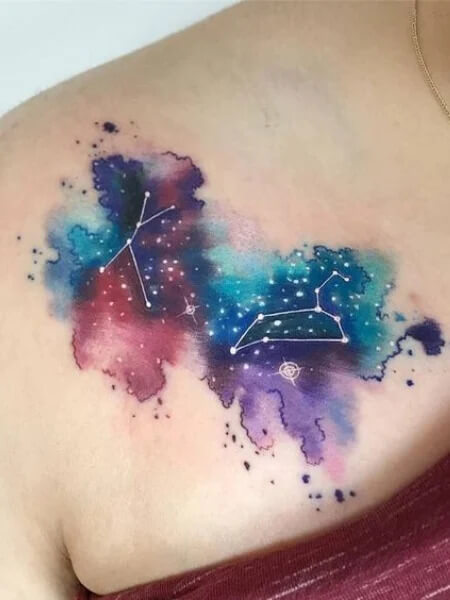 Galaxy tattoos represent life, mystery, and dreams, and what is more dreamy than watercolor body art? In terms of placement, you want to get it somewhere that is large enough to allow for detail, so spots like the chest, back, leg, or thigh are great for this.
Watercolor Wolf Tattoo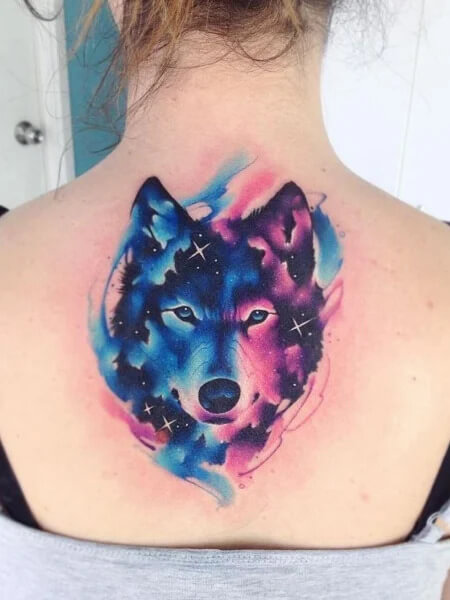 The wolf is an animal that is often associated with loyalty and family. A woman who values her loved ones may be drawn to a tattoo of a wolf for this reason. It can also have a spiritual element; the Native Americans believe that animals can guide us through life. A spot that has little exposure to sunlight will keep your tattoo from fading quickly.
Watercolor Flower Tattoo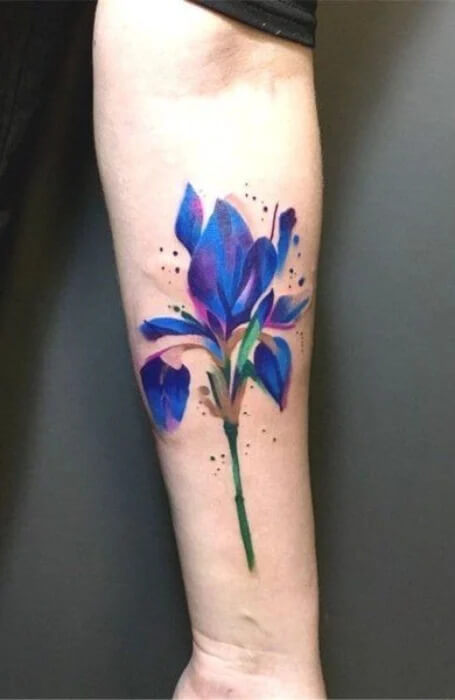 Flower tattoos are also symbolic, representing beauty and growth. The bloom you choose can also impact the overall meaning; for example, a lotus is associated with spiritual enlightenment and purity, while a sunflower represents positivity, devotion, and optimism.
Watercolor Bird Tattoo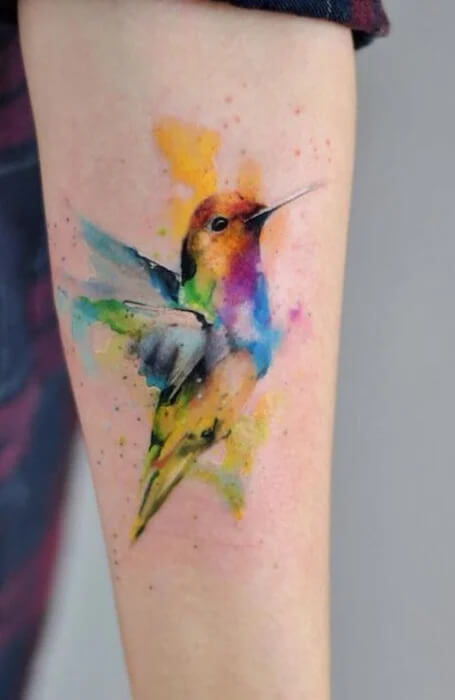 Bird tattoos are one of the most popular choices for body art because of their relatable symbolism. Birds can fly, which many associate with freedom and independence. Getting a tattoo of a bird can be a way to reflect that you want to escape from your problems or that you have an untamed spirit and are dreaming of new experiences.
Watercolor Lotus Tattoo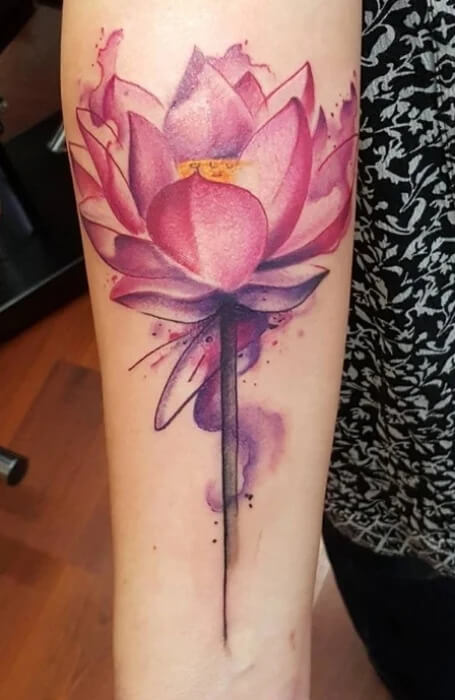 Lotus tattoos are beautiful and symbolic. The lotus is a flower that represents beauty, growth, and spiritual awakening. The bloom growth can also be seen as a symbol of strength.
Watercolor Cherry Blossom Tattoo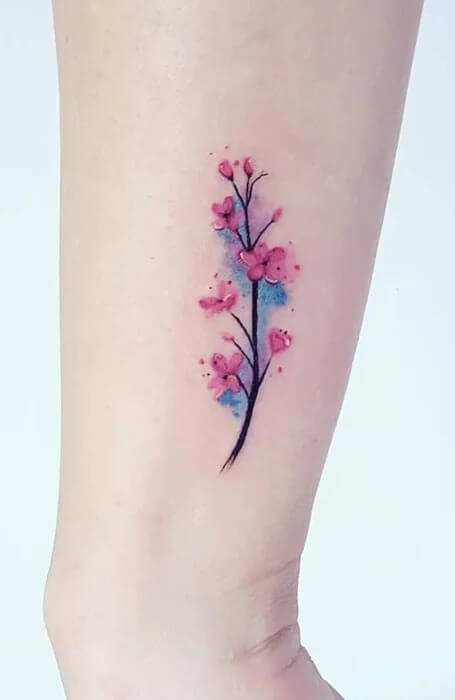 Cherry blossom tattoos are beautiful flowers that represent beauty and impermanence. Getting a cherry blossom design can make a powerful statement about your thoughts and feelings regarding life and death. The flowers only bloom for a brief period each year, reminding us to value each moment and live life to its fullest.
Watercolor Geometric Tattoo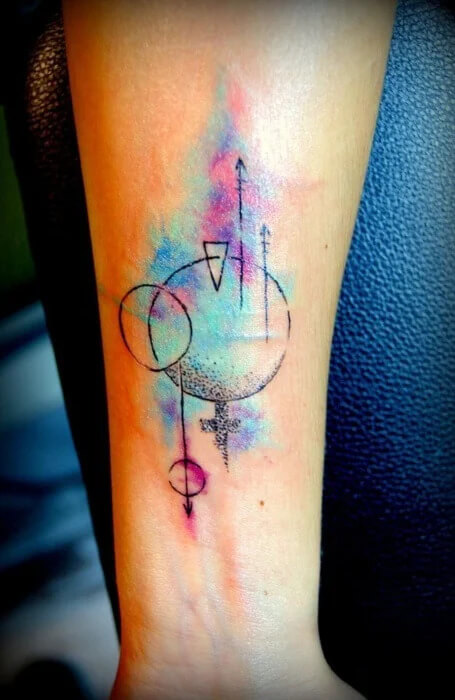 Geometric tattoos are created using shapes and angles to form an image. It can be a decorative pattern, or it can be added to a nature or animal theme. As geometric designs are detailed, adding black outlines over a watercolor base is best.
Watercolor Fox Tattoo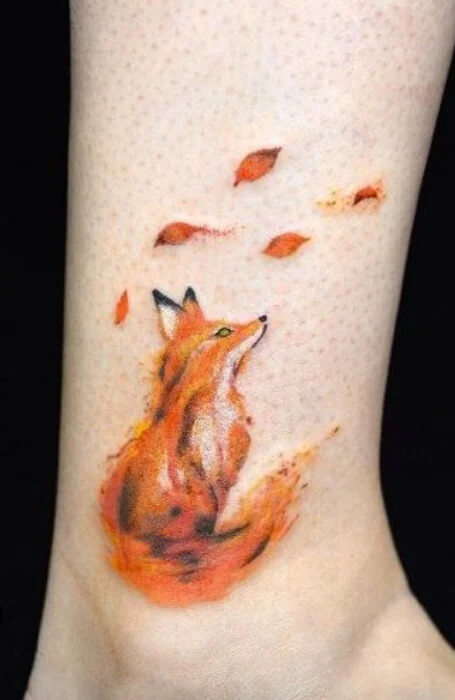 The fox is an excellent choice for your next design and is associated with quick thinking, wit, and intelligence. It can be a way to remind yourself that you are smart and capable of anything, or it could be inked as a symbol of strength, adaptability, and resilience.
Watercolor Rainbow Tattoo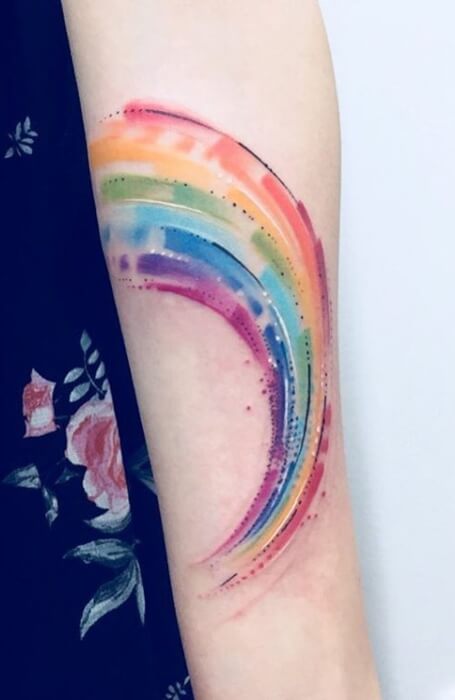 The rainbow is a colorful choice of design and a deeply symbolic one. It is associated with positivity, goodness, and new beginnings. It can also symbolize inclusion and is used as the Pride flag to celebrate diversity and the LGBTQ+ community.
Watercolor Jellyfish Tattoo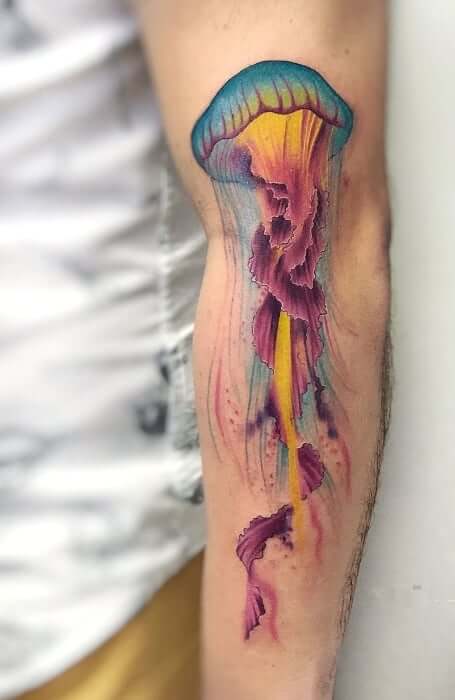 For a beautiful and bold tattoo, a watercolor jellyfish design is what you need. The technique is excellent for images of nature and animals, letting you experiment with color and find a finish that complements the design.
Watercolor tattoos never go out of style, get inspired here for your next ink!