Succulents are not only colorful, but they also have compact shapes and sizes. They're manageable growth, making them perfect to "draw" with our ideas below. It's time to skip your normal succulent pots, check out the art on planter pots to turn them into creative home decorations of your own. Here, we've handpicked 26 Creative Laying Succulent Arrangement Ideas that can brighten your home without spending too much!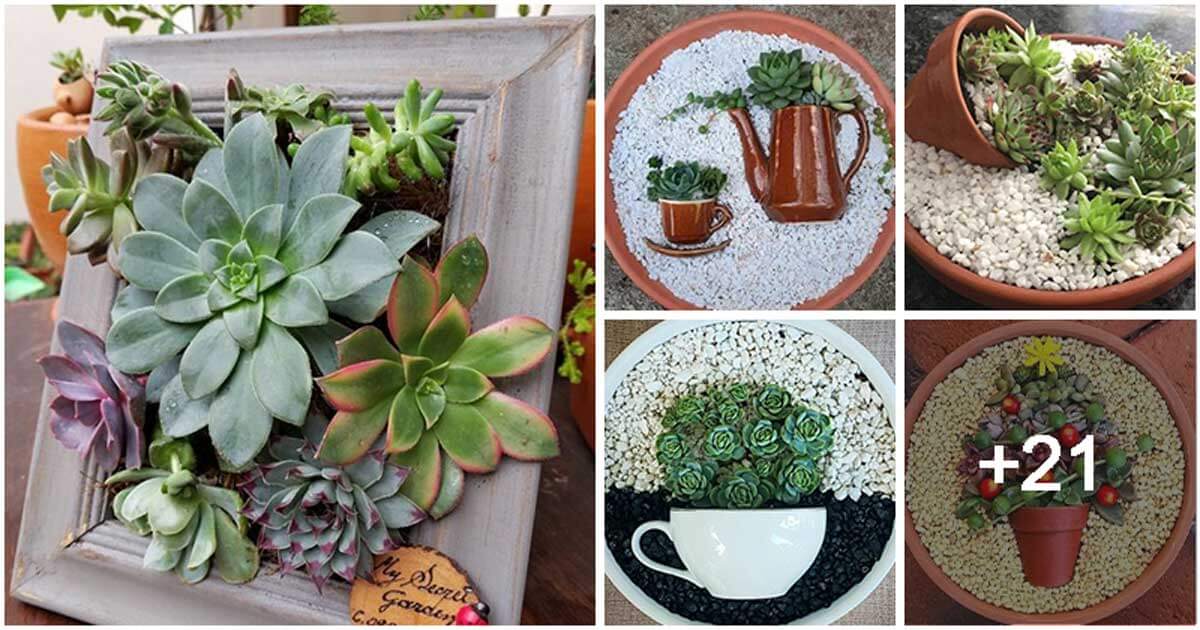 There are different succulent arrangement ideas that you can make easily with a pot or any container. When you choose to make a succulent arrangement, you should avoid overcrowding because it is bad for succulents. Also, growing overcrowded succulents in the same pot tend to lack nutrients and space to thrive, even getting attacked by pests and diseases is much easier.
#1 Blooming Reds
Source: Homelysmart
#2 A Fairy Garden
Source: Lerryn Meza
#3 DIY Dollar Tree Succulent Tower
Source: Thehousehouse
#4 Easy Tiered Succulent Display
Source: Craftinvaders
#5 Colorful Succulents with A "Love" Sign
Source: Followtheyellowbrickhome
#6 Succulent Bouquet
Source: Lisa Coleman
#7 Buddha Pot
Source: Juliana Mendes
#8 Japanese Garden
Source: Ana Cristina Sampaio
#9 Themed Succulent Terrarium
Source: Uniquecreationsbyanita
#10 A Pot Pours Succulents
Source: Becky Johnson
#11 A Mini Succulent Landscaping
Source: Marce Teytud
#12 Green Succulents Display On Coconut Shell
Source: Homeandgarden
#13 A Beach-Theme Succulent Garden
Source: Miniaturegardenshoppe
#14 Sand Art Yin And Yang Succulent Planting
Source: Pinterest
#15 A Succulent Tree
Source: Pinterest
#16 Terra Cotta Succulent Garden Art Pot
Source: Coastalcreatorsct
#17 Miniature Succulent Garden
Source: Succulentsbox.
#18 Wine Glass Succulent Planter
Source: Lookingsharpcactus
#19 A Small Desert Sence With Succulents and Cacti
Source: Wagner Vanique
#20 A Rustic Succulent Display Using Driftwood
Source: Sheila Colby
#21 A Christmas Succulent Tree
Source: Bernikert
#22 A Spilled Succulent Pot
Source: Yvonne Green
#23 A Cup Of Succulents
Source: Reddit
#24 A Clever Succulent Arrangement Inspired An Old Frame Picture
Source: Medium
#25 A Small and Colorful Rock Garden with Succulents
Source: Coastalcreatorsct
#26 Pouring Succulents Into A Cup
Source: Instagram