Broken pots are often abandoned in the corner of the garden. They may seem forgotten, patiently awaiting the day they'll be discarded, but don't be quick to dismiss them! Believe it or not, those fragmented and cracked pots can be transformed into something truly remarkable with just a touch of creativity and skill.
Planting succulents in broken pots is one of such amazing ideas. Succulents are marvellous plants that require minimal care and maintenance, making them the perfect choice for even those who might think they lack a green thumb. In the article below, let's delve into the enchanting world of these hardy plants and explore the beauty of imperfection.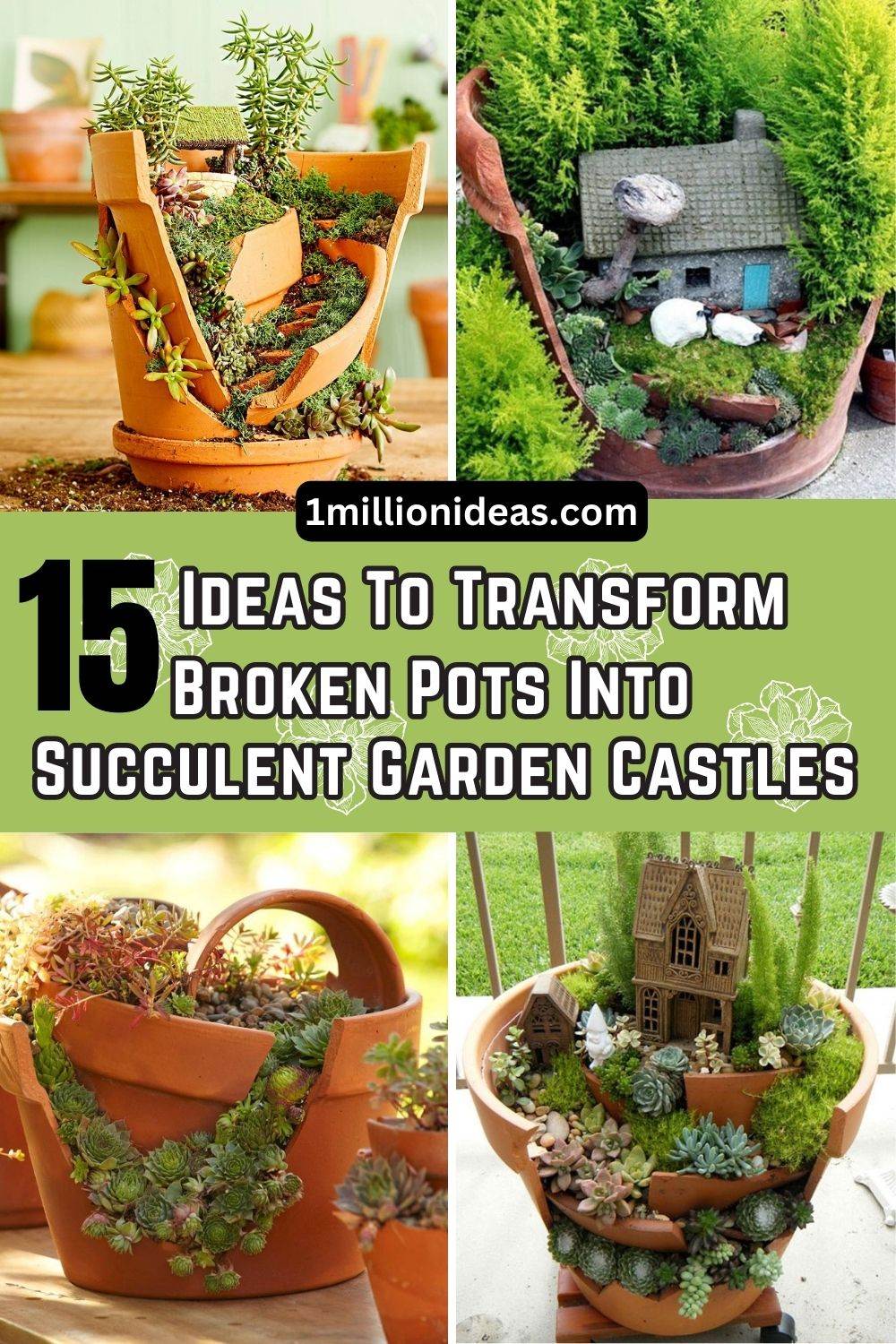 #1. Succulents pots made from ceramic shatter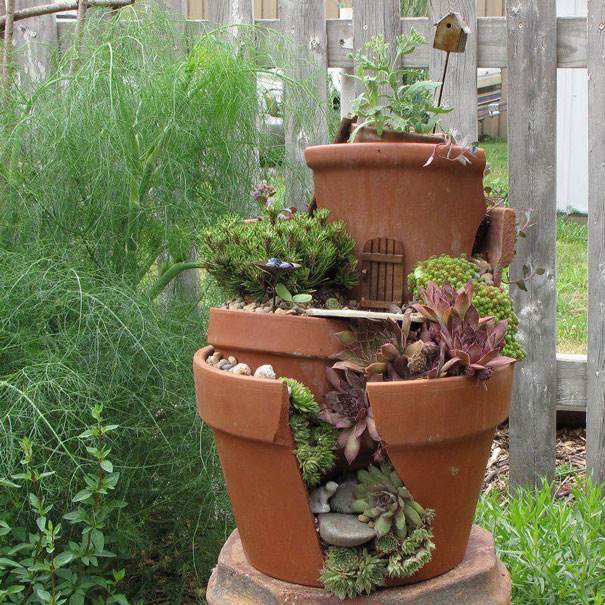 This masterpiece is created from the ceramic shards of broken pots. You can combine as many kinds of succulents as you wish to celebrate diversity.
#2. A terrace field of succulents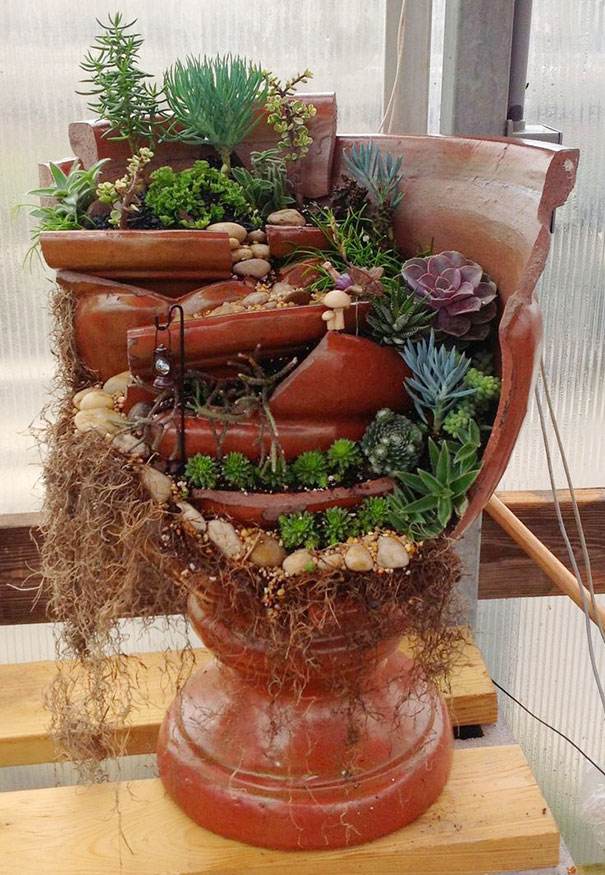 These colorful succulents form a living work of art, even in the cracks of broken pots. You can layer a mix of succulents to make the pot more eye-catching.
#3. A portable pot designed with some tiny decoration items.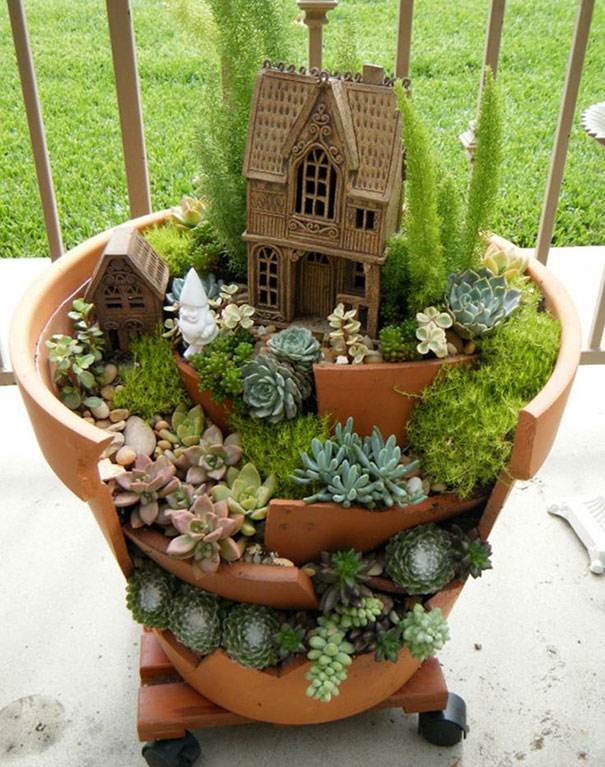 You can put some ornaments on the pots such as plastic models of a home or animals. Just a few tiny decorations can make a difference.
#4. Colorful succulents brighten up the garden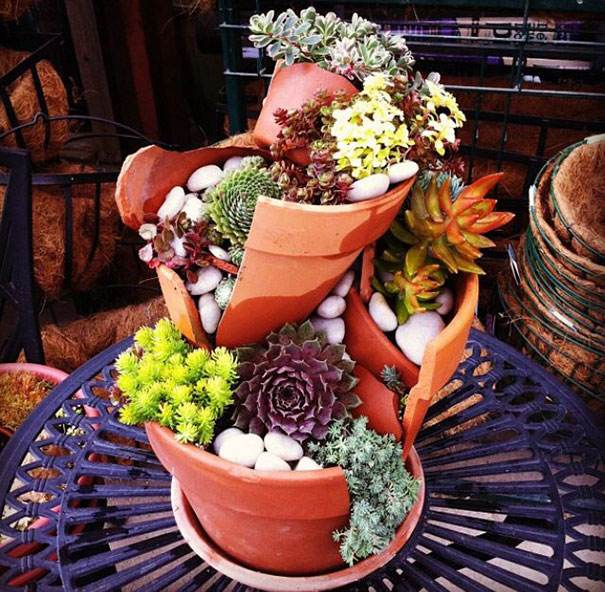 Succulents lovingly heal the fractures of these pots and bring a breath of fresh air to the garden. Remember to place your succulent pots in an area that receives plenty of natural light.
#5. Cactus can be added to the garden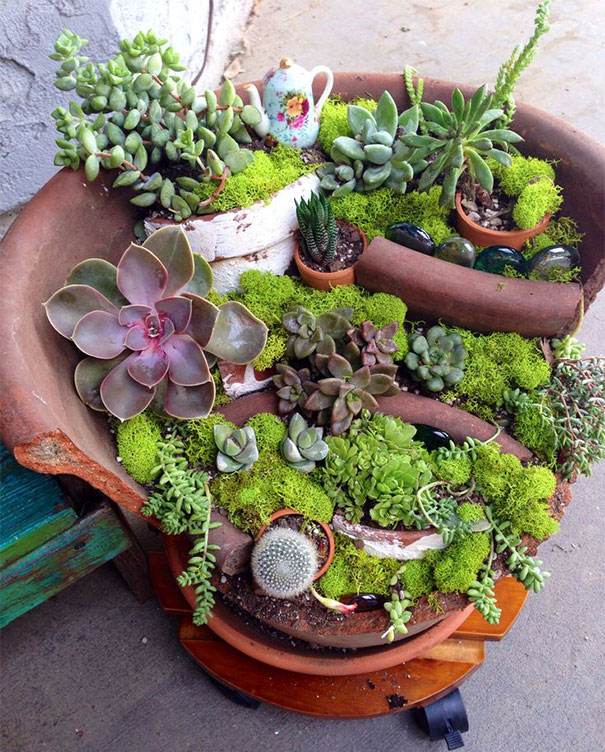 The succulents and cactus in shattered pots remind us to stay strong and positive, even when life seems fractured. Both of them require minimal care and maintenance. 
#6. Succulents can't live without some stones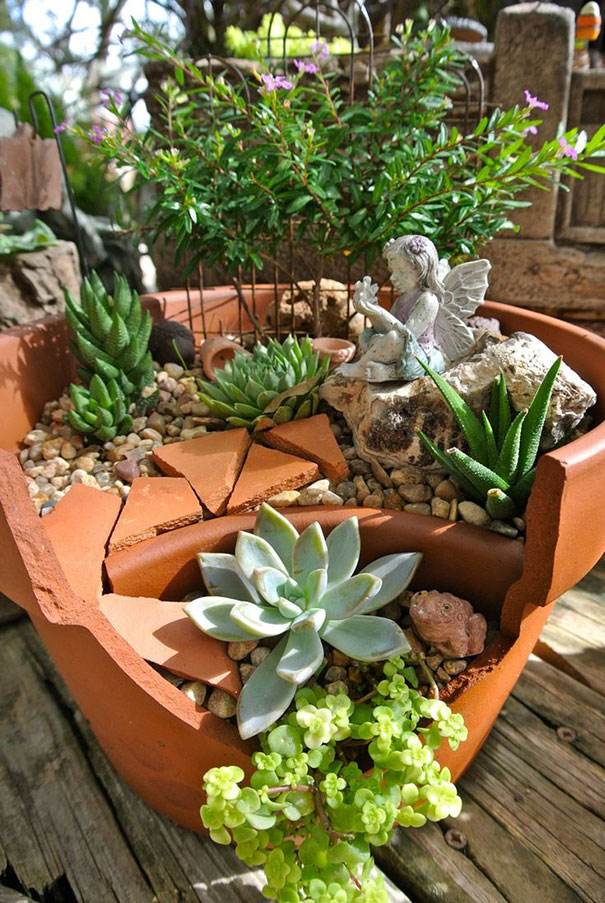 A charming display of succulents breathes new life into shattered pots, inspiring us that even fragments can form a masterpiece. You can arrange them in groupings or mix and match different succulent varieties to create an appealing and visually pleasing display.
#7. Succulents showcased in a broken birdcage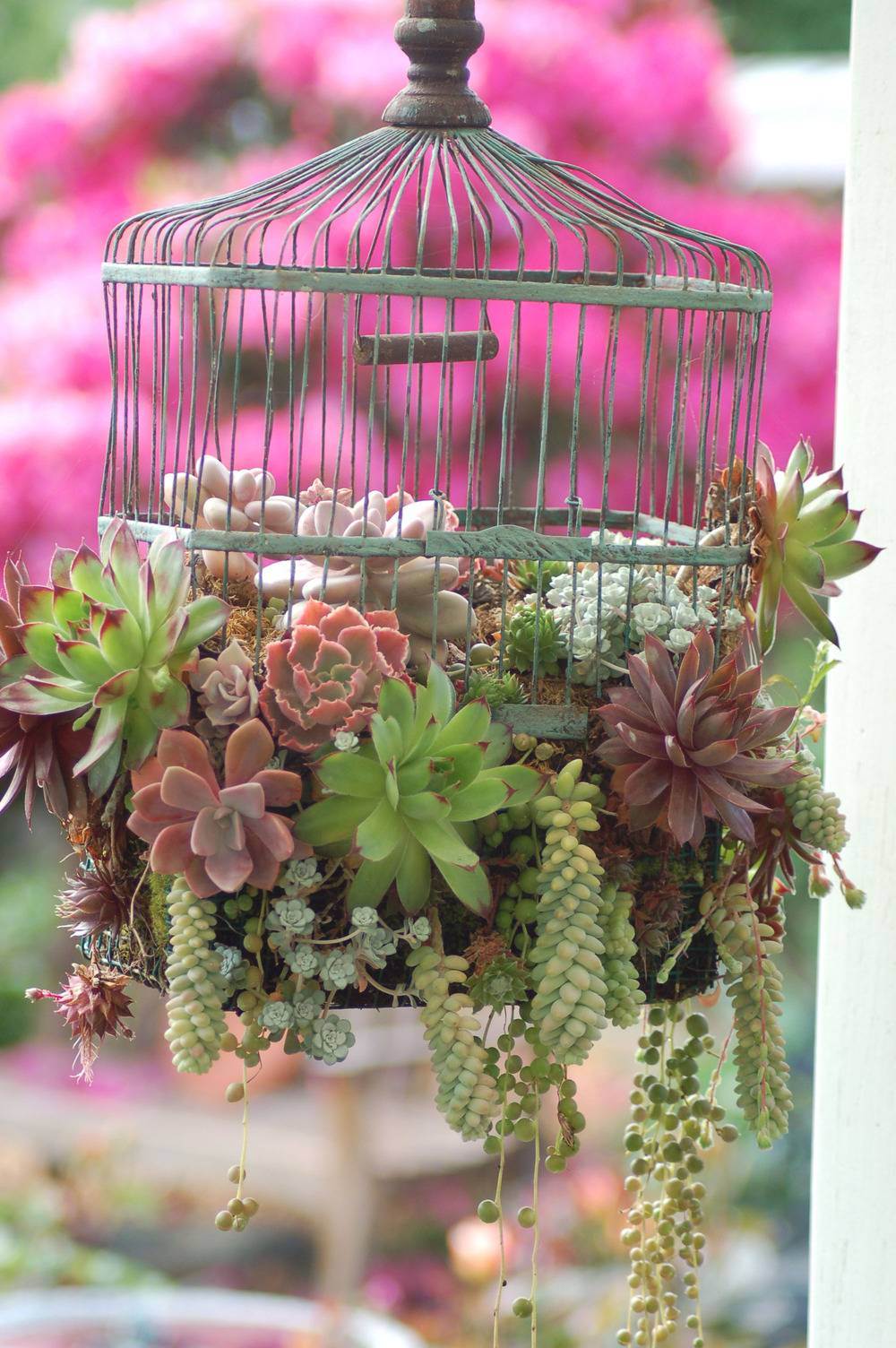 This is a harmonious blend of greenery and elegance. Let your succulent go wild, grow in and out of the hanging birdcage and become the center of attention.
#8. Resilient greenery in shattered planters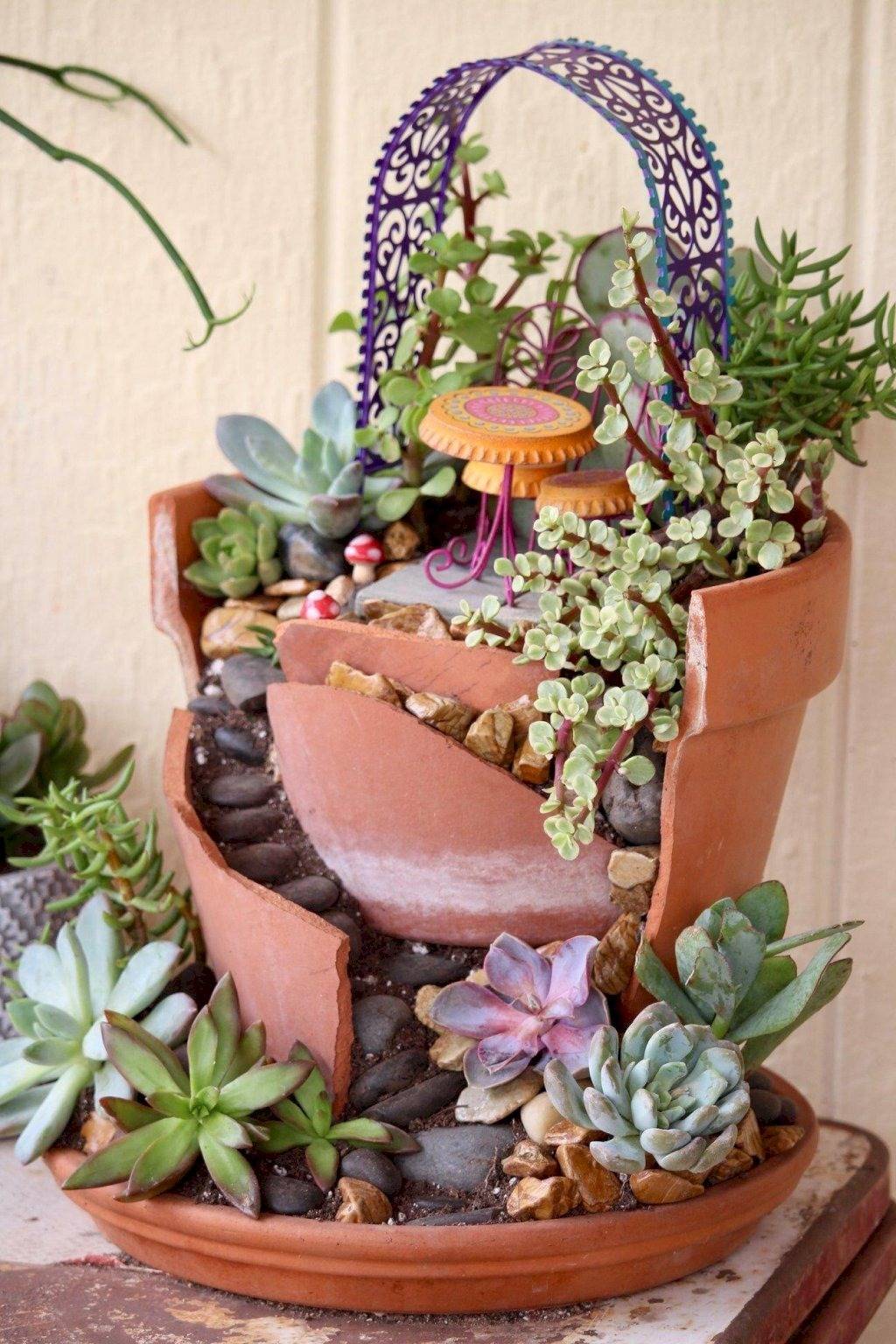 You can have fun experimenting with different combinations to create a beautiful and unique succulent garden. Lastly, succulents are susceptible to root rot if the soil remains consistently wet.
#9. A jungle of succulents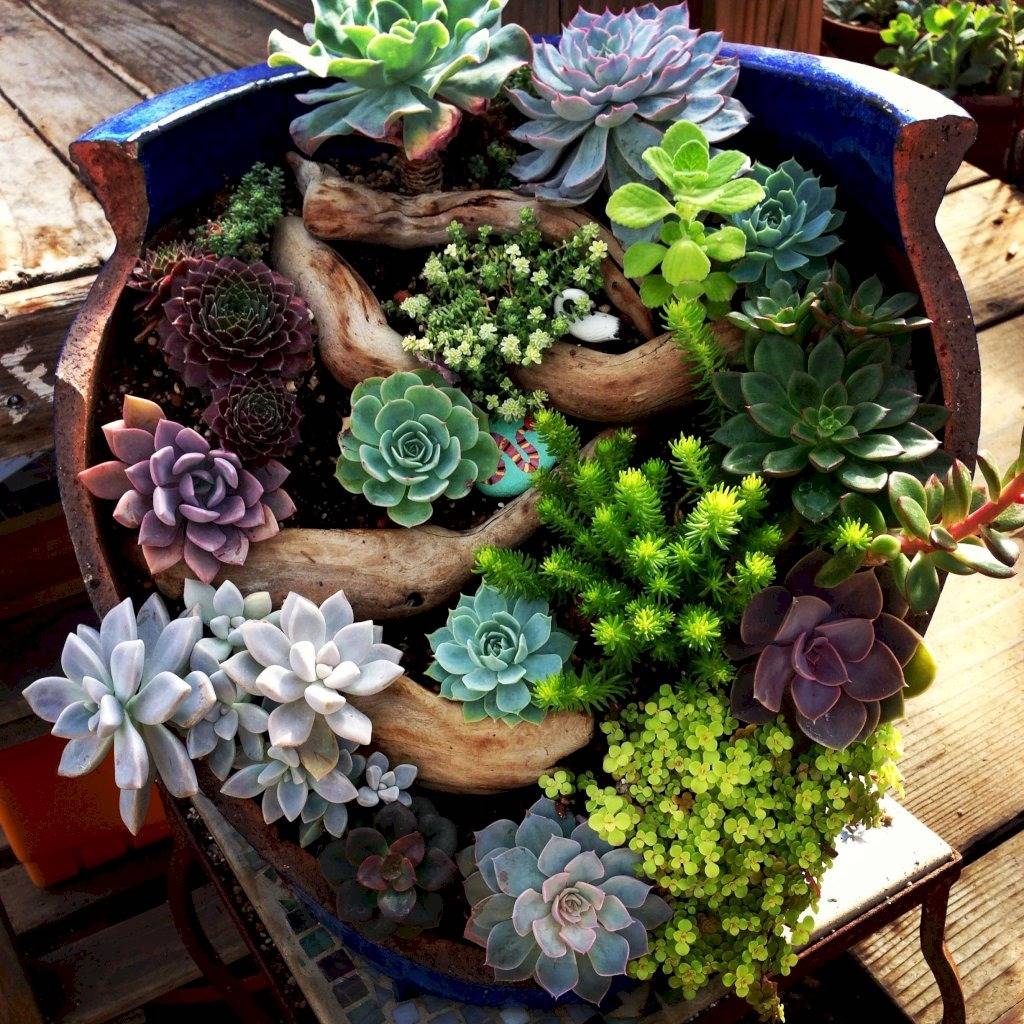 Different kinds of succulents can flourish together in a broken pot. A friendly reminder: Most succulents prefer moderate to warm temperatures, sovoid exposing them to extreme cold or freezing temperatures.
#10. Besides pots, upcycled watering can is another suitable choice to plant succulents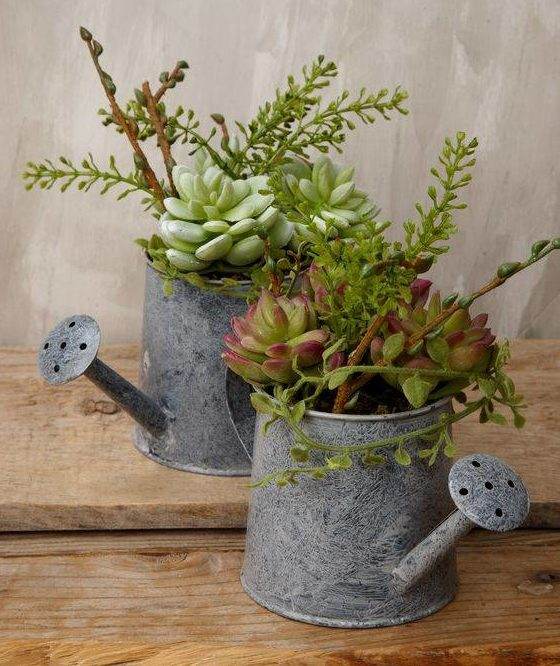 Let your creativity go wild and repurpose this abandoned watering can. It is lovely to decorate your shelf or backyard table with this unique pot.
#11. Mix succulents with different plants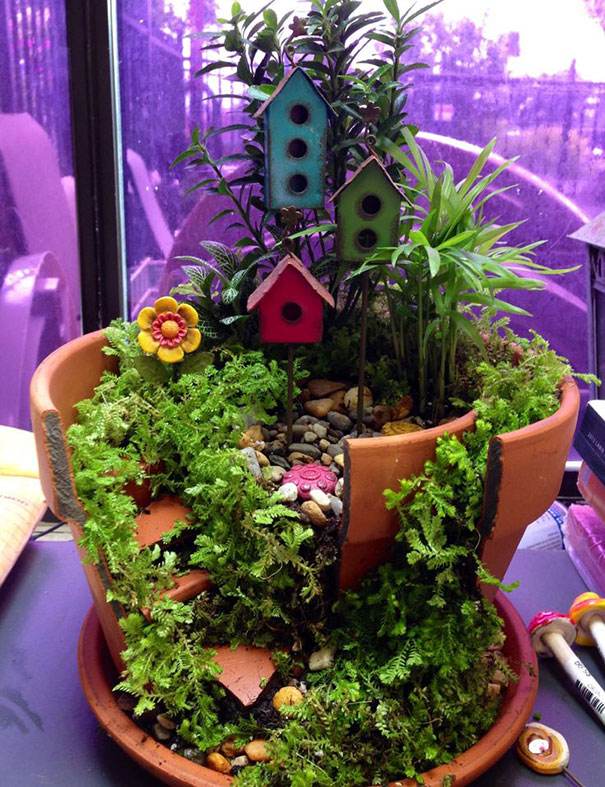 Succulents and cactus make a popular combination. However, succulents can be paired with various other plants such as ornament grasses or kalanchoe.
#12. A succulent flower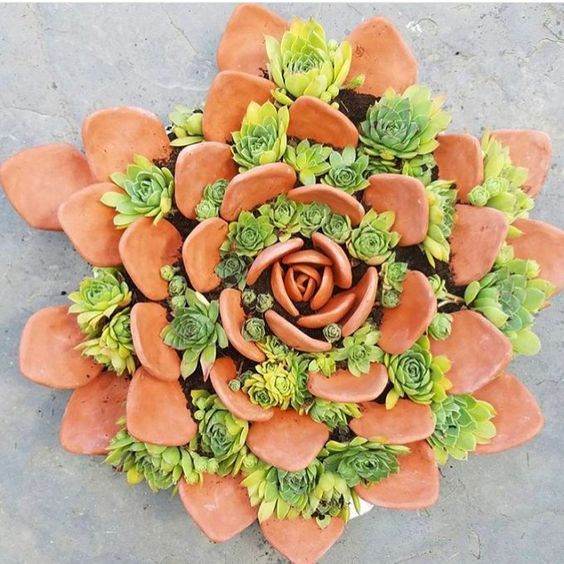 You don't have to wait for succulents to bloom, you can create it by yourself. The flower can be formed from shattered pieces such as ceramic or clay.
#13. Combine different sizes of succulents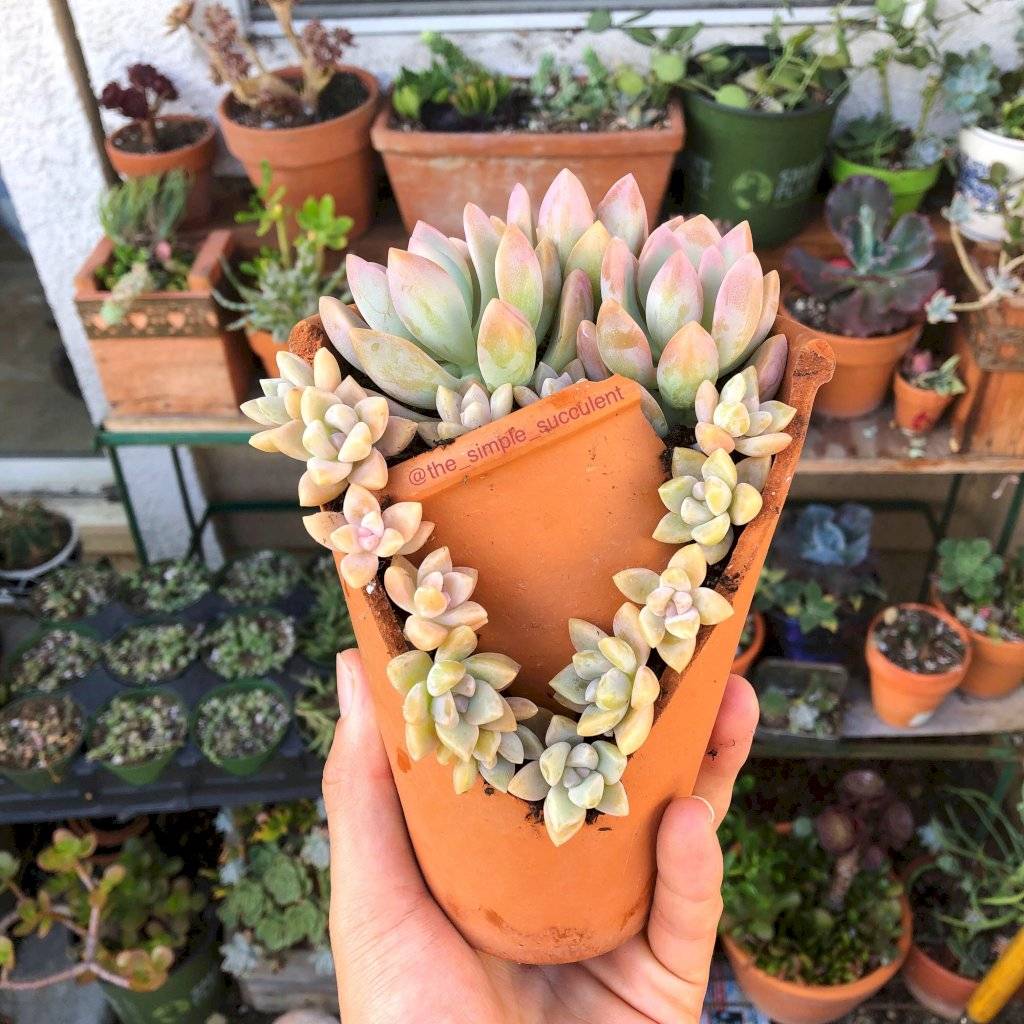 Besides colors, you can combine succulents from different sizes as in this image. Choose pots made of materials that can withstand outdoor conditions, such as terracotta, ceramic, or concrete.
#14. A garden castle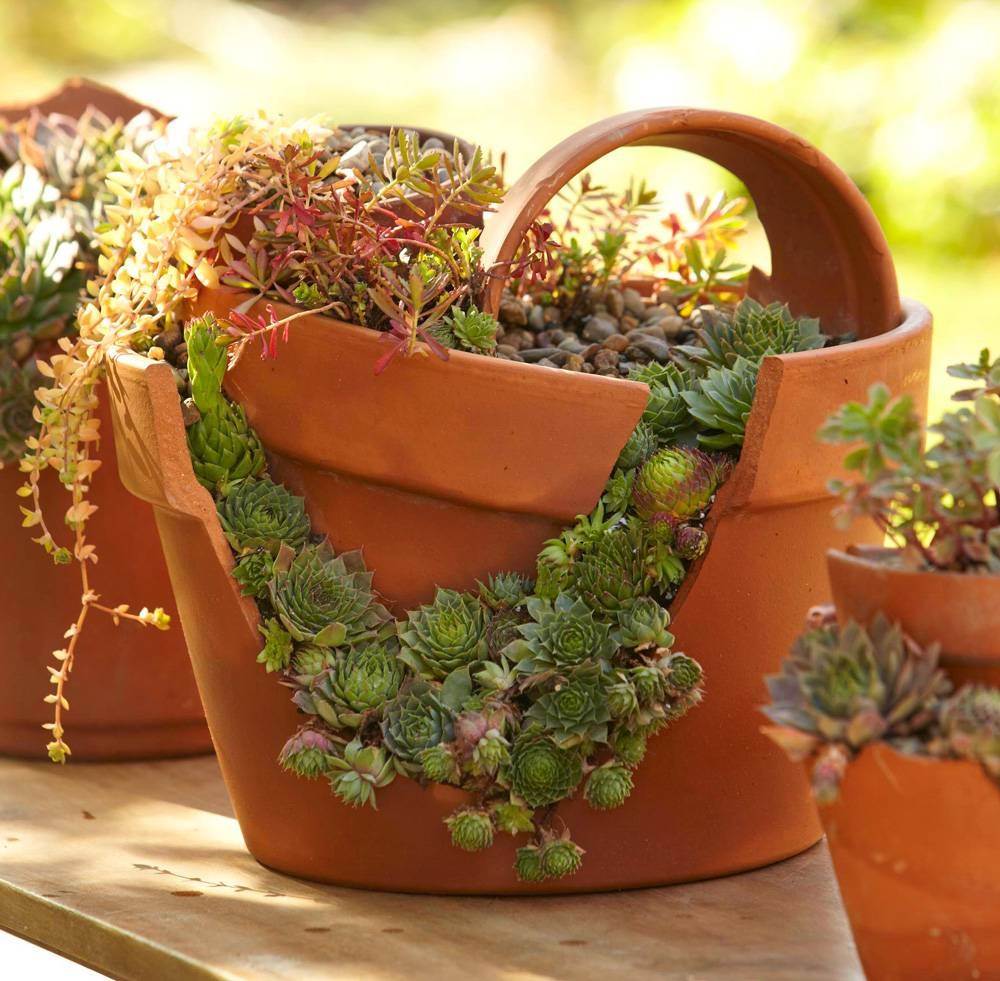 Depending on the shape of the broken pot, you can design a succulent garden castle including hard-to-kill plants. However, keep in mind to avoid containers that retain excess moisture.
#15. Tenacious succulents in smashed pots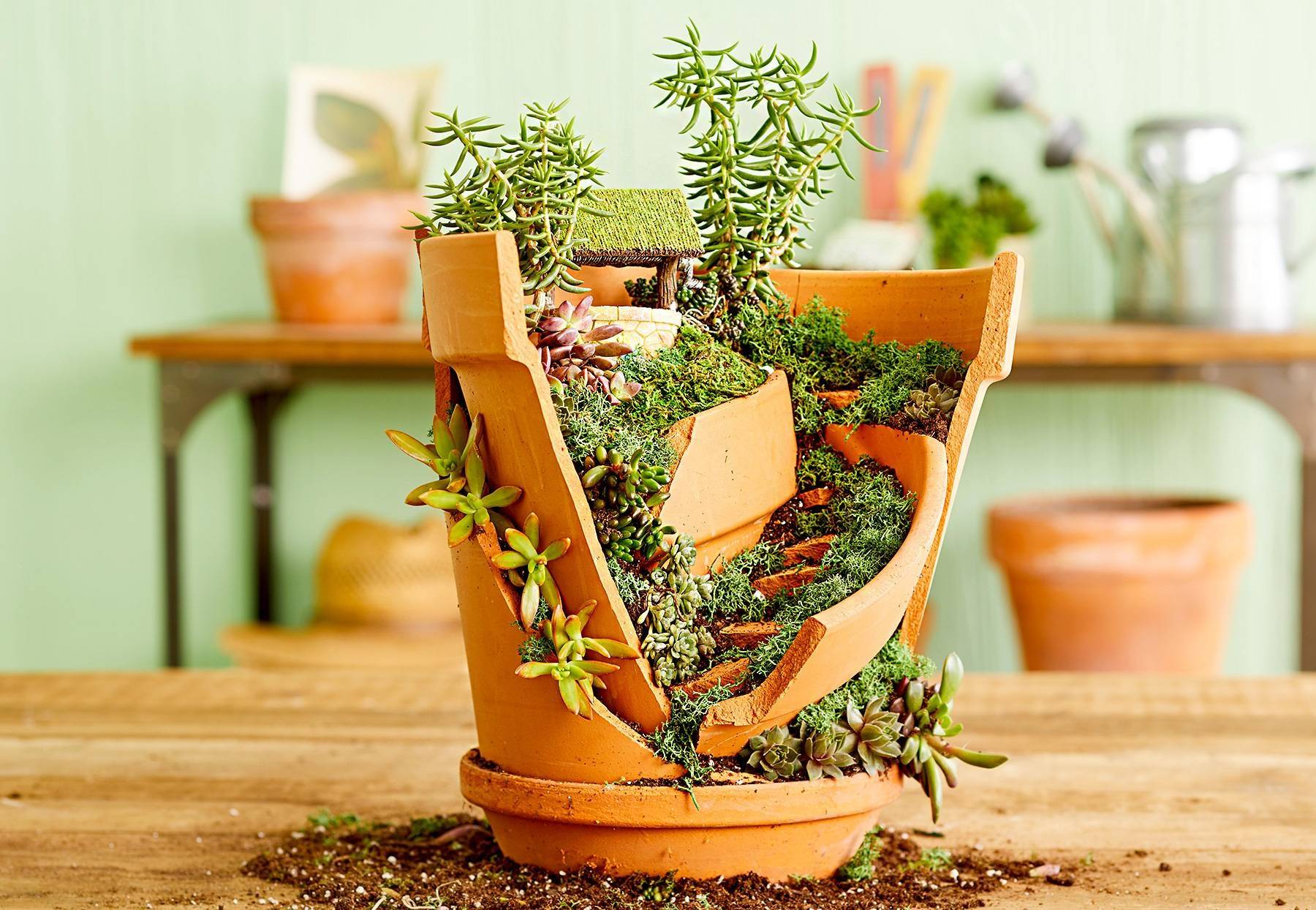 This broken pot is designed skillfully with succulents, ornament grass and decoration items. It will be lovely on your table or bookshelf.
Next time, when you come across a broken pot in the garden, don't let a broken pot go to waste! Maybe, it can inspire you to give new life to both your pot and the succulent, contributing to a greener world at a time.