As soon as the weather warms up, it's time to say no to TV and phone, get the kids outside! If you're lucky to own a sprawling property big enough for a kid's playhouse and outdoor game activities, you make some DIY ideas for your kids, such as an outdoor music station, a tent, a DIY mud kitchen, a miniature racetrack with a full course. And here are 25 Backyard Playing Ideas for Kids. They are fun, kid-friendly DIY outdoor games.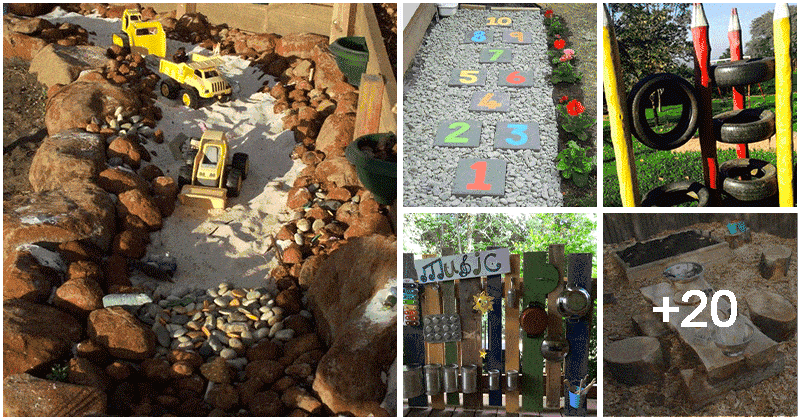 There are many upcycled materials including the popular old pallets, empty tin cans, plastic bottles plastics, tires, and more. All of them are inspired by the idea of upcycling materials without spending a ton of money to get your kid games. If you are interested, look around your property for materials you could repurpose.
#1 Outdoor Pikler from Pallets
Source: Nicole Margaret
#2 A DIY Mud Kitchen
Source: Buzzfeed
#3 An Outdoor Music Center Using Tin Cans
Source: Growingajeweledrose
#4 Outdoor Music Station with Pallet Wood and Household Items
Source: Alicia Easterwood
#5 Backyard Racetrack
Source: Mumsgrapevine
#6 Tin Can Bowling
Source: Agirlandagluegun
#7 Dry Creek bed for Trucks
Source: Theempowerededucatoronline
#8 Crate Cars
Source: Tts-group
#9 Make a River!
Source: Picklebums
#10 Tire Sand Box
Source: Webuyanycar
#11 Repurpose Wooden Spool
Source: Silje Bentzen Wikmark
#12 Climbing Towel
Source: Atelier Ingrid Azevedo
#13 A Miniature Play Treehouse
Source: Mermagblog
#14 Kid-Friendly Backyard
Source: Keeptoddlersbusy
#15 Log Stepping Stones
Source: Dave Entrican
#16 Natural Play Space
Source: Buggtreecare
#17 DIY Water Wall
Source: Tinkerlab
#18 Wilderness Playground
Source: Aila.org
#19 Hanging Pallet Swing
Source: Pinterest
#20 The Drawing Tree
Source: Artbarblog
#21 Water Plays
Source: Pinterest
#22 Green Living Tent
Source: Pinterest
#23 Stepping Stone Idea
Source: Clubmamans
#24 An Old Boat Turned Charming Sandbox
Source: Remodelaholic
#25 DIY Tic-tac-toe Painted Rocks Craft
Source: Runwildmychild