Tin cans are versatile materials that often find their way into our recycling bins. However, instead of letting them go to waste, we can unlock their potential and transform them into remarkable works of art and utility. From simple decor pieces to functional items, these upcycled tin can crafts not only showcase our creativity but also contribute to reducing waste and embracing a more eco-friendly lifestyle.
Throughout this guide, we will present you with 15 inspiring ideas for upcycled tin can crafts. Each craft project is designed to make a difference by repurposing these humble cans into something extraordinary. From organizing solutions to decorative accents, we will explore various techniques and styles to help you unleash your creativity and contribute to a greener planet. Whether you're a seasoned DIY enthusiast or just starting your crafting journey, these projects are super easy to make and will leave you with stunning results.
1. Tin Can Planters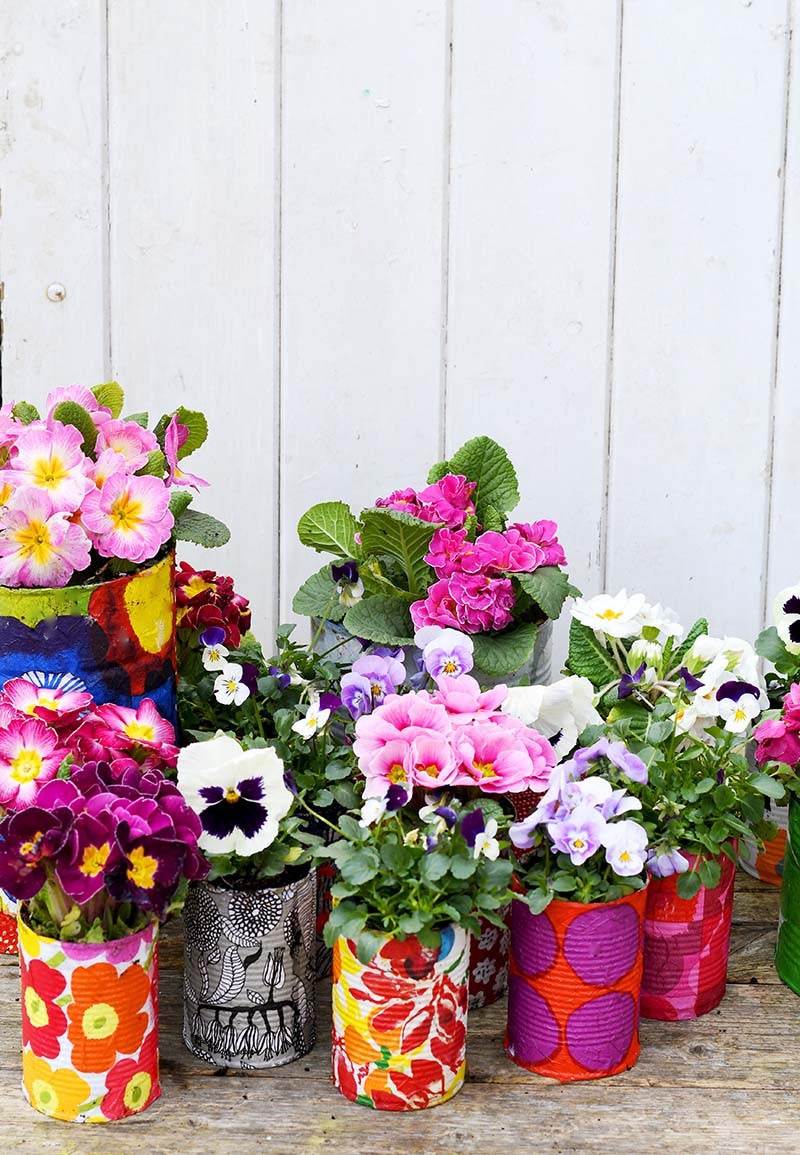 Source: Pillar Box Blue
Transform tin cans into charming planters by painting them in vibrant colors and filling them with your favorite flowers or herbs. They make a delightful addition to any windowsill or garden.
2. Tin Can Lanterns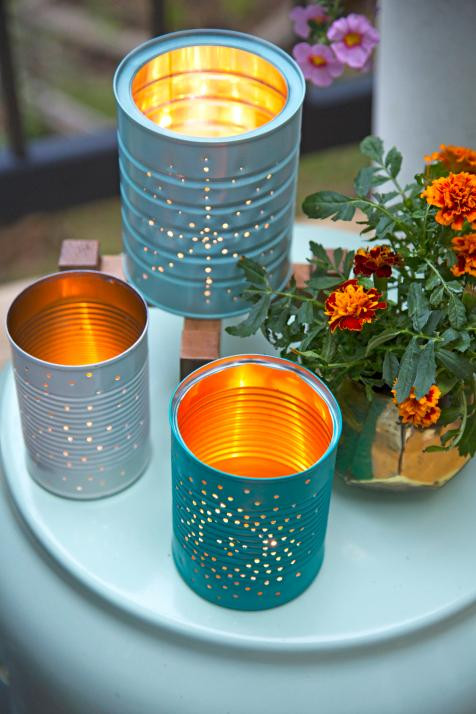 Source: HGTV
Create magical ambiance by puncturing patterns into the sides of cleaned tin cans and placing tea light candles inside. Watch as the flickering candlelight shines through the intricate designs.
3. Utensil Holders
Source: Pinterest
Organize your kitchen utensils by wrapping tin cans with decorative paper or fabric. You can customize them to match your kitchen decor and keep your countertops clutter-free.
4. Desk Organizer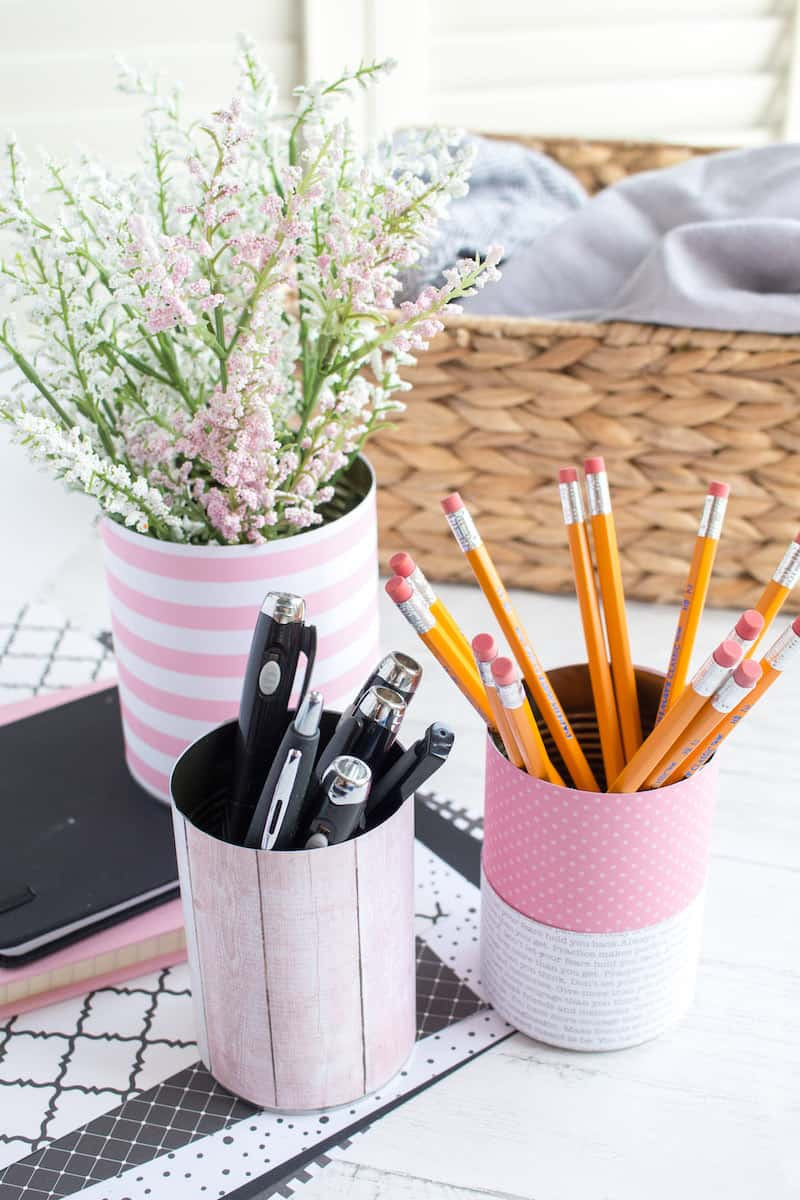 Source: Single Girl's DIY
 Arrange your pens, pencils, and markers by decorating tin cans and arranging them in a stylish and functional desk organizer. You'll have everything you need within reach.
5. Mini Storage Containers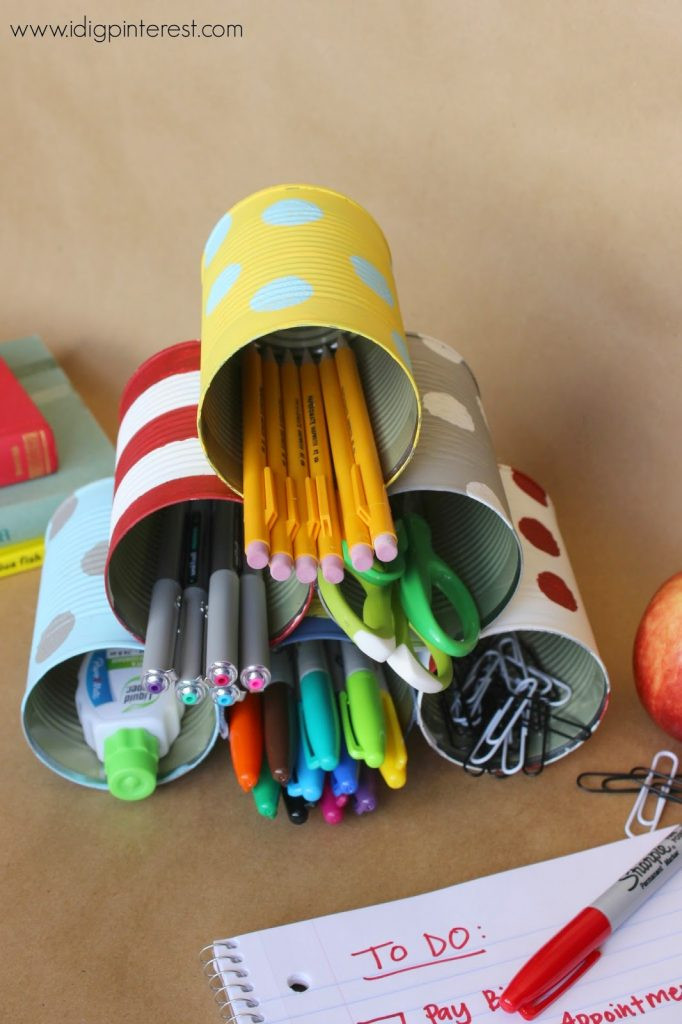 Source: I Dig Pinterest
 Give small items a designated home by attaching magnets to the back of tin cans and placing them on your fridge or a magnetic board. Perfect for holding paperclips, pins, or spices.
6. Tin Can Vases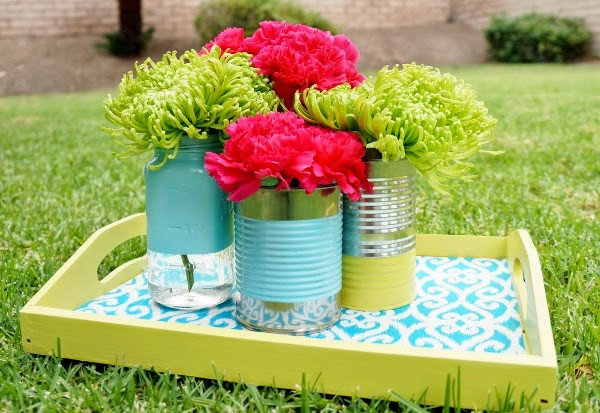 Source: A Fabulous Fete
 Add a touch of elegance to your floral arrangements by transforming tin cans into stunning vases. Wrap them with twine or ribbon and place your favorite blooms inside for a beautiful centerpiece.
7. Tin Can Wind Chimes
Source: Pinterest
Create a soothing melody with a DIY wind chime made from tin cans. Paint them in your desired colors, attach strings, and hang them in a spot where the breeze can bring music to your ears.
8. Tin Can Wall Art
Source: Catholic Sprouts
 Cut out shapes or letters from tin cans and arrange them on a wooden board or canvas to create unique wall art. Let your imagination run wild with the possibilities.
9. Tin Can Candles
Source: Knick of Time
 Melt candle wax and pour it into cleaned tin cans with a wick in the center. As the wax solidifies, you'll have charming homemade candles ready to light up your space.
10. Tin Can Bird Feeders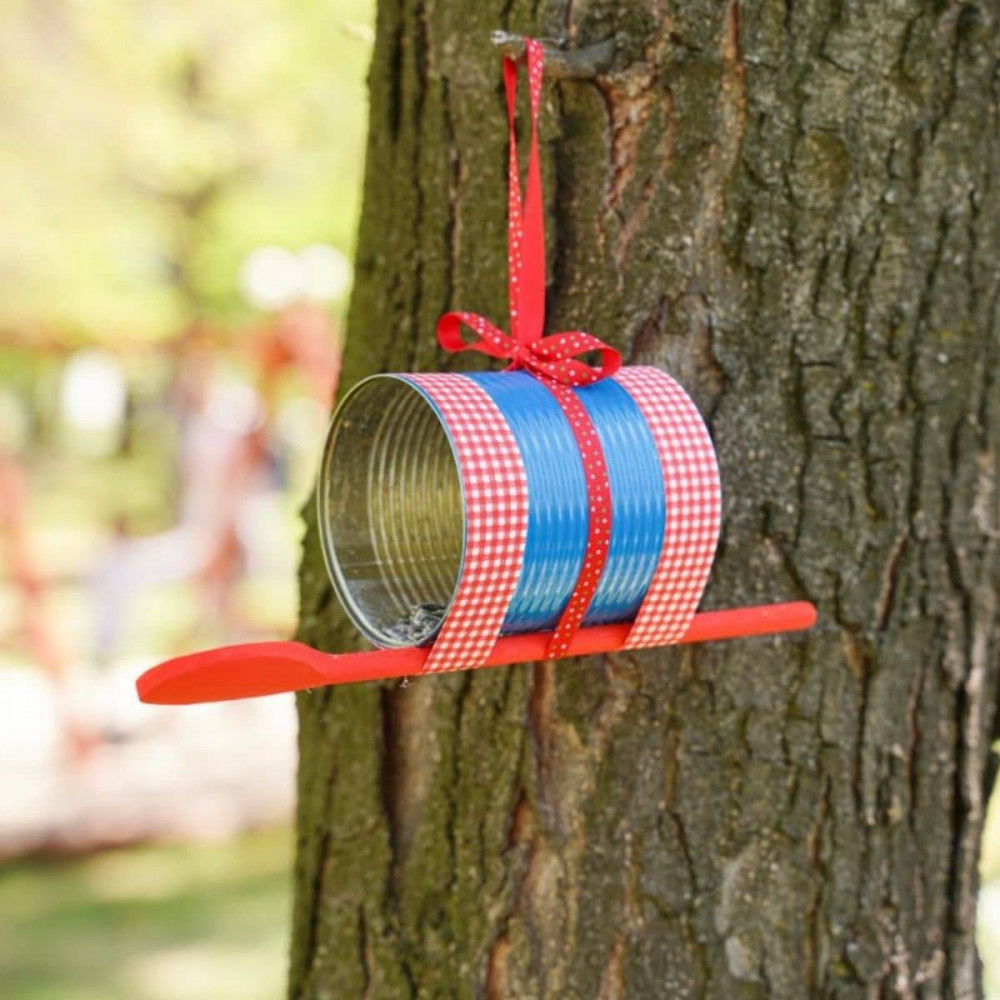 Source: DIY & Crafts
 Craft a delightful bird feeder by attaching a wooden dowel or spoon to a tin can and filling it with birdseed. Hang it outside and watch as feathered friends visit your garden.
11. Tin Can Pencil Holders
Source: Grillo Designs
 Create a fun and practical pencil holder by stacking tin cans together and securing them with glue or a decorative ribbon. Customize them with paint or washi tape for a personalized touch.
12. Tin Can Desk Caddy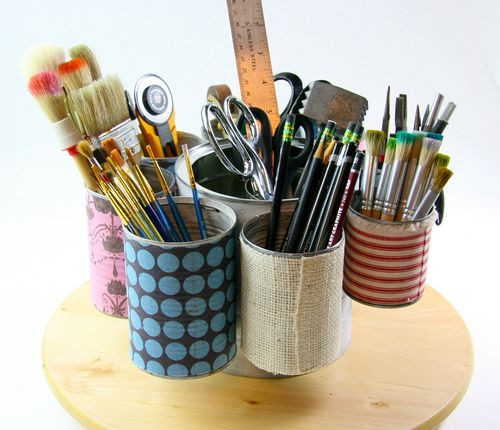 Source: Cynthia Shaffer – TypePad
 Keep your workspace tidy by transforming tin cans into a desk caddy. Paint them in coordinating colors and store your office supplies, such as scissors, rulers, and sticky notes.
13. Tin Can Luminaries
Source: Pinterest
 Wrap tin cans with tissue paper or vellum and place battery-operated tea lights inside. These luminaries will add a warm and cozy glow to your indoor or outdoor spaces.
14. Tin Can Jewelry Organizer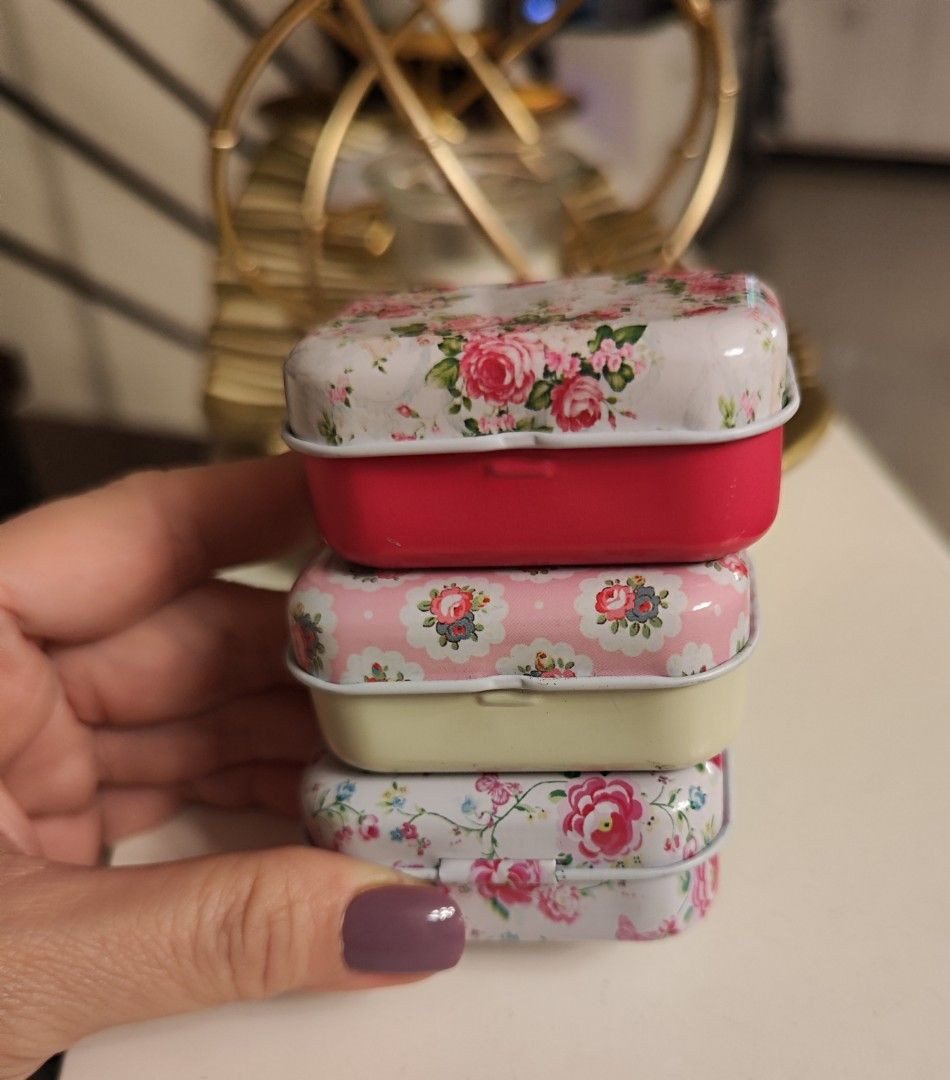 Source: Carousell
 Organize your necklaces and bracelets by attaching hooks or small dowels inside a tin can. Paint or decorate the exterior to match your room decor and create a stylish jewelry organizer.
15. Tin Can Pincushion
Source: Practically Functional
Wrap a tin can with fabric and fill it with stuffing to create a pincushion. This handy sewing accessory will keep your pins and needles organized and within reach.
So, grab your collection of tin cans and let your creativity soar. These DIY crafts are not only easy to make but also provide endless opportunities for personalization. From functional storage solutions to decorative accents, these projects will add a touch of handmade charm to your