Are you looking to add a touch of creativity and sustainability to your garden? Look no further! In this guide, we present 21 inspiring and resourceful garden ideas that make use of recycled household items. By repurposing everyday objects, you can transform your outdoor space into a vibrant and eco-friendly oasis. From tin cans and wine bottles to old furniture and kitchenware, these ideas will help you give new life to discarded items while adding charm and character to your garden. Get ready to unleash your creativity and embark on a sustainable gardening adventure like never before!
1. Tin Can Planters
Source: Creative Jewish Mom
Clean and paint empty tin cans, then fill them with soil and plant herbs, flowers, or small plants.
2. Wine Bottle Edging
Source: IU Blogs – Indiana University
Dig a trench around your garden bed and bury empty wine bottles upside down, leaving the necks exposed. This creates a unique and decorative border.
3. Pallet Vertical Garden
Source: Off Grid World
Stand a wooden pallet upright and secure it to a wall or fence. Fill the spaces between the slats with soil and plant a variety of flowers, herbs, or succulents.
4. Colander Hanging Baskets
Source: Better Homes and Gardens
Use old colanders with holes in the bottom as hanging baskets for cascading plants or trailing flowers.
5. Broken China Mosaic
Source: Running With Sisters
Break old china or ceramic plates into small pieces and use them to create a colorful mosaic pattern on garden pots, stepping stones, or even a garden path.
6. Tire Planters
Source: FreshPatio
Paint old tires in vibrant colors and stack them to create a vertical planter. Fill each tire with soil and plant flowers or herbs.
7. Upcycled Birdhouses
Source: Etsy
Repurpose old teapots, watering cans, or boots into charming birdhouses by attaching them to posts or hanging them from trees.
8. Suitcase Garden
Source: Notonthehighstreet.com
Use vintage suitcases or old trunks as unique planters. Fill them with soil and plant flowers or even create an herb garden inside.
9. Bottle Irrigation System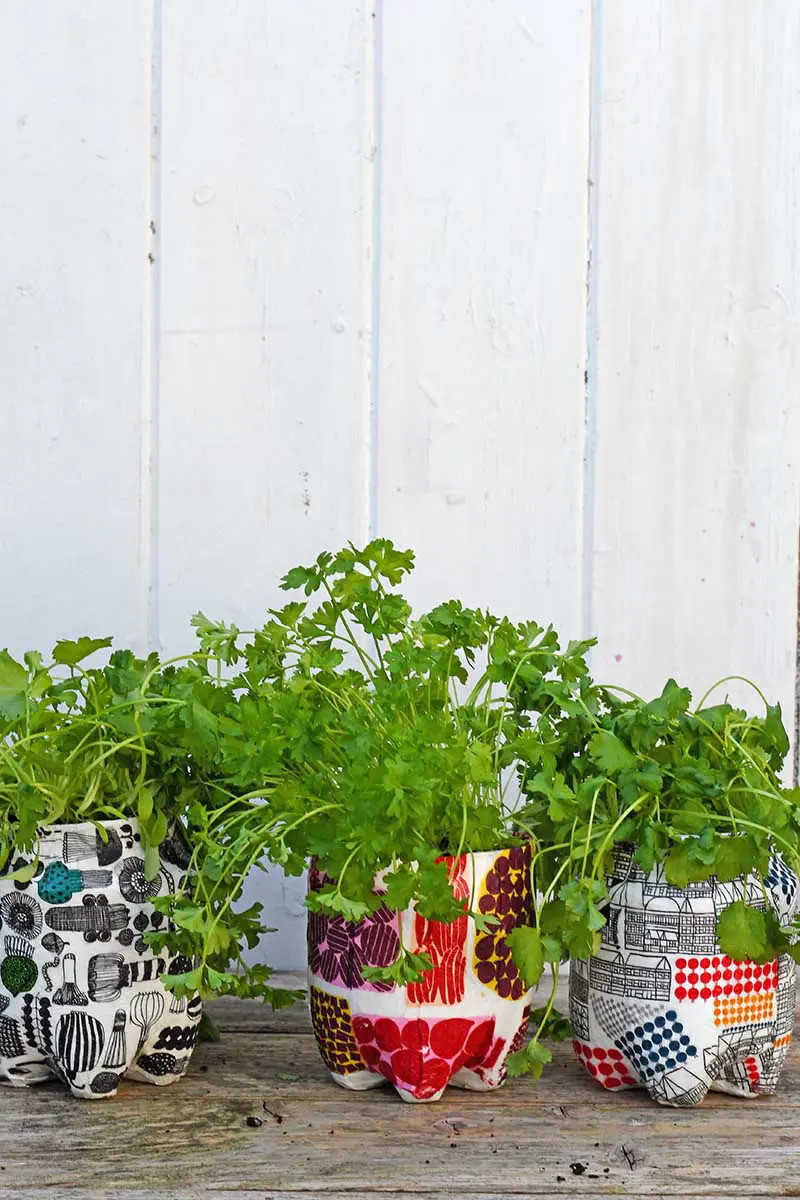 Source: Pillar Box Blue
Bury plastic bottles with holes punched into the caps next to your plants. Fill the bottles with water, and they will slowly release moisture into the soil.
10. CD Reflectors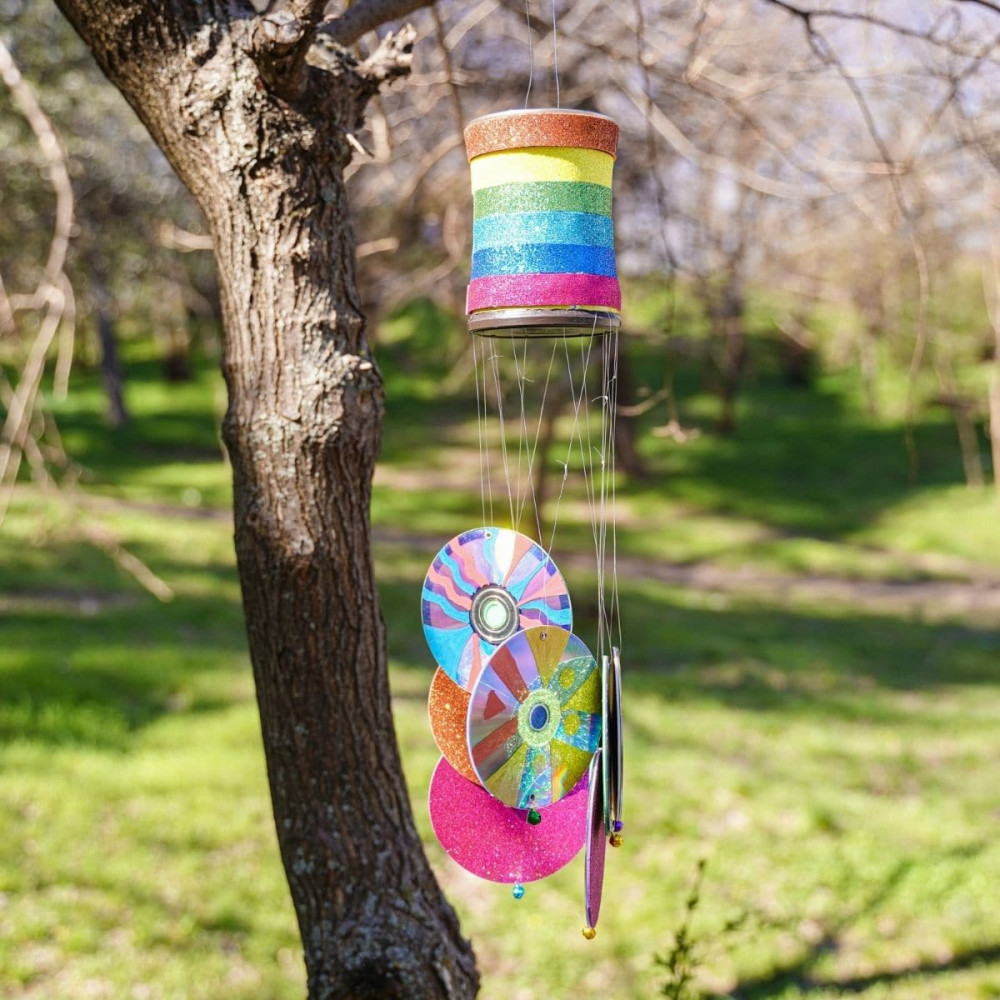 Source: DIY & Crafts
Hang old CDs on strings or wires around your garden to create reflective surfaces that deter birds and add a touch of sparkle.
11. Drawer Planters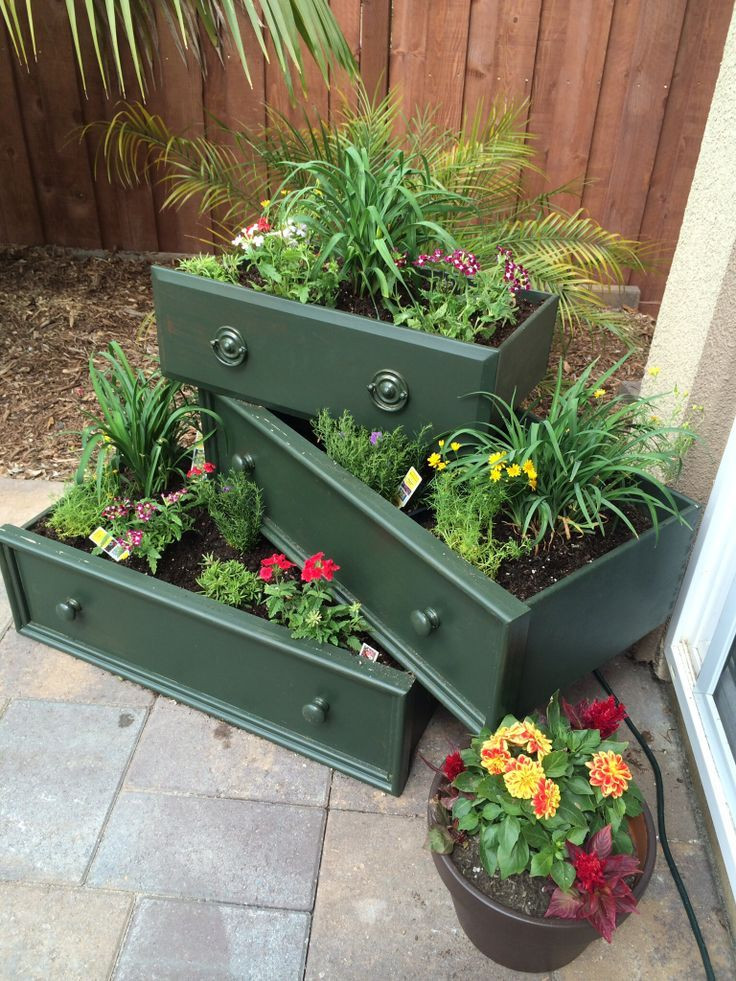 Source: Gharpedia
Repurpose old drawers by adding drainage holes and filling them with soil. Plant flowers or herbs in each drawer, and stack them for a vertical garden display.
12. Tea Cup Succulent Garden
Source: Better Homes & Gardens
Plant small succulents in vintage teacups and arrange them on a windowsill or outdoor table for a charming display.
13. Bicycle Wheel Trellis
Source: GoodsHomeDesign
Attach an old bicycle wheel to a fence or wall and use the spokes as a trellis for climbing plants like vines or beans.
14. Garden Tool Organizer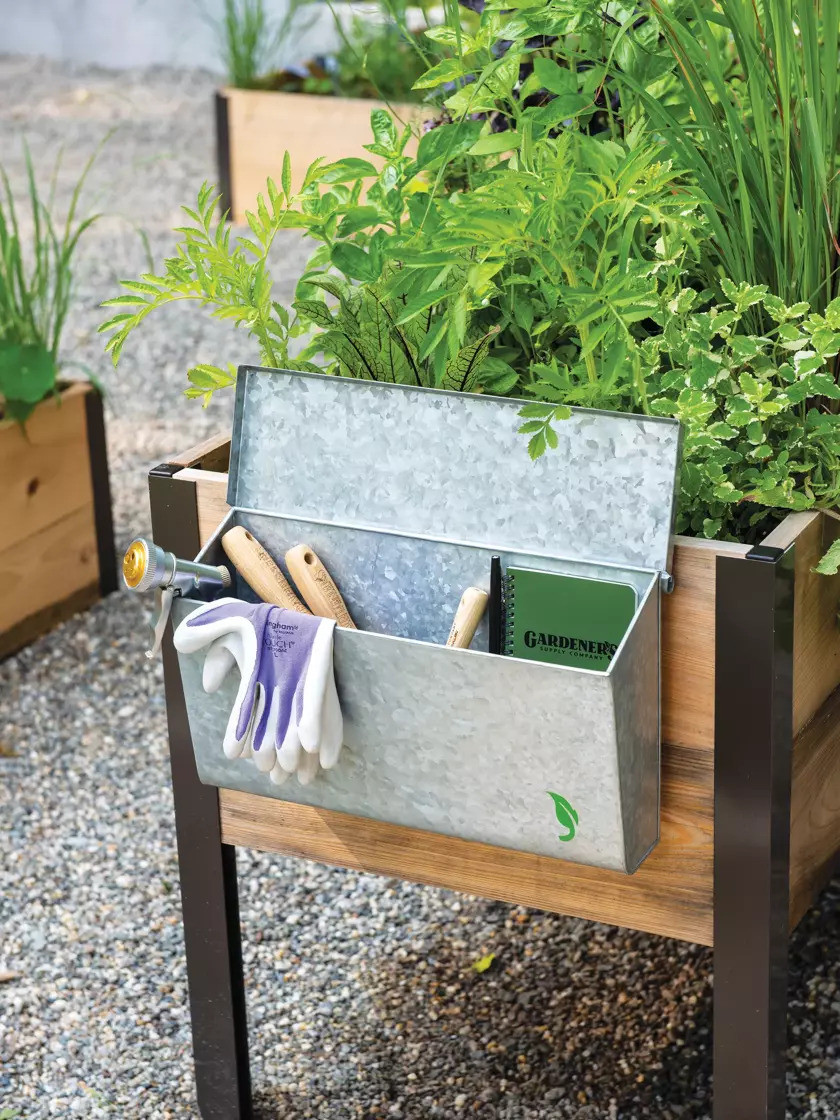 Source: Gardener's Supply
Repurpose an old wooden ladder by attaching hooks or nails to hang garden tools, allowing for easy organization and storage.
15. Bottle Vertical Garden
Source: The Dirt (ASLA) – American Society of Landscape Architects
Cut the bottoms off plastic bottles, fill them with soil, and hang them vertically to create a unique and space-saving herb or flower garden.
16. Tin Can Lanterns
Source: Girl, Just DIY!
Punch holes in empty tin cans to create patterns, then place candles or solar-powered lights inside. Hang them around your garden for a magical ambiance.
17. Broken Umbrella Greenhouse
Source: Amazon UK
Salvage a broken umbrella frame and cover it with plastic or greenhouse film to create a small greenhouse for seedlings or delicate plants.
18. Rain Boot Planters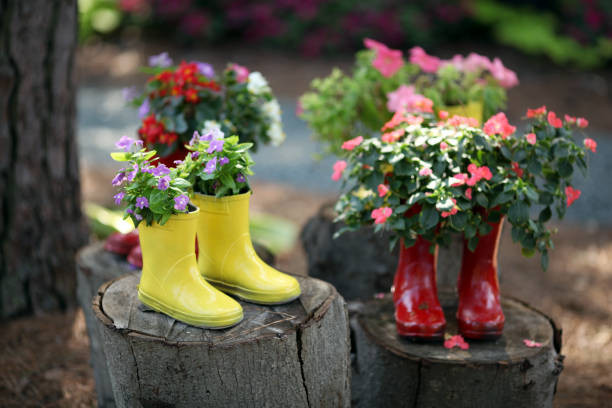 Source: iStock
Fill old rain boots with soil and plant colorful flowers or herbs. Arrange them along a garden path or hang them from a fence.
19. Newspaper Seedling Pots
Source: Better Homes & Gardens
Roll newspaper into cylinders and fold the bottom to create biodegradable seedling pots. Once the seedlings are ready, transplant them directly into the ground.
20. Kitchen Colander Herb Garden
Source: Hymns and Verses
Hang a metal colander on a wall or fence and plant a variety of herbs in the holes for a unique vertical herb garden.
21. Broken Chair Plant Stand
Source: Empress of Dirt
Repurpose an old chair by removing the seat and using the frame as a plant stand. Paint it in a vibrant color and place potted plants or flowerpots on each level.