No need to wait until summer comes, any season is the time of decoration! To revamp your garden, get out your paint brushes and flower pots and get ready to create a wonderland with 26 Colorful Backyard Decoration Ideas all year round. A few colorful updates are a simple way to give a garden a lovely one and can turn your lackluster backyard into an inviting outdoor space. Any of these DIY-painted decorations will definitely spruce up your backyard.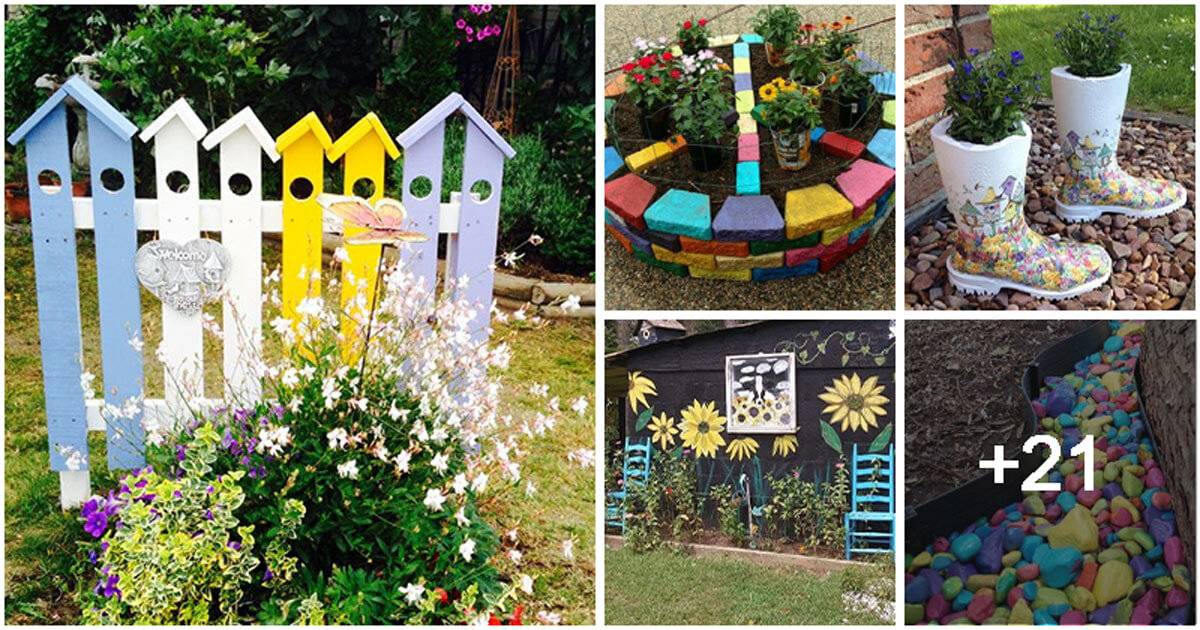 The garden decorations shown here use full of colors to create focal points with decor, garden art, flowers, and more. From adding pretty pieces to your vegetable garden to picking up a paintbrush and transforming the appearance of a shed, garden decorating ideas are guaranteed to bring color and character to your outdoor space. And after all the goals are to create a cozy and welcoming space.
#1 Colorful Clay Pot Home Sign
Source: Countryliving
#2 Painted Bath Tub Flower Container
Source: Hilary Teal
#3 Painted Chicken Wire
Source: Thegardenglove
#4 Bright Painted Metal Barrels
Source: Hometalk
#5 Green Chair Planter
Source: Morflora
#6 A Colorful Raised Garden Bed
Source: Debra Robinson
#7 Old Bricks For Garden Arts
Source: Sneezingcow
#8 An Easy Cement Project
Source: Bidista
#9 White Painted Bicycle Flower Planter
Source: Loggardenia
#10 Purple Planters
Source: Lemurov
#11 White Duck Planter
Source: Pinterest
#12 Painted Trunk!
Source: Pinterest
#13 Painted Clay Pot Rain Chain
Source: Deesigns by Dee
#14 Old Tire Wall Garden
Source: Discover.hubpages
#15 Rocky River Rainbow Yard Decorating DIY
Source: Hometalk
#16 Bright Tin Can Planters For Fence
Source: Pinterest
#17 Ladybug Painted Rocks
Source: Craftsbyamanda
#18 Hand-Painted Stepping Stones
Source: Craftingcheerfully
#19 Spring Topsy Turvy Pots
Source: Thekeeperofthecheerios
#20 Painted Watering Can Idea
Source: Hometalk
#21 Painted Cabinet For A Garden Focal Point
Source: Thevintagewren
#22 DIY Painted Rock Flowers Garden
Source: Kitchenfunwithmy3sons
#23 Colorful Birdhouse Trellis
Source: Sail Sabater
#24 Painted Reclaimed Wood Fence Boards
Source: MacLean Street Designs
#25 Sunflower Welcome
Source: Pinterest
#26 Painted Garden Shed
Source: Barbara Terrian